Kansas ARES District 1 Situation Report
March 15, 2018: According to the latest U.S. Drought Monitor, drought conditions persisted or worsened from Kansas, central Oklahoma and eastern Texas, westward into Colorado and New Mexico. During the period from Oct. 7 to Mar. 13, precipitation totaled just 0.16 inch in Dodge City. On Mar. 11, USDA reported topsoil moisture to be 80% very short to short in Kansas, along with 63% in Texas and 61% in Oklahoma. Extraordinarily dry conditions are expected to persist on the southern High Plains, accompanied by several days of very warm weather. The lack of rain has been accompanied by low humidity and strong winds at times, enhancing wildfire danger and causing some soil erosion. Many ponds and reservoirs are low, and some shallow wells have reportedly gone dry. The latest U.S. Seasonal Drought Outlook, released Mar. 15, indicates drought is likely to intensify across the southern high Plains during the remainder of March. Based on the April/May/June precipitation and temperature outlooks, drought is expected to intensify across southwest Kansas during the next few weeks due to continued dryness and periods of high winds. While spring is an increasingly wet time of year for the central Plains, the most likely area to experience improvement is eastern Kansas where prospects for meaningful precipitation are greater.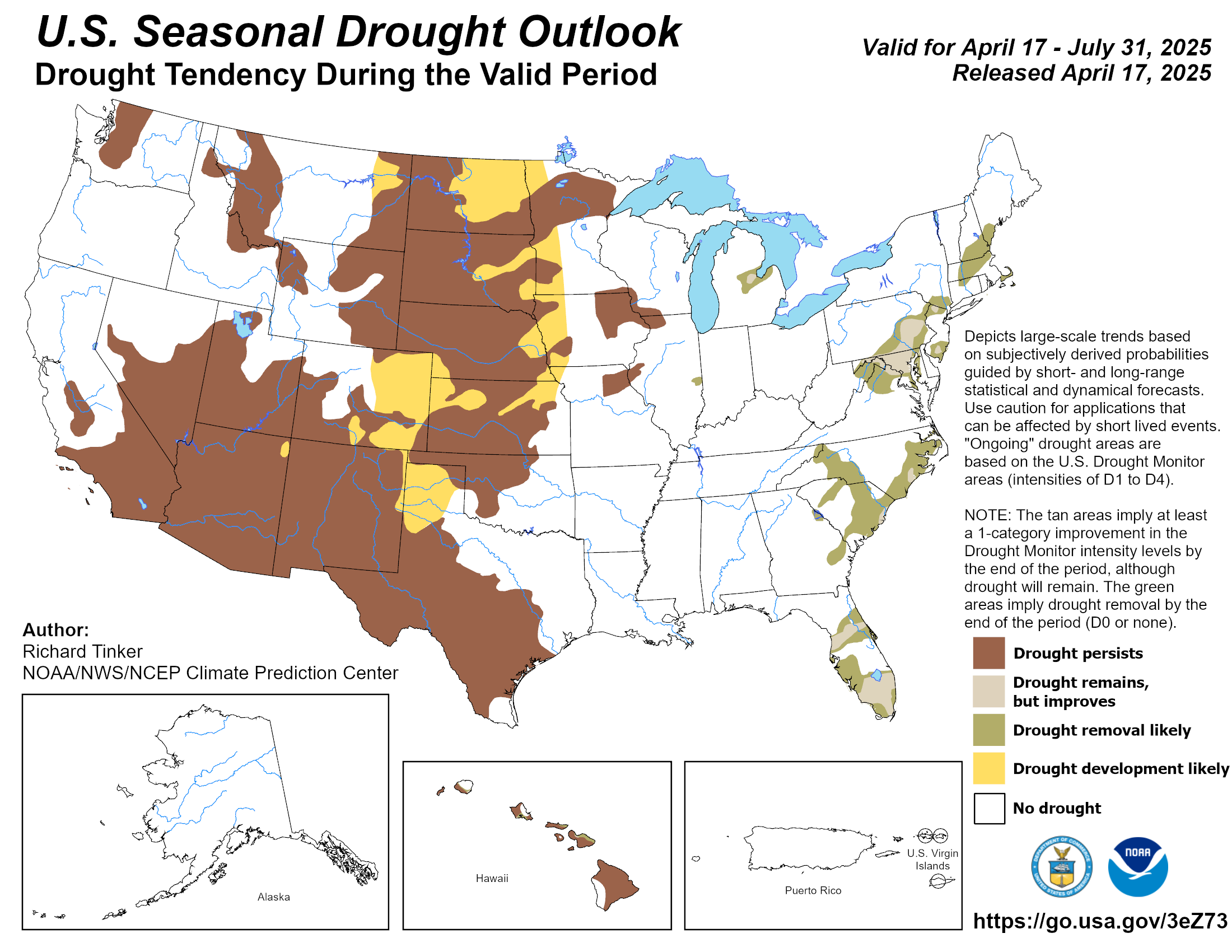 March 8, 2018: The expanding drought on the Southern plains and increased risk of wildfire remain a significant concern in Kansas. Large-scale deterioration was noted across the Texas and Oklahoma Panhandles, northeastern New Mexico, and central and western Kansas. The U.S. Drought Monitor nearly doubled the area marked as "Extreme Drought" in Kansas. For the first time since June 3, 2014, "Exceptional Drought," the highest of the Drought Monitor's classifications is now also being shown as occurring in small portions of south-central and southwest Kansas. The current 2-week and 1-month precipitation outlooks do not look very promising, which is especially worrisome, given the recent wildfire outbreaks. "The southern and western parts of the state – especially the far southwest – is just dangerously dry right now," Eric Ward a fire-planning specialist with K-State Research and Extension said in a recent press release. "This persistent dryness will make it much more difficult to stop any fire that does start." The release said it is normal for Kansas to be dry at the end of winter, but this year is worse. "I've been told that some areas of Kansas have now broken the state record for the most days without measurable precipitation," Ward said. "So, thinking back to the Dust Bowl days of the 1930s, we have now beaten that." A Fuels and Fire Behavior Advisory was issued for much of Kansas by the National Interagency Fire Coordination Center, on Mar. 7, which explains the issue in greater detail.
A change in the seasons can certainly bring a change in the pattern and there are signs that the likely culprit in the east-central equatorial Pacific Ocean (La Niña) may finally be showing signs of weakening. According to a report released Mar. 8, 2018, by NOAA/CPC, a transition from La Niña to ENSO-neutral is most likely (~55% chance) during the March-May season, with neutral conditions likely to continue into the second half of the year.
Current Southern Plains Detail of the U.S. Drought Monitor
Links
Amateur Radio Emergency Service (ARES)
Amateur Radio Emergency Service Registration Form (PDF)
NWS Weather Spotter's Field Guide (PDF)
SKYWARN Information and Overview