Tuesday, December 29, 1998
Absurdity of war
'Why anyone would fight over that goat and camel-ridden area defies logic'
By PETER WORTHINGTON -- Toronto Sun

At first glance, the "war" underway in Africa over exactly where the border is between Eritrea and Ethiopia, is more mindful of the novel Scoop than it is of Stalingrad.

Yet it's serious enough to jeopardize the future of both countries -- one, barely 3.5 million people, the other 58 million.

I've just returned from Eritrea where I visited the "front" (four main flash points along a 1,000-km border) and the war seems even more absurd and unnecessary when you see the barren, subsistence nature of the land --especially in the roadless west.

Eritrea won a 30-year "liberation" war by defeating the massive, modern Soviet/Cuban-backed Ethiopian army of Marxist Col. Mengistu Haile Mariam, and gained admittance to the UN as an independent "nation" in 1993.

Sandwiched between Sudan and Ethiopia on the Red Sea, north of Djibouti, Eritrea's sea ports are boycotted by Ethiopia which, at this writing, has deported 40,000 Ethiopians of Eritrean heritage ("ethnic cleansing" with a vengeance). It has an estimated 200,000 troops massed on the frontier, where periodic raids and shelling occur.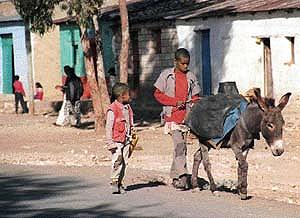 Badland ... The desolate and barren border village of Badema, where the "war" with Ethiopia began when "occupied" by Ethiopians. Photos by Peter Worthington, SUN
Eritrea's President Isaias Afewerki, its wartime guerrilla leader, thinks the border dispute is phony, and that the Addis regime seeks to survive ethnic unrest at home by conjuring up an external enemy. Western diplomats are bemused at the pettiness of the dispute, and tend to belittle its seriousness.

Regardless, the "war" puts a crimp in Eritrea's plans to become the first true democracy in Africa, free of corruption, eliminating the curse of tribalism or ethnic feuding, self-reliant, not dependent on foreign aid, moving towards diverse political parties, at peace and harmony with neighbours. The "war" is a chicken bone in the throat of social and economic progress.

During the war against Mengistu, the EPLF (Eritrean People's Liberation Front) was allied with the neighbouring province's TPLF (Tigrean People's Liberation Front). Both initially sought independence from Ethiopia. Tigre is half the size of Eritrea (which is roughly the size of Florida) and has twice Eritrea's 3.5 million population.

As the war progressed, and it became clear that Eritrean "fighters" were far superior to, and more motivated than the demoralized Ethiopian army, despite enormous amounts of Soviet weaponry, the TPLF command shifted from seeking independence to hungering to take over Ethiopia when Mengistu fell.

Eritrea consistently wanted only its own freedom.

When the collapse came, the Tigrean army moved on Addis Ababa and today TPLF leader Meles Zenawi is prime minister of Ethiopia; Tigreans are said to be running virtually every important Ethiopian department. Resentment seethes among traditional Amharic and Oromo people. To some, Tigrean rule is mindful of the dictatorships of Emperor Haile Selassie and the homicidal Col. Mengistu.

During the war the TPLF "administered" (to use the word loosely) some border areas now under dispute, especially in the west where new Ethiopian maps show the forlorn town of Badema to be on the Tigre side of the border. Maps, dating from Italian rule a century ago, show Badema on the Eritrean side.

I've been to Badema and why anyone would fight over that goat and camel-ridden area defies logic. (Areas north and east are lush with agricultural potential and get the most rainfall).

The present war erupted last May when a delegation of seven Eritrean officers bound for border discussions in Badema, then occupied by Ethiopians, were stopped outside town by Ethiopian soldiers and shot on the spot. So much for a flag of truce.

To Eritrea this was not ambush but assassination. Reaction was swift. At every border hot point the Eritrean army moved forward, chased the Ethiopian army out, and took up defensive positions inside Ethiopia to protect what they regarded as the legitimate border.

Last June Ethiopian planes attacked and bombed the airport at Asmara (one plane was shot down). Barely 50 minutes later Eritrean war planes retaliated and bombed the Ethiopian airfield at Makale -- destroying (they claim) eight bomb-laden Ethiopian planes and an airliner, as well as a school hit by accident.

The Ethiopian parliament declared war.

A war of words accompanied Ethiopian reprisals. Ethiopia began arresting people of Eritrean heritage at night, confiscating their property and imprisoning and deporting them to Eritrea. Prime Minister Zenawi defended the right to expel any foreign national: "If we say 'Go' because we do not like the colour of your eyes, they have to leave."

Michael Mussie, 52, dapper Ethiopian-born general manager of Ashante Goldfields Co. was dragged from his Addis home at 4 a.m. and with only the clothes he was wearing was jailed and later dumped at the border. His villa and his five cars were confiscated because he had Eritrean parents. Ironically, he still travels on his Ethiopian passport.

RELUCTANT TO PROTEST

"What Ethiopia is doing is a disgrace and violation of every legality, but even more disgraceful is the international community turning its eyes away," says Mussie. "For shame on them."

UN Human Rights Commissioner Mary Robinson has condemned Ethiopia's version of "ethnic cleansing," but the rest of the world has been reluctant to protest -- including Canada and the U.S.

Put politely, Ethiopian propaganda is fantasy. It claims that the pilot of the downed plane in the bombing run was dragged through the streets of Asmara and stoned -- total fabrication. It also claims bombing Asmara was retaliation for Eritrea's "premeditated" bombing of a school and that Eritrea imprisoned 600 Ethiopians for phony security reasons. It charges rape, torture and killings.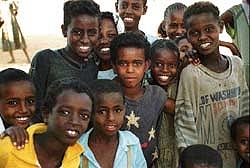 The children of Badema.
Eritrea has acknowledged it accidentally bombed a school, but the Ethiopian consul in Asmara has admitted that only 14 of 57 Ethiopians initially arrested in Asmara were held for security reasons. In fact, Asmara is filled with Ethiopians who've chosen to stay. They talk freely and seem unconcerned.

Today, parts of the frontier are lined with trenches, bunkers, tanks, cannons and soldiers. Badema is seven or eight hours drive across impossible country, while three hours down a paved road southeast of Asmara is Zelambassa, a disputed border town which Ethiopia claims has been "completely destroyed," its people having fled after rapes and atrocities by Eritreans.

I visited Zelambassa, which isn't much of a town, ate in a bar, visited a couple of the town's several hotels, and perused the small shops typical of the area. Townsfolk lived relatively normally, despite some damaged buildings.

In truth, apart from many camouflaged women "fighters," the "front" reminded me of the Korean war -- bunkers, patrols, shelling, dawn-dusk stand-to's.

Although the BBC, Red Cross, Voice of America and UN bodies have investigated and refuted Ethiopian accusations of wide-scale Eritrean atrocities, as well as verified Ethiopia's "ethnic cleansing" policy, the international community has remained curiously mute. Diplomats are reluctant to rock boats.

Few media go to see for themselves.

Canada has well-informed diplomatic and aid representatives in Asmara, but Ottawa seems neither to ask for, nor listen to their advice.