They said it

Ils ont osé dire ça !
I can't think of a reason why an individual would want to own a computer.
Il n'y a aucune raison valable pour que quiconque ait envie d'avoir un ordinateur chez lui.
-- Ken Olsen, président et fondateur de Digital Equipment Corp., in 1977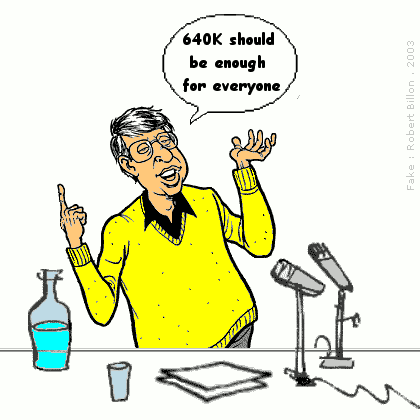 640K (of memory) ought to be enough for anybody
640K ce devrait être assez pour tout le monde.
-- Bill Gates, fondateur de Microsoft, in 1981
Linux is a cancer that attaches itself in an intellectual property sense to everything it touches.
-- Steve Balmer, Chief Executive Officer of Microsoft, June 2001
Will we operate with products that come, like Linux, from the Open Source world? Yes, we will.
Will we encourage people who want to do open-source development to do it on top of Windows? Yes.
-- Steve Balmer, Chief Executive Officer of Microsoft, June 2001


---
File: they_said_it.html - Robert L.E. Billon, 2009-05-10 - Last update: 2010-11-04