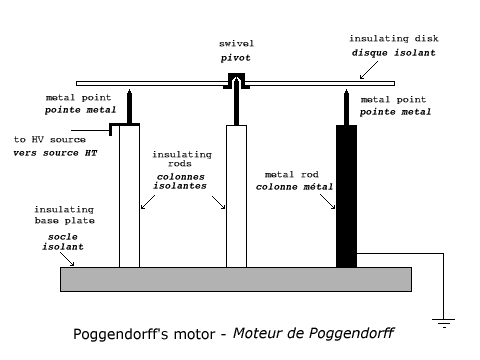 This electro-static motor was first experimented by Johann Christoff Poggendorff, circa 1870. It acts as follow. Electric charges are deposited on an insulating disk by a metal point. This charged zone is then attracted by the point of opposed polarity, promoting a rotation of the disk around the central axis. The inherent symmetry of the device may induce a difficult starting which may be circumvented if the points are slanted tangentially.

Ce moteur electrostatique resulte de l'expérimentation de Johann Christoff Poggendorff, autour de 1870. Il fonctionne de la façon suivante. Des charges électriques sont déposées sur un disque isolant par une pointe. Cette zone chargée est alors attirée vers la pointe de signe oppos&eacute, entraînant la rotation du disque autour de l'axe central. La symétrie du dispositif fait qu'il est quelquefois réticent à démarrer. On peut contourner cette difficulté en inclinant les pointes tangentiellement.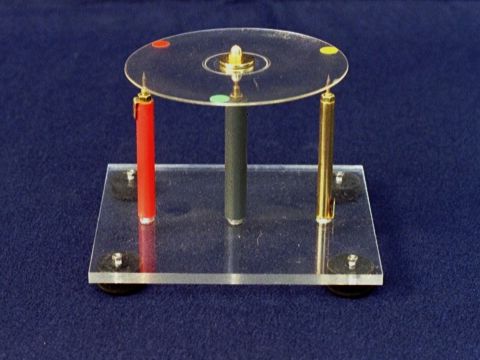 The Poggendorff's disk may be easily built from spare parts. A demetallized CD-ROM may be a perfect insulating disk. On can use a Tesla coil to demetallize the CD-ROM but HCl (hydrochloric acid) seams a more efficient means. A source of some tens of kilovolts is necessary , an old electrostatic painting generator, 40 to 90 kilovolts, is a good choice. The start of the rotation may be wavering but once lauched the disk may acquire a very hight speed.

Le disque de Poggendorff peut aisément être réalisé avec des pièces de récupération. Un CD-ROM démétallisé constitue un disque parfait. La démétallisation d'un CD peut se faire avec une bobine de Tesla, néanmoins HCl semble plus efficace. Ce dispositif nécessite une source de quelques dizaines de kilovolts, un ancien générateur pour peinture électrostatique, de 40 à 90 kilovolts est idéal. Malgré un démarrage hésitant, une fois lancé le disque peut atteindre des vitesses très élevées.