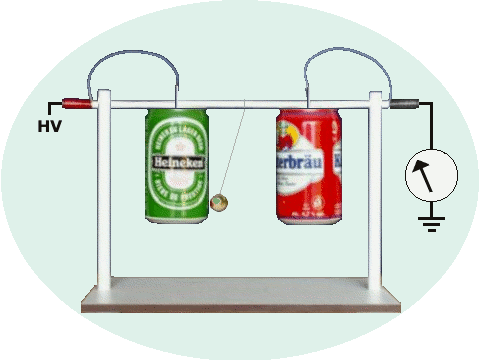 The electrostatic pendulum acts as follow. When the pendulum comes in contact with the left electrode it takes somme charge of the same sign as that of that electrode. It is then repelled and attracted by the right electrode onto wich it discharges and takes a charge of the opposite polarity. It is then attracted by the left electrode and the cycle keeps going indefinitely. Each discharge generates a pulse in the ground wire, which may be visualized by the means of an oscilloscope.

Le pendule électrostatique fonctionne de la façon suivante. Lorque le pendule est d'abord amené en contact avec l'électrode située à gauche, il se charge d'une quantité d'électricité de même signe que celui de cette électrode. Il est alors repoussé et attiré par l'électrode située à droite sur laquelle il se décharge et prend une charge de polarité contraire. Il est alors attiré par l'électrode située à gauche et le cycle se poursuit indéfiniment. Chaque décharge génère une impulsion dans le fil relié à la terre, laquelle peut être mise en évidence au moyen d'un oscilloscope.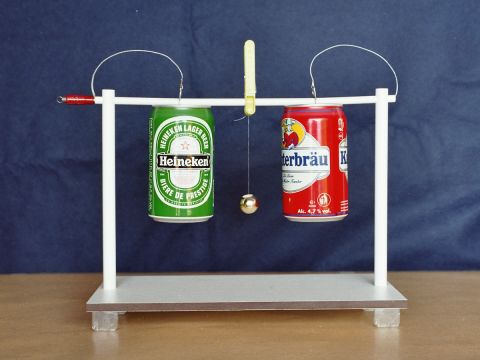 The electrostatic pendulum may be easily built from very common parts. An insulating base, some bits of PVC tubes, a little light metallized ball, a bit of fishing line and two empty beer cans. A source of some tens of kilovolts is necessary , an old electrostatic painting generator, 40 to 90 kilovolts, is a good choice. The first elongation of the pendulum must currently been made manually with an insulating rod. If the set is immersed in a field of ions radiated by a thin metal tip, the connection to the generator is not always necessary.

Le pendule électrostatique peut aisément être réalisé avec des matériaux courants. Une embase isolante, quelque bouts de tube PVC, une bille légère en plastique métallis&eacute, un moceau de ligne pour la pêche et deux boîtes de bière vides. Ce dispositif nécessite une source de quelques dizaines de kilovolts, un ancien générateur pour peinture électrostatique, de 40 à 90 kilovolts est idéal. On doit habituellement lancer à la main la première élongation du pendule, au moyen d'une baguette isolante. Si l'ensemble est plongé dans un champ d'ions rayonné par une pointe, la connexion au générateur n'est pas toujours nécessaire.