What's it inside a microwave oven ?

Autopsie d'un four micro-ondes

Last update
2010-11-06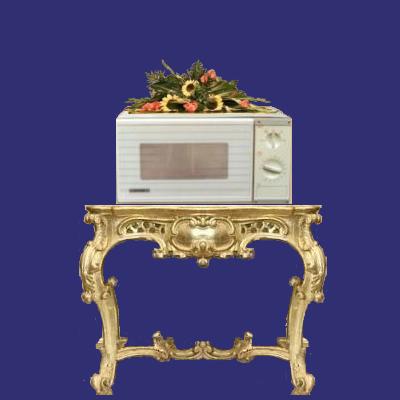 This microwave oven (MO) was salvaged from a junkyard. After a little repair, mending the waveguide shutter who had blackened and taking care of the front face of the timer who was damaged, it worked fine. I decided to set it aside for experiments. One may put a lot of things in an MO : CD-ROMs, light bulbs, etc... So it provides you with various an surprising effects. An advice however, stop before the final vaporization of the object. Do not even try this into your kitchen MO. You can also test dielectric materials for losses, if it warm up, it is lossy. Never attempt to run an MO with the door open.
Ce "micro-onde", abrégé MO pour la suite, fut sauvé d'un conteneur de rebuts. Après réparation du protecteur du guide d'ondes qui avait charbonné (simple obturateur en plastique mince) et restauration de la face avant ébréchée de la minuterie, il fonctionna parfaitement. Je décidai de le réserver à l'expérimentation. On peut mettre toutes sortes de choses dans un MO. Par exemple des CD-ROM, une ampoule d'éclairage, etc... On obtient ainsi des effets surprenants et très variés. Un conseil toutefois, arrêtez avant la vaporisation finale de l'objet. Totalement déconseillé dans le MO de votre cuisine. On peut aussi tester les pertes d'un diélectrique, s'il s'échauffe, il a des pertes. Ne tentez jamais de faire fonctionner un MO avec la porte ouverte.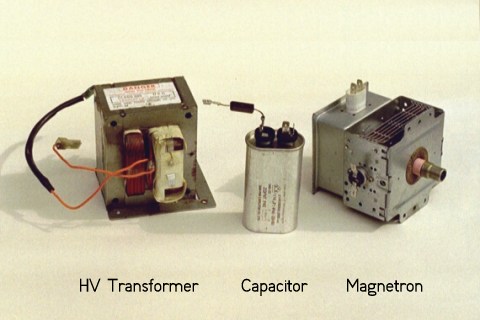 A discarded MO is a gold mine for the hight voltage experimeter. The transformer may power a Jacob's ladder or even, followed by a four stages voltage multiplier, a Tesla coil. The capacitors, serially/parallel connected, provide big energy storage devices for a lot of funny experiments. Ideas for plasma experiments involving magnetrons may be found at http://www.tiac.net /users/shansen/belljar/plasma.htm
Un MO mis au rebut est une mine d'or pour l'expérimentateur des hautes tensions. Le transformateur peut alimenter une échelle de Jacob ou même une bobine de Tesla si on le fait suivre d'un multiplicateur à quatre étages. Les condensateurs, groupés en série/parallèle permettent un stockage d'énergie important pour toutes sortes d'expériences. Des idées d'expériences sur les plasmas mettant en oeuvre des magnétrons se trouvent à http://www.tiac.net /users/shansen/belljar/plasma.htm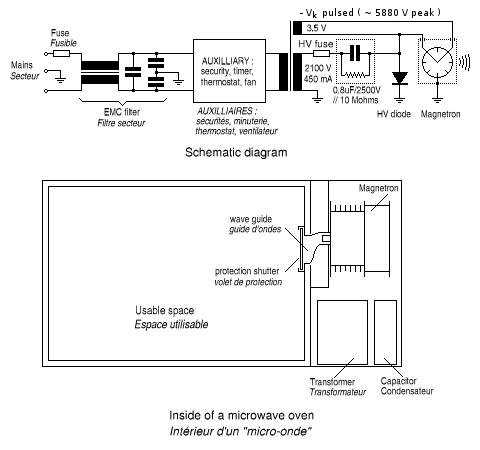 The schematic diagram speaks by itself, it is of a disconcerting simplicity. A big part of the stuff is made of auxilliaries : security switches, timer, thermostat, fan... The four essential components are : transformer, diode, capacitor and magnetron. When servicing an MO with the hood removed, disconnect it from the mains, open the door and short the capacitor.

Le schema parle par lui-même, il est d'une simplicité déconcertante. Une bonne partie de la "tripaille" est constituée par les annexes : sécurités, minuterie, thermostat; ventilateur... Les quatre composants essentiels sont : le transformateur, la diode, le condensateur et le magnétron. Quand vous dépannez à coeur ouvert un MO, déconnectez le du secteur; ouvrez la porte et court-circuitez le condensateur.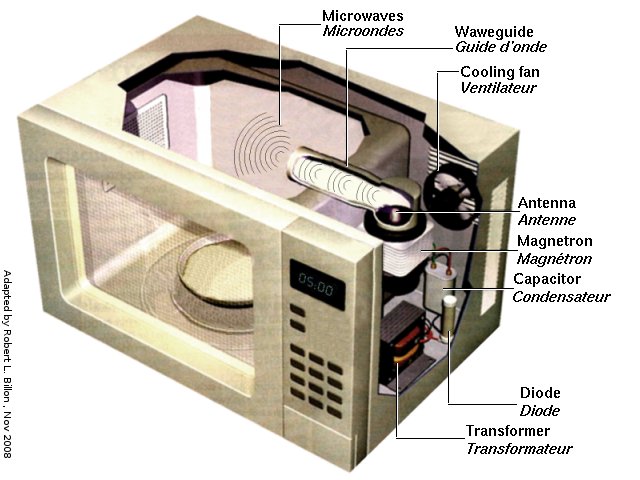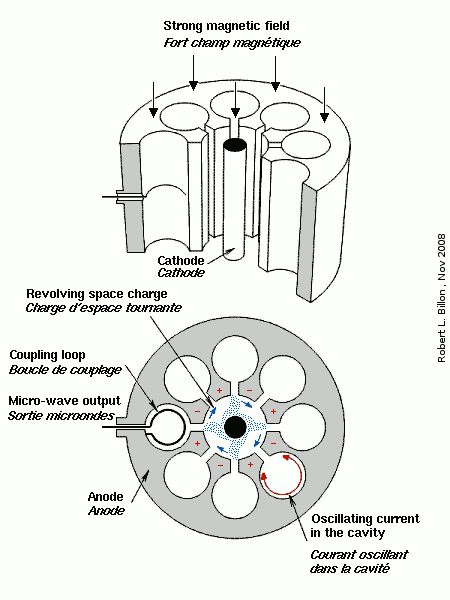 The magnetron is the core of the device
Le magnétron constitue le coeur de l'appareil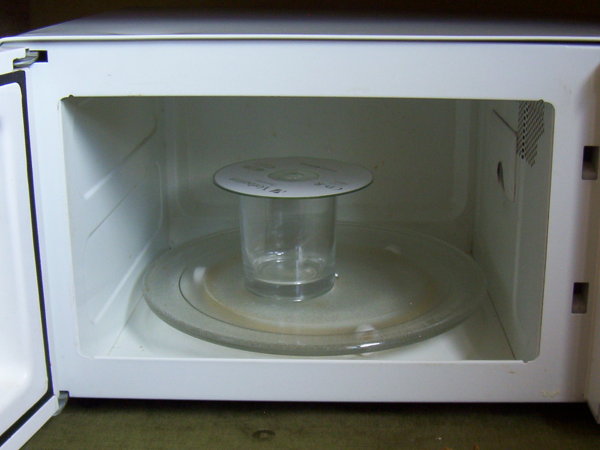 A cooking experiment ! - Une expérience de cuisson !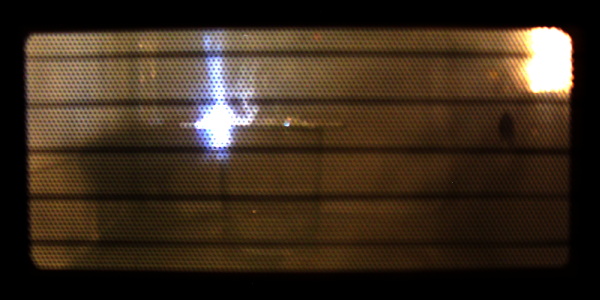 A few seconds are enough - Quelques secondes suffisent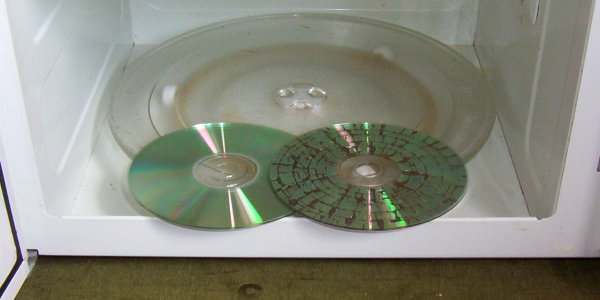 And... the result - Et voilà le résultat



---
File: mo.html, 2001-07-29 - Robert L.E. Billon - Last update: 2010-11-06