Cosmopolis


Grays Harbor County, WA
46.935144, -123.739014
550 Feet
Call: W7EOC


145.390 -600kHz 118.8Hz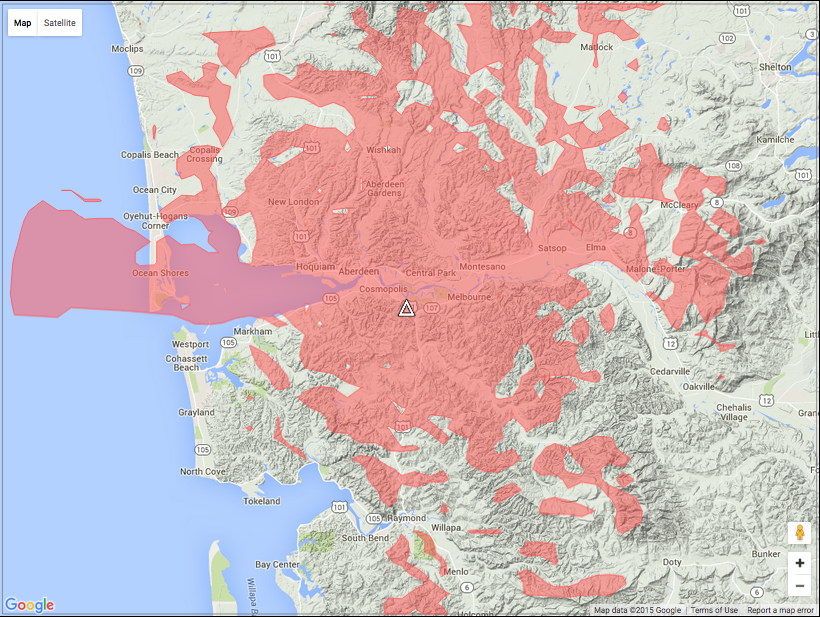 Cosmopolis VHF Repeater

As of May 6, 2014, the Cosi
repeater has been upgraded
and returned to the air,
once again ready to serve
the Amateur community.


Location: Overlooking Cosmopolis, WA, from near the crest of Cosmopolis Hill, on Highway 101, about 2 miles north of the Hwy 107, "Montesano Cutoff", Juction.

Coverage: The "Cosi" Repeater covers the Aberdeen/Hoquiam area of Grays Harbor County from Ocean Shores on the west, to Elma on the east. In addition, the coverage follows Highway 101 south to the Pacific County border.

One constraint on this site was the landlord's requirement that the entire station be mounted to the back wall and not stick out more than a foot. Doyle, N7UJK, installed and painted a sheet of chip-board as a foundation, and all components were secured to this. The Wacom 5-inch BpBr duplexer stuck out 11-inches, and the rest of the gear was well within our one-foot allowance. Since we installed the repeater, the tiny shack filled up with other equipment. We considered ourselves lucky to have this site, and living within the one-foot space requirement has been a modest concession.

In April and May of 2014, the landlord (Grays Harbor PUD) required us to move into a new building at the other end of the fenced area. The previous shack was taken over by a broadcast station, and we were offered a rack in the newer facility. This was a definite step up, and allowed replacing the original duplex-converted mobile with a station chassis, much better suited to repeater service.

During an emergency, this repeater will probably be disconnected from the network, to provide intra-county communications support. The link is capable of connecting the Cosi repeater to the Neilton, Minot or Olympia sites, to enhance communications within Grays Harbor County. This repeater is directly accessible from the Grays Harbor EOC in Montesano.

Hardware: The repeater is based on a 100-watt continuous-duty, GE Mastr-II, duplex-converted station chassis, running 40-watts output. The controller is a CAT-200B in a Radio Shack metal box mounted on a standard rack shelf above it. The link to
BeachNet
is provided by a GE Rangr UHF mobile, running 10-watts. Several fans circulate air across the repeater heatsink to keep things cool. A Hustler G6-270 antenna, shared between the repeater and link radio, is mounted above a microwave dish well up the tower, and fed with 150-feet of LDF5-50 7/8-inch hardline through a diplexer. The repeater signal passes through a VHF DCI filter to attenuate the high level of broadcast RF at this site.

Web Cam: for a look at the road conditions on Hwy 101, right outside the gate to the site access road, Click Here for the WSDOT traffic cam.