Contents - Index - Previous - Next
---
Partial Search
---


When this function is turned on, the search function will start when 2 or more characters are typed into the CallSign field. The current log is searched first, followed by the search datafile that you select. As more characters are entered, the list of possible callsigns is reduced. Any part of the callsign can be entered. You can use this function to look for particular DXCC prefixes.

Clicking a callsign in the partials window will insert it into the callsign field. On selected contests w/grid squares, double-clicking the right hand window inserts the callsign and the grid locator into the appropriate fields. See below to add grid locators to your partial search datafiles.

This search function is selectable via the View menu as shown below. Select and check [Use partial search]. Select whether you want 2 separate window outputs (left window output from the current log search and right from the search datafile). Then, select which datafile you want searched.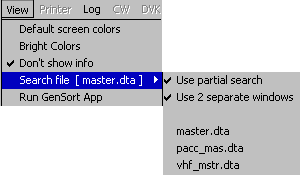 Notes:
GenLog`s pull-down datafile menu (shown above) can store 6 filenames that are loaded and displayed in alphabetical order. Filenames other than the 6 that are loaded, are ignored. If you have more than 6 and want to display others, move the unused files to a temporary folder. The extension .dta was used since GenLog already uses ASCII files with the .dat extension and you only want to select from partial call datafiles.

If you have a fast PC, you can try a large datafile that you make by selecting all the files in the folder. This would enable you use one master file for all contests. Older PC users: If you experience an annoying delay while typing callsigns, turn off the partial search.

As usual, your selections and settings are saved in the [ GenLog_Control.ini ] file, so you don`t need to re-select the options each time you start the logger.

Making search datafiles:
A logfile compiler application [ GenSort ] is supplied with GenLog, and is used to generate your own callsign look-up datafiles. Of course you can always write a `text` file using Excel data if you wish. The file is a simple ASCII file with one callsign per line.

Use the View Run GenSort App menu to run the software, if GenSort.exe resides in your logging folder. Or run GenSort either from Explorer or via a shortcut.

The list of GenLog *.log filenames are displayed in the files window. Select one or more files, then select {OK} to compile. Alpha sort the file if you wish. Do `Save As` and save the compiled file {gencalls.dat} to a {filename.dta} file. These files must have a .dta extension. When saving these files, use filenames that indicate which contest they might be used for. Ex: pacc_mas.dta wwdx_mas.dta vhf_master.dta ....

If you would like WWL (grid square) data included in your search data files, click the 4/6-digit function. When this option is checked, the grid locator in taken from selected log files that have grid locators as the exchange. After merging the log file(s), you can view the records with grid square data.

Contest log files that the grid locator can be taken from are:

10m NRAU Activity Contest
2GHz+ WW Microwave Contest
2-4-6 Meters
ARRL 10-GHz+ Cumulative Contest
CQ World-Wide VHF Contest
Fall VHF Sprints
Generic 6-Digit Contest
IARU R1 VHF/UHF Contests
Lario Six Meter Contest
Millennial Microwave Contest
RMG Cumulative Contest
Six Club 6-Meter Sprints
SMIRK 6-Meter QSO Party
Spring VHF Sprints
Stew Perry TopBand Challenge
TOEC World-Wide Grid Contest
WW Locator DX Contest