Repeaters

147.390/900 MHz (+600 KHz R/T offset)
CTCSS Tone 114.8
Gray, LA
This repeater is located between Houma and Thibodaux, LA, NNW of Houma
Located just off of the Bayou Blue Bypass Road in Gray, LA, between Houma and Thibodaux near LA-24, this is the primary 2 meter repeater for northern Terrebonne and northern Lafourche Parishes.
The antenna is a DB224 mounted at the 325 foot level. The RF deck produces 25w RF. Chances are if you can hear this repeater, you can get into it. Give it a try.
Live telemetry data for our system (Battery Bank Voltage and Room Temperature) can be found on the Comment line on THIS LINK per the APRS station KK5CM-3. Our thanks go to Craig!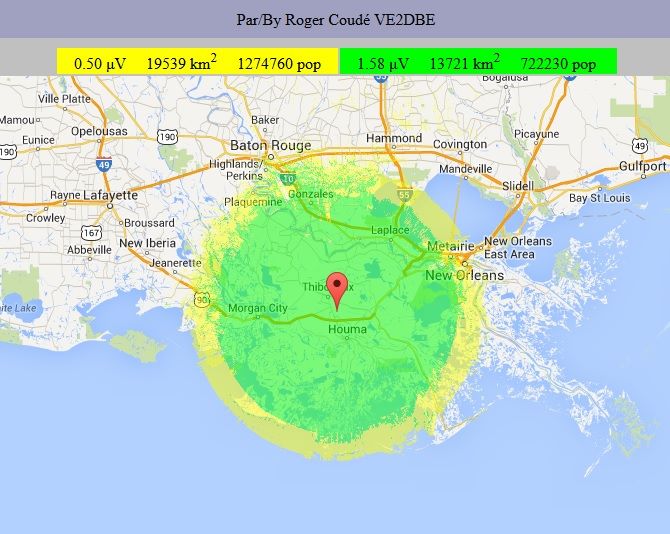 ABOVE: Estimated coverage map of 147.390+ Gray, LA repeater running full power (50 watts output)
147.300/900 MHz (+600 KHz R/T offset)
CTCSS TONE 114.8
(IRLP and Echolink currently down)
Theriot, LA
This repeater is located in Theriot on Bayou DuLarge south of Houma.
The repeater hardware utilizes the Yaesu System Fusion. Modes include simple analog and C4FM digital. For technical reasons, all inputs on this repeater are
mapped to the analog out port, no matter the input mode. When some technical issues are resolved, the repeater will be available in all modes
The antenna is a DB224 mounted on the northeast arm of the candelabra at 550 feet. The coverage area is nothing short of phenomenal. Lots of great signal
reports from Laplace, Prairieville, New Orleans, all places that haven't heard this repeater in years!!!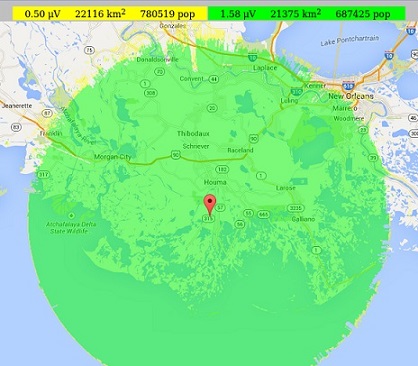 ABOVE: Estimated coverage map of 147.300+ Theriot, LA repeater running full power (75 watts output).
444.500/449.500 MHz (+5 MHz R/T offset)
Houma, LA
The 444.500/449.500 repeater is back on the air in a testing mode!

No tone is required to access the receiver, but the antenna is only up at 40 feet during the testing phase. It is currently located on Coteau Road, north of the Southland Mall in Houma.

This repeater is a Yaesu System Fusion repeater that can automatically detect digital signals as well as analog, and will automatically switch operating modes based on the input signal.
Let's get on this one and wring it out, so when it is ready to relocate to a bigger stick, all potential problems will have been worked out. The call sign is W5YL/R.