Central Washington's premier amateur radio club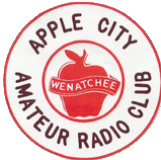 Next Club Meeting: Oct 3rd - 8am
Country Inn, East Wenatchee
*Until new meeting place is found we will be meeting at Country Inn*

Next Board Meeting - Oct 1st - 6:30pm
Country Inn, East Wenatchee



Celebration of LIfe for WL7LB (SK)

Florence Robinson wanted to let the club and local hams know that they will be holding a celebration of life for her late husband Robert (Bob) Robinson. The event will be on10/3, start at 4pm, and held at her house located at 2481 Easy St. All friends are invited to attend.


Alcoa Safety Gear Donation - $1000

On March 24th the club was the recipient of a very generous donation from Alcoa to help us purchase safety gear (harnesses and helmets) for climbing. We are very appreciative of the work that Danny (K7ISC) and Jex (KG7MKS) put into getting this donation. And a great big thank you you Alcoa for their support!


Alcoa newsletter article with picture of PR Superintendent Jens Lee presenting check to ACARC President John Lathrop
New Swap n' Shop postings

Please use the button at left to check them out!


2015 Hamfest Dates announced

The 2015 Hamfest will be held on the weekend of
June 12th - June14th at the Dryden Gun Club (as in previous years). Please make plans to attend and have a great time.


Special Olympics Volunteers - Sign Up ASAP

If wishing to participate as a volunteer with the club you need to apply - this is easiest. Information/forms can be found here:
http://www.specialolympicswashington.org/sowa/volunteer/become_a_volunteer


PO Box Notice *please read*

Attention - for most of this year we have been having issues with the Post Office and our box. There are times mail is returned to sender stating the box is closed.

This is not true

. If this happens to you please email the club and we will contact you to make other arrangements on getting the letter/package to the group. Sorry and thank you for understanding as we get this worked out with the PO.


Newsletters

Check the archive out from the buttons on left. If you would like to suggest a story idea or have one you have written added please send to the club email address
.



Club Repeaters:


146.68
( - offset / 156.7 )

53.390
( - 1.700 offset / 118.8 )

Weekly Club Nets:

Tuesday Night Net
8pm on Club 2 meter repeater

Monday 10 meter gathering
8pm on 28.375
(freq open to all license classes
)


***** Upcoming Club Events *****

Election Nominations - 10/3 Club Meeting
Hiway Cleanup - Make a Difference Day 10/24
Christmas Party - details still TBD

!!! Net Controls Needed !!!
If you are interested please contact Tracy (KD7KBE) or email the club. We need more volunteers to help do the Tuesday night net. No experience necessary - just follow the provided script.
Rich K7RBC has joined the ranks, but more help never hurts.
**Thanks!

(Calendar at bottom of page)