Central Washington's premier amateur radio club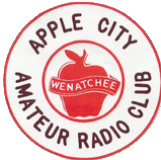 Next Club Meeting: November 1st - 8am
Chelan County Fire Station - 5th and Western - Wenatchee
Doors open at 7:30am (coffee and donuts available)

Next Board Meeting - October 30th, 2014 - 6:30pm
Country Inn, East Wenatchee

2014 Ballot

Ballot can be downloaded here - please email back by 10/31, or mail to PO Box by 10/28


Silent Key

Ron Patton, WB7AFX passed away 10/19. Although not a current member of the club he had been an active ham in the past. We offer our condolences to the family and those affected by this loss.


Swap n' Shop now open

Click button to left, new items added as we get them.


PO Box Notice *please read*

Attention - for most of this year we have been having issues with the Post Office and our box. There are times that sent mail will be returned to sender stating the box is closed.

This is not true

. If this happens to you please email the club and we will contact you to make other arrangements on getting the letter/package to the group. Sorry and thank you for understanding as we get this worked out with the PO.


Newsletters

Check the archive out from the buttons on left. If you would like to suggest a story idea or have one you have written added please send to the club email address
.



Club Repeaters:


146.68
( - offset / 156.7 )

53.390
( - 1.700 offset / 118.8 )

Weekly Club Nets:

Tuesday Night Net
8pm on Club 2 meter repeater

Monday 10 meter gathering
8pm on 28.375
(freq open to all license classes
)


***** Club Events *****
Hiway Cleanup (Make a Difference Day) - Oct 25th
Weigh Station south of Rock Island on Highway 28
9am - 11am Saturday - planning a tailgate lunch after in the lot (weather permitting)
All welcome - please come and participate