Central Washington's premier amateur radio club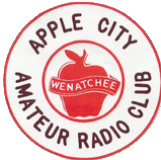 Next Club Meeting: December 6th - 8am
Chelan County Fire Station - 5th and Western - Wenatchee
Doors open at 7:30am (coffee and donuts available)
**VE Testing after the meeting**

Next Board Meeting - December 4th - 6:30pm
Country Inn, East Wenatchee

Election Results

President - John N7RHY, Vice Pres - Earl K7EKJ, Secretary - Jex KG7MKS, Treasurer - Stacey KB7YYY, Trustee #1 - Skip KE7MPO


Robert Robinson WL7LB (SK) 10/5

Another member of the club has gone SK - WL7LB, Robert Robinson passed away 10/5. Our condolences to the family for their loss. We are happy to share that his son Gene is already licensed as a technician, and his widow has attended a club meeting and is now studying to get hers. It is nice to see that he passed his interest in amateur radio along to others in his family.


Swap n' Shop now open

Click button to left, new items added as we get them.


PO Box Notice *please read*

Attention - for most of this year we have been having issues with the Post Office and our box. There are times mail is returned to sender stating the box is closed.

This is not true

. If this happens to you please email the club and we will contact you to make other arrangements on getting the letter/package to the group. Sorry and thank you for understanding as we get this worked out with the PO.


Newsletters

Check the archive out from the buttons on left. If you would like to suggest a story idea or have one you have written added please send to the club email address
.



Club Repeaters:


146.68
( - offset / 156.7 )

53.390
( - 1.700 offset / 118.8 )

Weekly Club Nets:

Tuesday Night Net
8pm on Club 2 meter repeater

Monday 10 meter gathering
8pm on 28.375
(freq open to all license classes
)


***** Club Events *****

Christmas Party - Sunday December 7th - 4pm-7pm(ish)

Potluck - with Turkey being furnished by John, Sylvia, and Tracy. All other dishes needed.


(Calendar at bottom of page)