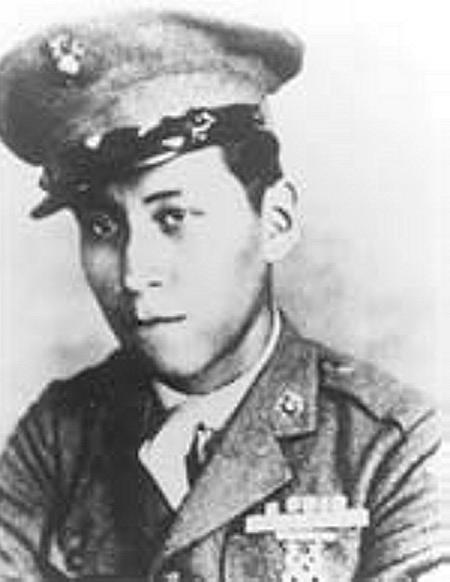 Camp Red Cloud, originally known as Camp Jackson, was named in honor of Corporal Mitchell Red Cloud Jr. of Company E, 19th Infantry, 24th Infantry Division, who was posthumously awarded the Medal of Honor on General Orders 26, dated 25 April 1951, for action near Chonghyon, Korea on 5 November 1950.

The camp was first formed on 27 July 1953 as a Tent Camp in support of the heliport, and just called H209. It was soon expanded and called Camp Jackson.

On Armed Forces Day 1957 it was renamed Camp Red Cloud, It was the I Corps headquaeters. Camp Nomad Charlie, south of Uijongbu was then renamed Camp Jackson.




Clip from I Corp Bullseye News Paper in 1960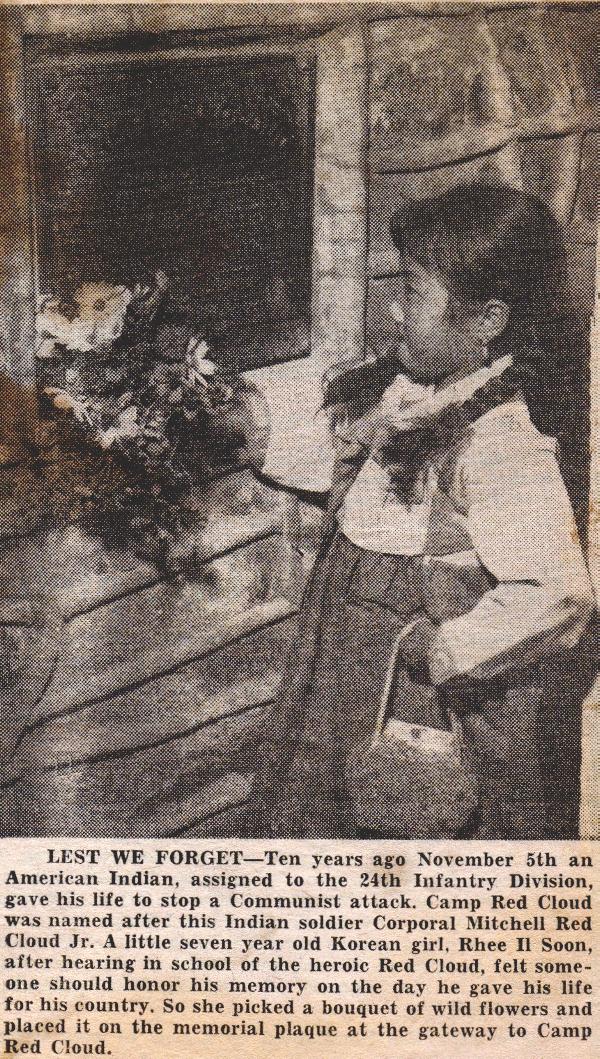 Thanks to George Berlinski


Although Camp Red Cloud for many years was the I Corps headquarters, it has since become the headquarters of the Combined Field Army (ROK-US) a bi-national command formed 14 March 1980. However, the Army and Air Force Exchange still operates "The Bulls Eye Inn" eluding to the I Corps shoulder patch. I Corps is now headquartered at Fort Lewis, Washington. The old "Omni Club" at Camp Red Cloud has been renovated and is now simply known as the NCO Club.
Mitchell Red Cloud, attended school, Wisconsin, until August 1944, when he entered the US Marine Corps at age sixteen. Discharged after World War II, he joined the US Army in 1948 and was assigned to the 24th Infantry Division.
On 5 November 1950, in the vicinity of Chongyon, Korea, while with Company E, 19th Infantry Regiment, Corporal Red Cloud distinguished himself by conspicuous gallantry and intrepidity above and beyond the call of duty at the cost of his life on 5 November 1950.
Per his citation:
Corporal Red Cloud, Company E, distinguished himself by conspicuous gallantry and intrepidity above and beyond the call of duty in action against the enemy. From his position on the point of a ridge immediately in front of the company command post he was the first to detect the approach of the Chinese Communist forces and give the alarm as the enemy charged from a brush-covered area less than 100 feet from him. Springing up he delivered devastating pointblank automatic rifle fire into the advancing enemy. His accurate and intense fire checked this assault and gained time for the company to consolidate its defense. With utter fearlessness he maintained his firing position until severely wounded by enemy fire. Refusing assistance he pulled himself to his feet and wrapping his arm around a tree continued his deadly fire again, until he was fatally wounded. This heroic act stopped the enemy from overrunning his company's position and gained time for reorganization and evacuation of the wounded. Cpl. Red Cloud's dauntless courage and gallant self-sacrifice reflects the highest credit upon himself and upholds the esteemed traditions of the U.S. Army.
Corporal Red Cloud was born 2 July 1924 in Hatfield, Wisconsin. He entered the service at Merrilan, Wisconsin. He is buried in the Indian Mission Cemetery located northwest of Black Rivers Falls, Wisconsin.

---
Camp Red Cloud
Camp Red Cloud is located in Uijongbu City. CRC covers over 164 acres of land in the northwestern edge of Uijongbu City. Camp Red Cloud is located between Seoul and the DMZ. Camp Red Cloud is home to the 2ID headquarters, located about 40 km. north of the capital city of Seoul. The city of Uijongbu has had the spelling changed several times over the years, and is now Euijeongbu.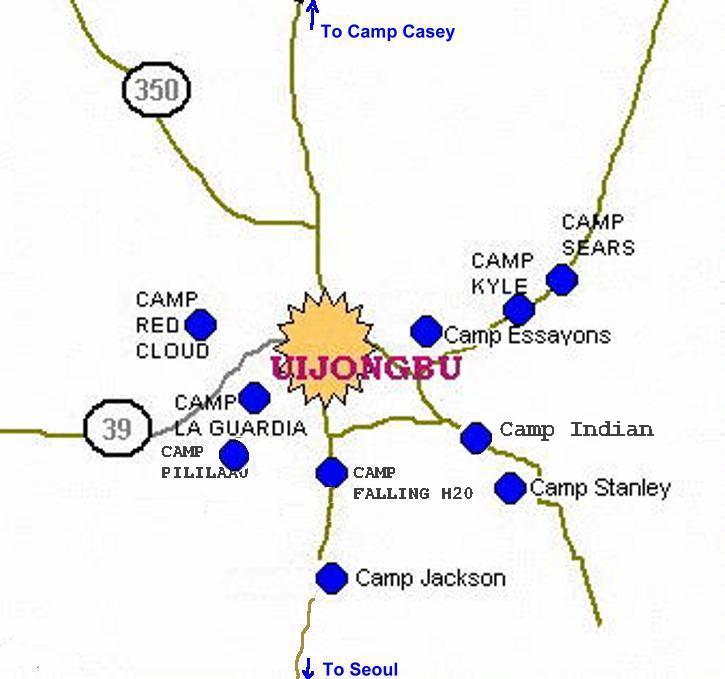 Click to see a picture or link to the camp
(will open new browser window)


Click for a large satellite view

(Scroll left to right to view)





Pictures of Camp Red Cloud and Uijongbu




















---

Feb 16 2009


With all the hundreds of thousands that have served in Korea since the 50s, I thought it would be nice to have a place to leave messages and comments for others that served in the same area or unit. You can post up messages, stories, pictures, or what ever you wish, to pass on to others. The below forum is set up for your use.

Back to my Army Assignment page.




If you would like to make a Donation
to help keep this sight alive

My New Guestbook



I was in the 21 DSG, 4th Maint Bn in 1969-70. These were both on Camp Red Cloud. In 1981, I was also in A Company 304th Signal Bn at CRC.