Boyce, an Amateur Extra Class licensee, joined ARMS in 2001 and The K5VSP station includes a Ten Tec Jupiter, a Kenwood TS-570, a Kenwood TS-530, and Kenwood and Yaesu 2m/440 dual banders. For a little extra umph, Boyce uses the Ameritron 811 and 811H amplifiers. Antennas include a Cushcraft A3S tribander, a Carolina Windom, an 80-meter Bazooka, a Hy-Gain vertical, and a beam for two meters. Besides the ARMS nets, Boyce enjoys checking in with the Razerback Net, checking in with his local Ham Radio club (The Lawrence County Amateur Radio Club) and working code.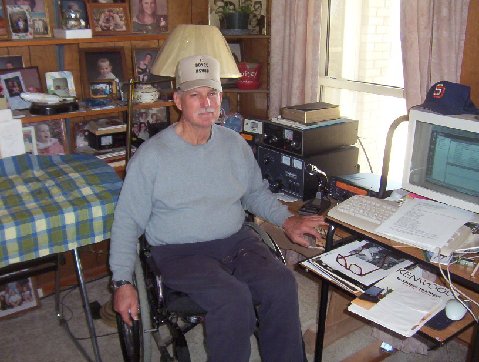 Boyce was first licensed in 1996 when his son, fellow ARMS member Kendall, K5DJU, challenged him to get his license. Eldo, W5ADT, introduced him to the ARMS net, and shortly thereafter Boyce became the Friday net control for the 20-meter net.
Professionally, Boyce ran a TV/radio shop for many years until retirement. He's been serving the Lord since 1961 and is greatly involved in his local church. Over the years he's developed quite and interest in music, especially old-time Gospel. He plays the guitar, the keyboard, and the fiddle. Boyce and his sister, Janice, go to nursing homes during the week, play music, and hold services. He says the residents always enjoy seeing them.
Boyce has been married to Thelma Lou for 47 years now. They have one daughter, Denise, of Scurry, Texas, and one son, Kendall, of Imperial Beach, California. They have also been blessed with three grandchildren: Elisabeth, Aaron, and Madison.
Psalm 118:24 is cited by Boyce as his favorite Scripture: "This is the day the Lord has made; let us rejoice and be glad in it."
Boyce leaves us with the following words. "Over the years I have thoroughly enjoy serving the Lord daily and talking to all the great folks on the ARMS net. I've never met a greater group of people. I have found out as I get older that my get up and go, goes a lot faster than it used to. I will keep serving the Lord and doing His will as long as He allows me to do so."
Updated 9 December 2019