K7AQ
Charlie Cox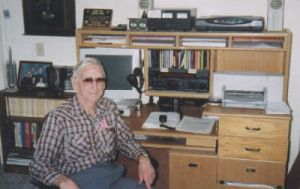 Long-time ARMS president and Amateur Extra Class licensee Charlie Cox, K7AQ.
Charlie certainly qualifies as an official old timer in the ham radio ranks with sixty-eight years of radiating RF around the world. It all started at age 14 when he was invited to join the Boy Scouts and started to read the Boy Scout Handbook. He says he was hooked when he came across a chapter on radio. He soon built a crystal radio set and more tuned circuits. This was the beginning of many more years of building radios and antennas.
For a great story on Charlie's early years of hamming, go to the Spring 2006 edition of The Beam and read his article titled, "How I Got Started in Ham Radio."
In 1938, Charlie passed his Class C radio test and operated under the camp call of W3FEM in Virginia. In 1940 Charlie moved to Maryland and worked for the Martin Aircraft Co. He then went on the air as W3JVI. From 1944 to 1946 he served in the U.S. Navy as an electronic supply technician. Then, in 1950, he became W6PNT after being transferred to California. While he was in California, Charlie built a SSB rig for 75 meters, making him an early pioneer in that mode. He returned to Maryland in 1952 as W3JVI before being transferred to Colorado in 1956. He then received the call sign KØGKR.
Charlie retired in 1973 and moved to Grants Pass, Oregon, where he received his current call sign of K7AQ. He and his wife, Emily, moved to Arizona in 1991. They now enjoy retirement at the Glencroft Retirement Community in Glendale.
After so many years in amateur radio, you have to believe Charlie has been involved is many different facets of the hobby. His main interest today, however, are building, VHF contesting, and the ARMS Christian Fellowship Group.
To say that ARMS is merely an interest of Charlie's is probably a huge understatement, since Charlie served as our president for twenty-four years. He stepped down in June of 2003, when Gerry Brunk, K4RBZ, our current president, followed him. In Fall 2003 edition of The Beam, Gerry wrote, "In recognition of his term of service, and as in-coming president I hereby confer upon Charlie Cox, K7AQ, the title of President Emeritus of the Amateur Radio Missionary Service, with all the rights, privileges and honor appertaining thereunto. Thanks, Charlie, for all you have done for ARMS." To which all ARMS members say a hearty "Amen!"
Charlie's life verses are found from 1 Peter 5:6-10: "Humble yourselves therefore under the mighty hand of God, that he may exalt you in due time: Casting all your care upon him; for he careth for you. Be sober, be vigilant; because your adversary the devil, as a roaring lion, walketh about, seeking whom he may devour: Whom resist stedfast in the faith, knowing that the same afflictions are accomplished in your brethren that are in the world. But the God of all grace, who hath called us unto his eternal glory by Christ Jesus, after that ye have suffered a while, make you perfect, stablish, strengthen, settle you."
In speaking of the faithful ARMS leadership, Charlie says, "Arms has come a long way. I am so thankful for all the new leadership. The Lord has provided above all expectations. Through all these years of ARMS there was always someone in the wings ready to step in."
All the ARMS membership is grateful that Charlie is one of those who stepped in and helped make ARMS the wonderful group it is today. Thanks Charlie!
18 October 2022