KA9OOO
John Racz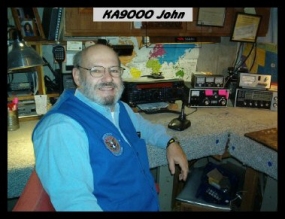 John Racz, KA9OOO, from Lawrenceburg, Indiana. John has been licensed since 1982 and holds an Amateur Extra Class License. KA9OOO was his call sign as a Novice Class operator and is the only call sign he has held. He says, "I liked it so I kept it. Had a lot of fun with it on CW." He has been a member of ARMS since around 1985 and has served as the Wednesday NCS.
John's main interests in Ham Radio are CW, contests, DX, and nets. He is also involved in public service activities, including weather nets, and is a Dearborn County RACES officer. He also operates in the annual Field Day when he is able. He is also an accredited ARRL volunteer examiner.
The station equipment at KA9OOO includes a Yaesu FT-1000MP HF transceiver and a Kenwood TMG707A 2m/440 FM transceiver, in addition to a scanner and a Pete Brothers weather station. The antennas include a Butternet HF5B beam at 50-feet and a Butternet HF6V verticle. A Ringo Ranger on a beam mast is used for two meters.
John served in the U.S. Air Force as a flight engineer on a C-141. He received the Air Medal and was discharged in 1970. In 1995 he retired from Delta Airlines as an avionics tech/supervisor.
In December, 1961, John married Judy, his high school sweetheart. In addition to their two married children, Steven and Bonnie, they have five grandchildren. They enjoy camping and fishing together as a family.
John and Judy belong to the First Baptist Church of Harrison, Ohio, where John serves as secretary/treasurer. His favorite Bible verses are from Matthew 11:28-29: "Come unto me, all ye that labor and our heavy laden, and I will give you rest. Take my yoke and learn of me; for I am meek and lowly in heart: and ye shall find rest unto your souls."
As a final note, John says, "I have been tardy lately, but will try to check in to the net from time to time."
19 October 2022