Matthew 11:28-30
28 Come unto me, all ye that labour and are heavy laden, and I will give you rest. 29 Take my yoke upon you, and learn of me; for I am meek and lowly in heart: and ye shall find rest unto your souls. 30 For my yoke is easy, and my burden is light.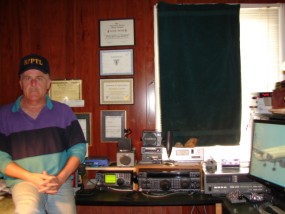 ARMS PRESIDENT K7PTL MIKE RAFFERTY
The Amateur Radio Missionary Service (ARMS) is a worldwide group of Christian Amateur Radio operators who meet on the air for fellowship, to share Scripture and prayer concerns, to assist missionaries, and to present a positive witness for Christ on the amateur bands. It was founded in 1957. Read the history page above to learn more about the beginning years.
One of the early functions of ARMS was to provide phone patch communication between missionaries and their families and friends. With the advent of the Internet, that function has basically disappeared. However, a strong interest in missionaries continues.
The ARMS motto is taken from Galatians 6:10 (NIV): "Therefore, as we have opportunity, let us do good to all people, especially to those who belong to the family of believers."
The Beam is the official newsletter of ARMS. It is published twice a year and contains news of interest from ARMS members, sections, net activities, and other information relating to radio and the work of missions.
A tract entitled Your Best Contact, written by ARMS co-founder and first ARMS president Dr. William Mierop, K2JEI, is available in quantity. They are the approximate size of a QSL card and are available for $3.00 per 100 to cover the cost of mailing and handling. Copies may be requested from the ARMS secretary: WØZMU Roger Stubbe, 406 Elm St, Pella, Iowa 50219.
ARMS on CQ100. There is an ARMS virtual net on CQ100. This virtual computer net meets on Mondays at 2300Z on 14.307MHz on the virtual dial. A round-table format is used and may include overseas Christian ham check-ins as well as those stateside. You are invited to participate.
Update 27 July 2017