Eritrea Visitor's Information Page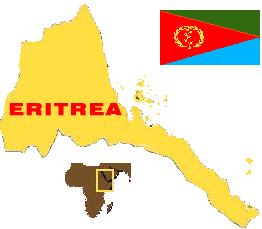 State of Eritrea
Capital: Asmara
Area: 125,000 sq km
Population: 3.0m-3.5m
Time: GMT +3



Eritrea is located in the Horn of Africa, between latitudes 12 degrees and 18 degrees north covering some 125,000 sq kms. It has 800 miles of Red Sea coastline and more than 355 islands. Its neighbors are Ethiopia, Sudan and Djibouti, with a coastline on the Red Sea. Eritrea became Africa's newest democracy in 1993 after an internationally supervised referendum where the population almost unanimously (99.8%) voted in favor of independence. The public plebiscite came after the Eritreans won a 30 year war of indepenence defeating Ethiopia's, black Africa's largest at the time, army in 1991. For more detail here is an excerpt from Eritrea: General Facts, EPLF, 1989.
---
Major Attractions - List of major attractions (under construction)

---

Embassies - Embassies, Ministries, and International Organizations


Visa - Visa requirements and how to obtain a visa in the U.S.


Health - Shots required, vaccinations, immunization, medical Facilities



Packing - What to wear, what to take


Food - Where to get the best Traditional Eritrean food, Italian, Chinese


Hotel - Main hotels in Eritrea



Currency - Banking, where and how to pay


Climate - Three main geographical zones


Transportation - By Air, By Land, By Sea - customs, airport tax, taxi



Brief History - Breif history,from Eritrea Embassy


History II - A broader view of the past


Languages - Languages, Major Holidays, Culture


Miscellaneous - Time, electricity, phone, postal service, measurements


Suggested Reading - Books available on Eritrea

---

The information in this website is accurate as of the time it was posted. However, things are changing rapidly in Eritrea and some of it may prove out of date. The Eritrean Embassies have various other information materials available. If you are interested, please contact them for a publication list.



---
We hope you enjoy your visit!