OJ0O (last update 2019/12/15)
It was in May 2019, when I was in Korea for work, I received an e-mail from Martti, OH2BH. He told me that they will have a series of operations in Market Reef to celebrate 50years anniversary of Market Reef's DXCC status and he wants me to lead one team. OK, it sounds interesting. I started organizing a team for August activation. He wanted me to organize a JA team. The problem to gather Japanese is their life style, it is not easy to have a bunch of days off. His another idea was to be international, he wanted me to have some Americans in the team. After some struggling, I finally had a team of four, two Japanese, one Korean and one American. Unfortunately, the American dropped off at last minutes due to medical emergency situation, One European replaced his seat at last minutes.
So, the team is: DS4EOI Lee, JE6HIB Atsuo, JH4RHF Jun, OM5RW Miro and Finnish volunteers who take care of us, OH3JR Henri and his wife Elina, and OG2M Perti and his wife Heidi.
Lee and Atsuo flew to Helsinki on 15 Aug. I met them at the airport and stayed at a hotel closed to the airport. On the following day, we flew to OH0.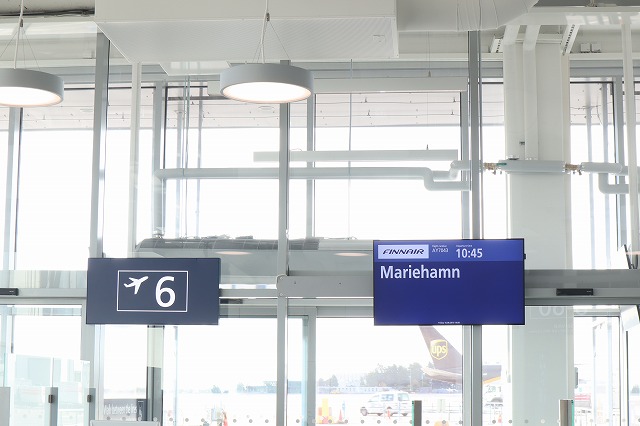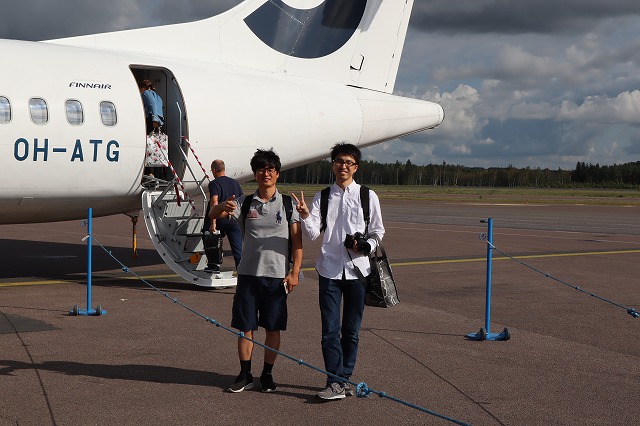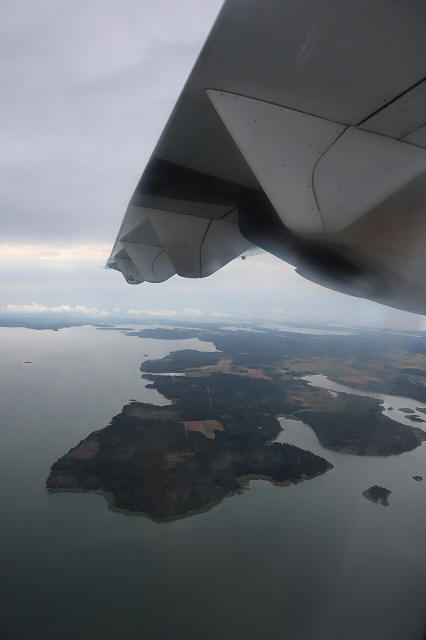 Aland islands below the wing.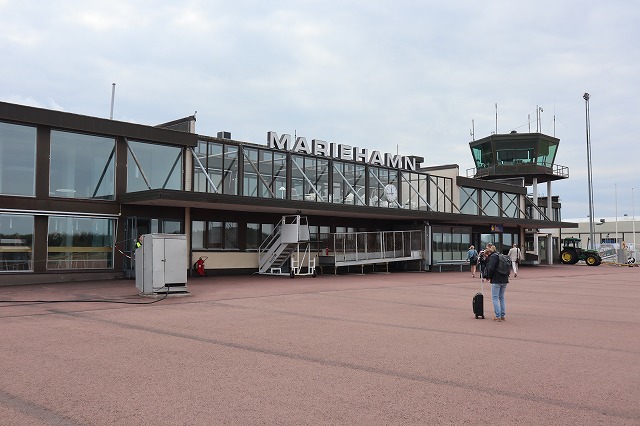 Arrived at Mariehamn Airport, the capital of Aland island, OH0.
The following day, we were picked up by Henri and Petri at the hotel and drove to the jetty, 5min away from the hotel.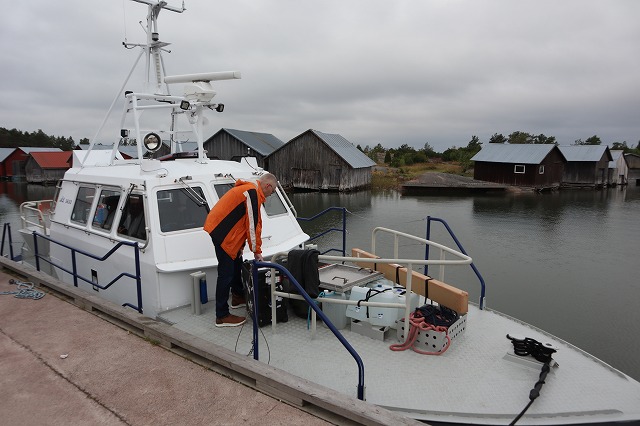 After 1hr + boat trip, the light house came into our view.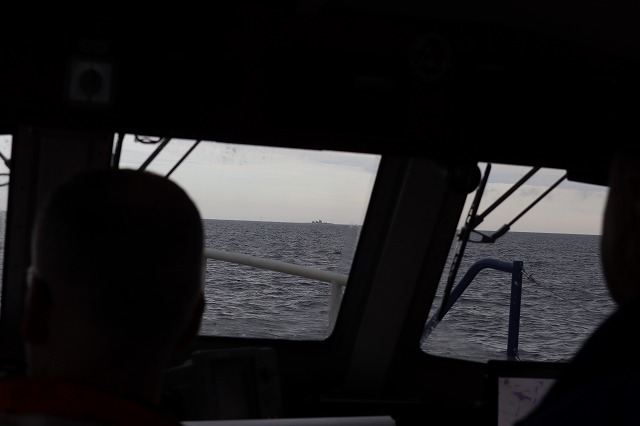 The volunteers in last shift were on the island. They went home after helping our landing.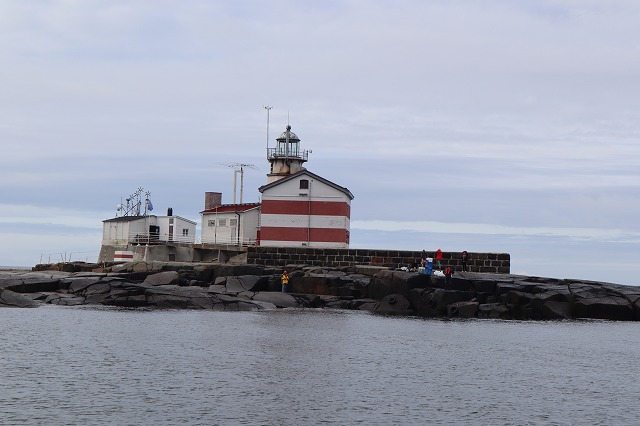 Unloading bags with a lot of hands were quick job.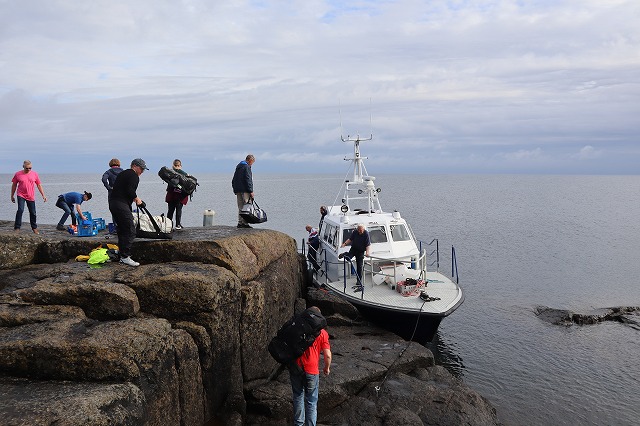 Hand made freight lift.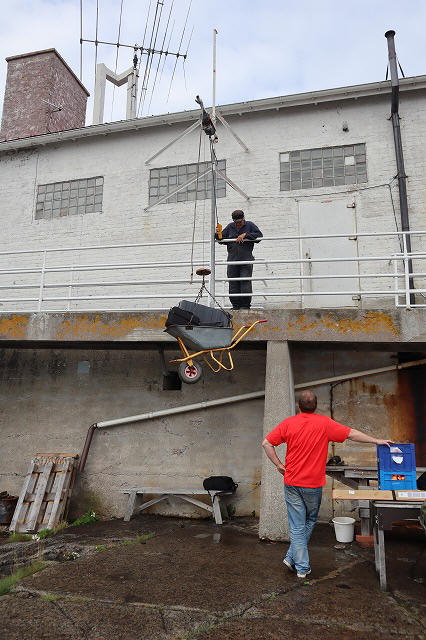 Antenna work to put wires on the light house.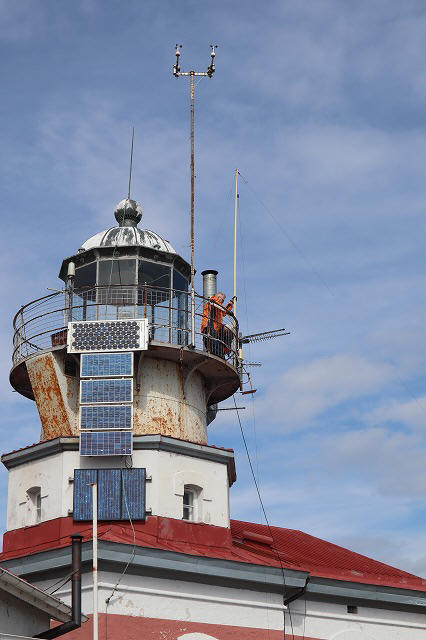 6m Yagi is up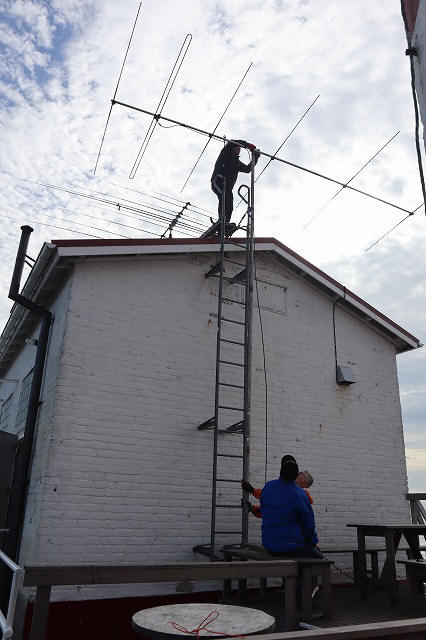 The HF Yagi was already on. We quickly started the operation.
Miro and Atsuo at operating position.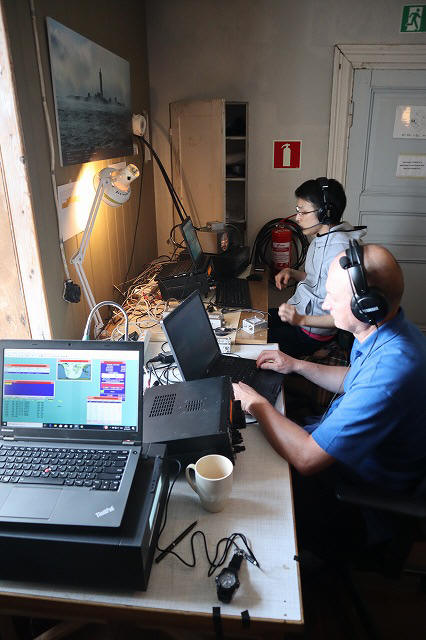 Lee is happy for 6m opening.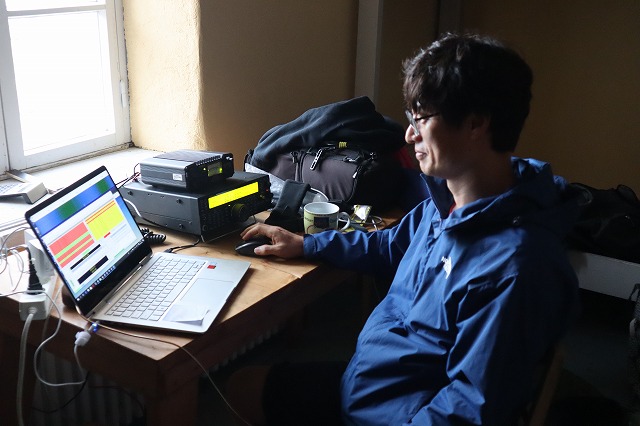 Though it is isolated island, we had a lot of fun.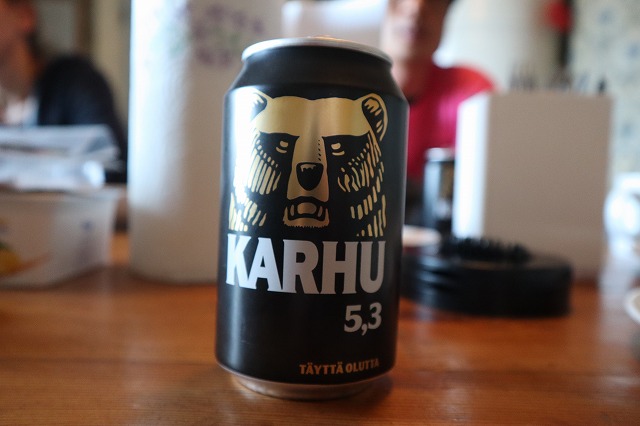 Good cook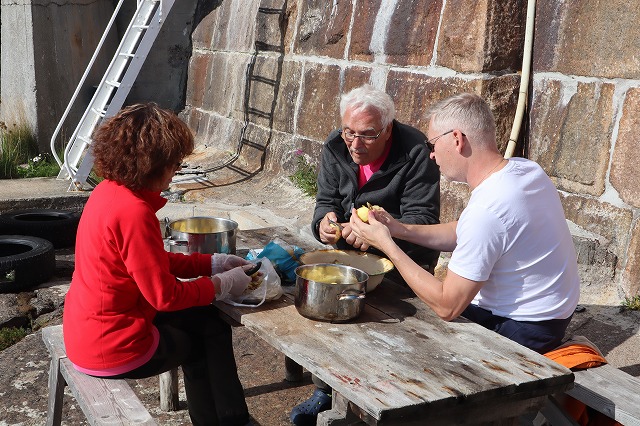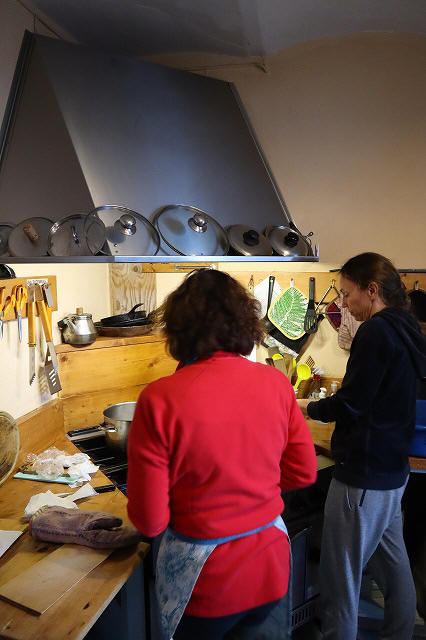 Good meals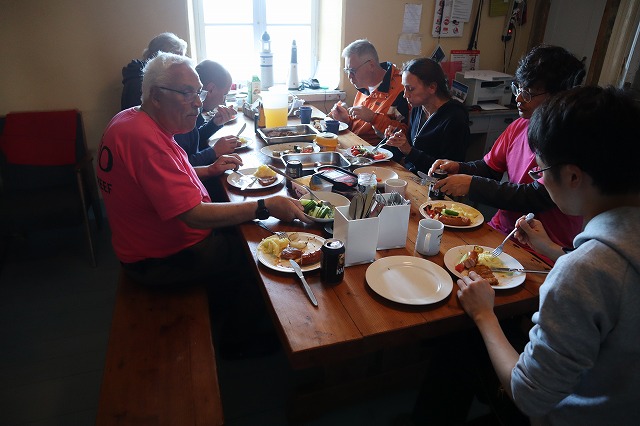 ... and cool pool after sauna (sauna photo censored..)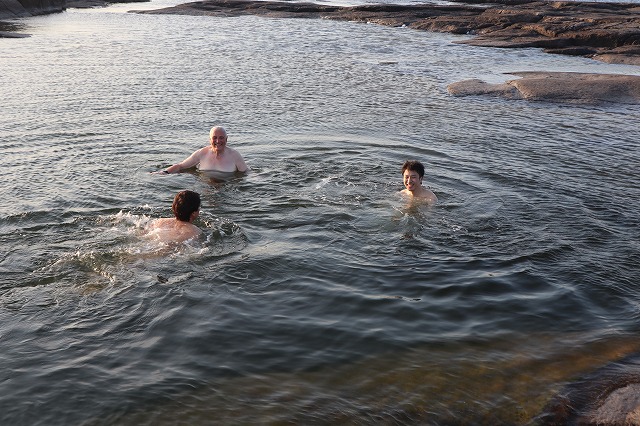 One week operation with a lot of fun was concluded with 17k ++ QSO.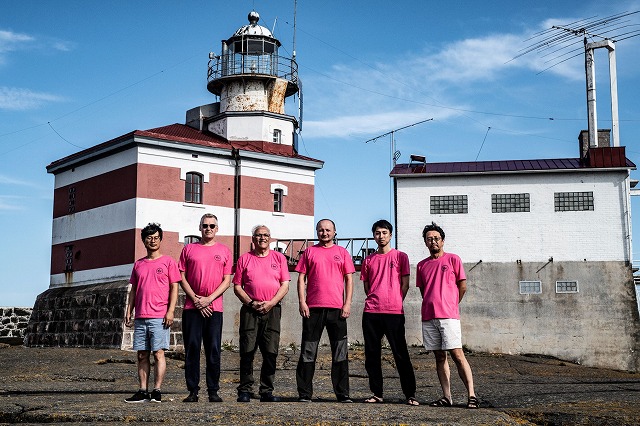 OJ0O radio team L to R Lee DS4EOI, Perti OG2M, Henri OH3JR, Miro OM5RW, Atsuo JE6EIB and Jun JH4RHF/OJ0O.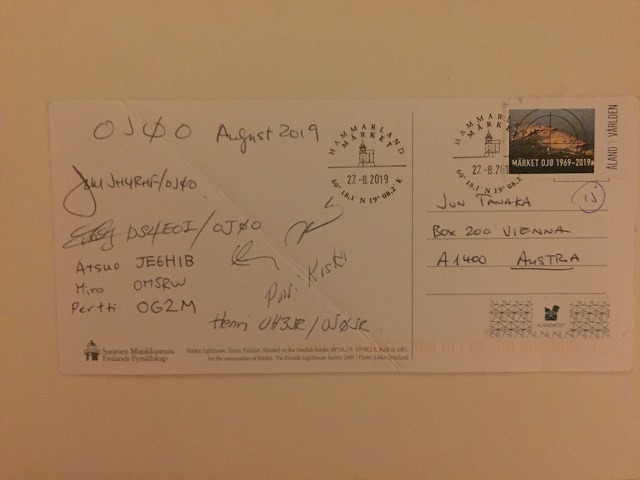 QSL card. Do you know the concept of it ?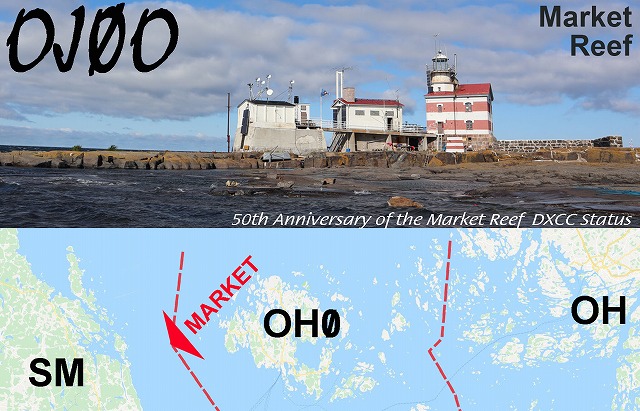 On the way back, we, three, had a whole day off on 24 Aug in OH0. Why not activate OH0 ?
As usual, I brought a fishing rod. It accommodated 20m dipole at the hotel.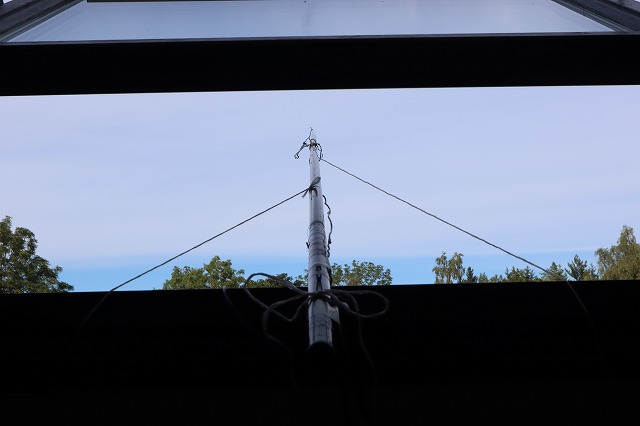 Lee started OH0/OJ0O on 20m.