Eastern Shore Amateur Radio Club (ESARC)
Mission.
ESARC on QRZ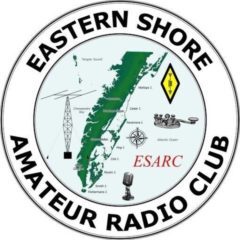 K4BW Analog Repeater System.
---
ESARC operates and maintains the linked analog K4BW 147.255+ repeater system. The main transmit antenna is located at the 154 foot level on the tower behind the old 911 Center in Accomac, VA and serves Accomack and Northampton Counties in Virginia, coverage extends to Worchester and Somerset Counties in Maryland. We operate and maintain the K4BW system of VHF repeaters in Accomac VA with linked receive sites in Mappsville VA, Craddockville VA and Accomac VA UHF repeater. ESARC also operates and maintains the KN4GE repeater in Eastville VA.
K4BW Accomac VHF
Downlink- 147.25500
Uplink- 147.85500
Offset- +0.6 MHz
Tone- 156.7
Remote Receivers: PL Tone 162.2 (Mappsville), 151.4 (Craddockville)
Repeaterbook.com Listing
K4BW Accomac UHF
Downlink- 444.30000
Uplink- 449.30000
Offset- +5.0 MHz
Tone- 156.7
repeaterbook.com Listing
KN4GE Eastville VHF
Downlink- 147.34500
Uplink- 147.94500
Offset- +0.6 MHz
Tone- 156.7
Repeaterbook.com Listing
ESARC update The K4BW repeaters and Craddockville DMR repeater are funded by the ESARC with some funding from Accomack county, we would encourage any hams in the area who do not belong to the club to think about joining our dues enable the club to operate and maintain these open use repeaters.
Announcements.
ESARC is once again ARRL affiliated! Click to Join ARRL or renew.
Club Meetings.
---
Meetings begin at 7PM. Please listen to the Monday Night ARES net (8:30PM) for details of upcoming meetings
ESARC meets the second Wednesday of every other month at the Sage Diner in Onley, VA
25558 Lankford Highway
Onley, VA 23418
We generally meet at 6:00 PM for dinner before the meeting
ESARC meets at 8:00 AM for breakfast 3td Saturday of every month at Sage Diner in Onley, VA
Anyone with an interest in Amateur Radio is welcome!
Club Officers.
---
Current Officers:
Net Info.
---
Join us for the Monday Night "Eastern Shore Amateur Radio Emergency Services Net" at 8:30PM on the K4BW Repeater.
All amateur radio operators are welcomed and encourged to check in. You do not have to be an ESARC member.
Eastern Shore Emergency Services Net Callup PDF file for Net Control Operators