From the Upper Peninsula of Michigan along the South Shore of Lake Superior ~ Station K 8 L O D

The Hiawatha Amateur Radio Association (HARA) monthly meeting is the first Thursday of each month at 7:00 PM, and is held at the Marquette County Health Department building, lower level. It's located just east of the Michigan State Police Post on Highway US-41 between Marquette and Negaunee.
Anyone who has an interest in electronics, radio theory, communications, and serving the public is welcome. Let Amateur Radio open up an whole new world to you. Explore many operating modes including voice, television, several computer generated digital modes, and yes, even Morse code. Communicate around the corner or around the world!
Amateur Radio is a licensed radio service. To earn a license requires passing examinations regulated by the Federal Communications Commission, and we can guide you through the learning process. The members and officers of the HARA are interested in sharing our enjoyable and interesting hobby with anyone who is curious about Amateur Radio and communications. Please join us!
Welcome to the World of Ham Radio. Need more information?
1) What is Ham Radio
2) Licensing-Education-Training

IRLP and Echolink information page ~ This page allows visitors to view the status of the Internet connection link. In addition, this page allows visitors to view the location of the repeater and visually see who the system is connected to.
Click here to view status.

Standing Wave - Club Newsletter Archive

Our WEBSITE Archive - Past Activities
HIAWATHA AMATEUR RADIO ASSOC SWAP and SHOP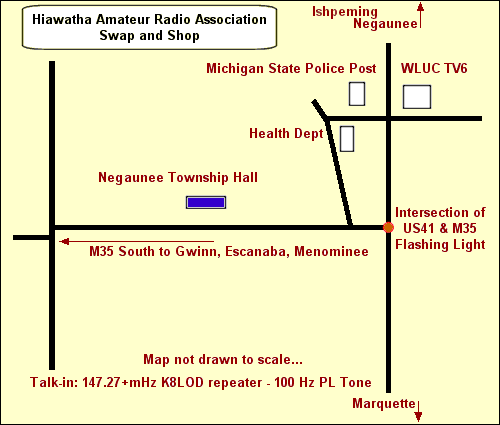 HIAWATHA AMATEUR RADIO ASSOC SWAP and SHOP
WHEN: FEB 1st 2020
TIME: 0900 TO 1300
WHERE: NEGAUNEE TOWNSHIP COMMUNITY CENTER

DIRECTIONS:
West on Hwy 41 then Left at Flashing Yellow Light to South on Hwy 35 for about 1/4 mile on right. See map.

Enjoy lots of Ham Stuff, Raffle Prizes, Door Prizes and Some Eats. Entry $5.00 at the door.

For further information contact: John Veiht
Email: [email protected]
Cell Phone: 906-458-1708

For Information regarding reservation of tables, contact: John Veiht at above email. The sooner the better! We can always use more help working the front table, the club table, etc. Please let John know if you can help out.