WILLY'S ANTIQUE
RADIO COLLECTION
---
I enjoy collecting antique radio's from the 1920's, 1930's and 1940's. Mostly I prefer radios built into wooden chassis because they make nice pieces of funiture and add a warm feeling to any room in the home. Below are some pictures of my modest collection:

---
This is a PHILCO table-top model possibly from the 1940's. This radio was purchased from a rummage sale for $10 in 1996. It has been cleaned up considerably and retubed it. This PHILCO covers the standard AM BAND only.

---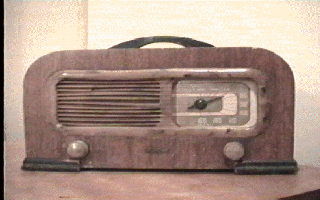 Here is another PHILCO model 42-PT94. This radio isn't as nice looking as the previous because I didn't spend a whole lot of time refinishing it. I purchased this radio for $20 from a small antique dealer in my home town. This radio plays nicely and only cover the standard AM BAND.

---

This RCA model T9-10 is dated 1935. I just purchased this from a antique mall for $65. This RCA covers the standard AM BAND as well as all the international SW (shortwave) BANDS. Previously, this radio had been modified electrically, and did not work. With a few hours of work, this radio now plays on an table in the corner of my living room. This radio is a beautiful piece of funiture.

---