The HARA/ AARC Linked Repeater System
History
The Hiawatha Amateur Radio Association (HARA), along with the Alger Amateur Radio Club (AARC) get together each year in February, to provide communications for the "Upper Peninsula 200 Sled Dog Race" (the UP200). The UP200 Sled Dog Race began in February 1989, and continues each February still today. On the third Friday of February each year, the UP200 race begins in Marquette, Michigan and continues through Munising, Michigan and into Grand Marais, Michigan. After a layover, the mushers return to Marquette on Sunday afternoon. If you know the U.P., then you can imagine that the area between Marquette and Grand Marais is vast, wild, and lonely. Cellphone coverage (no cellphones were available in 1989) in the deep forest of the U.P. is marginal at best and in many cases a signal is non-existent. The organizers of the UP200 Race approached the HAMS to provide their communication needs.
For the HAMS, it was a challenge to communicate 100+ miles in the U.P., based on the rough landscape; the rock out-croppings, sharp hills, and deep valleys prevent 2-Meter VHF signals from traveling very far, especially for those operating mobile and portable units. In the past, we set up beam antennas and multiple radios at the Marquette Headquarters in order to communicate with several repeaters between Marquette and Grand Marais-- and even then, with Grand Marais being in a deep hole, we struggled! But, being HAMS, we did the best that we could and we succeeded.
In 2006, KB0P designed a repeater linking system that spanned the area of Marquette County, through Alger County and into Grand Marais. This repeater linking system started in June 2006 (Marquette was tied to Gwinn), and in the fall of 2007, the east end was tied in. The linked repeater system was untilized for the UP200 Race for the first time in February 2007.

---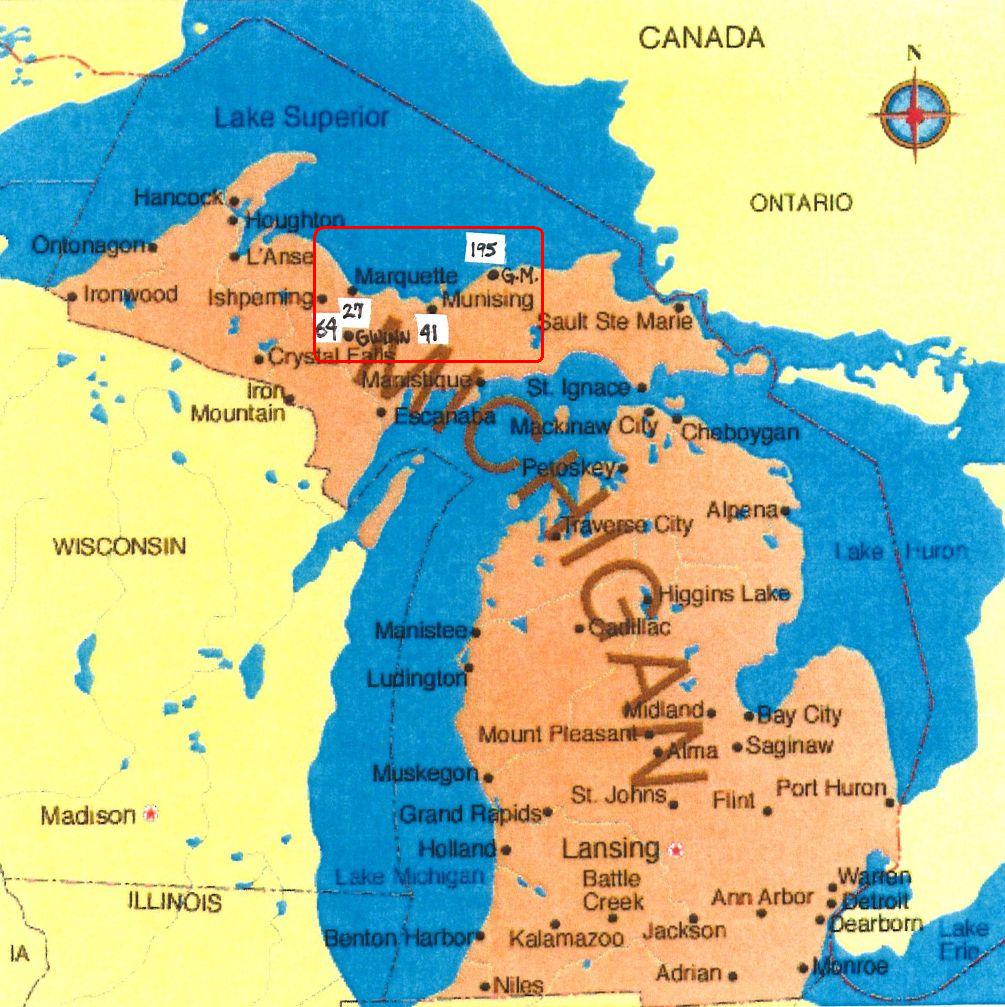 The Map Of Michigan and the U.P.
**CLICK ON PHOTO FOR A CLOSER LOOK**
Looking at this map of Michigan and the U.P., you can get a better idea of where we are located and the location of the linked repeater system. The red-square drawn in the center of the U.P. shows the rough coverage area of the linked repeaters, which is also the territory covered by the UP200 Sled Dog Race.
In respect to driving time on US41/ M28 (which basically spans the U.P. from the west to east) one can keep in contact and maintain a QSO for about 2 hours of driving time, beginning on the west-end of Marquette County near the town of Three Lakes, Michigan, and continuing across the "Seney Stretch" and almost into Newberry, Michigan on the east end of the red-square.

---
Linked Repeater Network Map
**CLICK ON PHOTO FOR A CLOSER LOOK**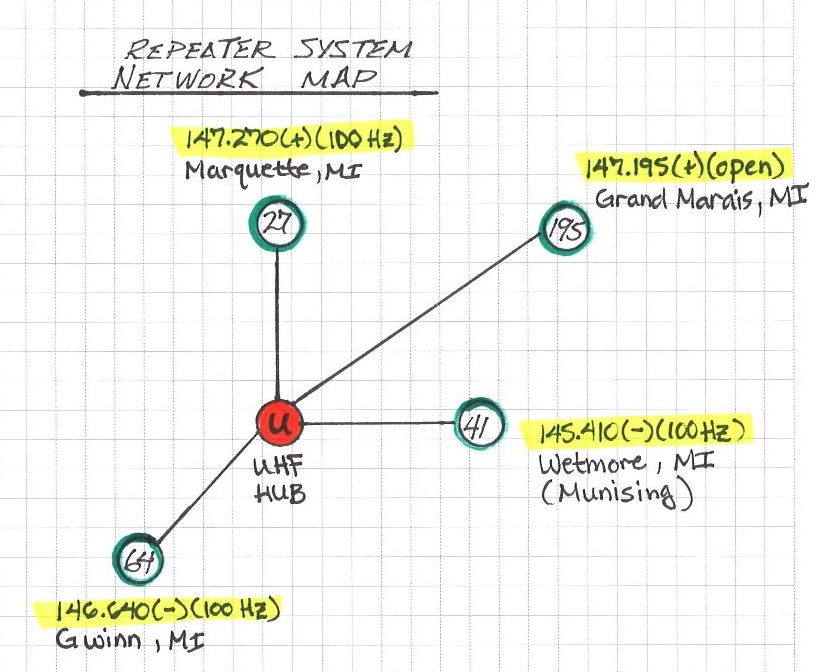 This sketch gives you a visual representation of how the repeater system is linked together.

---