My name is Doug Birky and I have had my ticket since 2003. I got my Tech in June of 03, my General in July of 04, and my Extra in May of 06.

I have my WAC, WAS, and recently got my DXCC. I use LOTW, Direct/Bureau, and eQSL. I prefer paper cards when possible, but LOTW is nice for awards. I do try to QSL 100%. I'm afraid I'm behind in this. I volunteer on our local Skywarn and RACES/ARES groups and also work with Nature's Way Animal Rescue, an organizaton that works with the emergency operations of Elkhart County. Please see www.nwart.org.

I would say my longest contact so far is R1ANC, the Russian Vostok Antarctic Base at 9877.2 mi (15895.8 km) using CW. I am very slow at CW but do enjoy it. Thanks to anyone I've worked for being patient.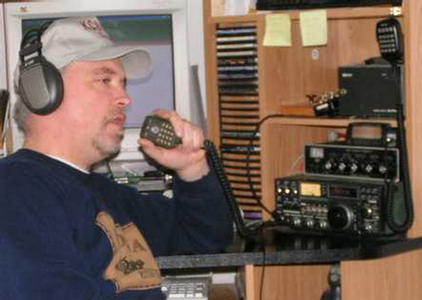 MY EQUIPMENT

My station consists of:
ICOM IC-751 for HF SSB/CW/PSK31/RTTY
KENWOOD G707 for 2m/440 FM & Packet
YAESU FT-100 with a homebrew antenna for mobile operation - SSB and CW

A TigerTronics USB SIGNALINK Sound Card Interface
A RASCAL (Thanks Buxcomm) Sound Card Interface
An MFJ Tuner
A Logikey Super Cmos III memory keyer.
Software:
RTTY - MTTY or HRD
PSK31 – DigiPan 2.0 or HRD
Winmor and RMS Express - Winlink 2000 (WL2K) Email
I use GenLog for contesting, and Ham Radio Deluxe for my general log.


SATELLITES

Lately I've been getting in to working the FM satellites, especially AO-27 and SO-50.

Click the satellite to hear my AO-27 Contact with AC0RA.


LINKS



CONTACT ME

Please feel free to contact me via email at:

[email protected]
Please Sign My Guestbook:

PLEASE VIEW MY BLOG