---My Antenna Projects---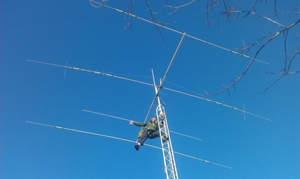 * RF Exposure Evaluation Deadline is Here
You may recall that the FCC issued changes to amateur radio RF exposure
rules that went into effect on May 3, 2021. The change does not alter
the exposure limits; it mainly removes ham radio's exemption from
evaluating their stations for compliance. For new stations established
on or after May 3, 2021, the licensee must immediately evaluate their
station and take steps to come into compliance if the evaluation shows
that's needed. For stations that existed before May 3, 2021, the
deadline was pushed back two years, but is now upon us. Our deadline for
evaluation is just a month away, May 3, 2023. Details on the rule change
are available at
(http://www.arrl.org/news/updated-radio-frequency-exposure-rules-become-effective-on-may-3).
A PDF of FAQs is available at
(http://www.arrl.org/files/file/Technology/RFsafetyCommittee/RFXFAQ4.pdf).
[PDF, 7 pages.] One method to perform your evaluation is to use the ARRL
RF Exposure Calculator at (http://www.arrl.org/rf-exposure-calculator).
-------------------------------
Readability
1 -Unreadable
2 -Barely readable, occasional words distinguishable
3 -Readable with considerable difficulty
4 -Readable with practically no difficulty
5 -Perfectly readable
Strength
1 -Faint signal, barely perceptible
2 -Very weak
3 -Weak
4 -Fair
5 -Fairly good
6 -Good
7 -Moderately strong
8 -Strong
9 -Very strong signals
-- 440mzh 1/4 wave ground plane --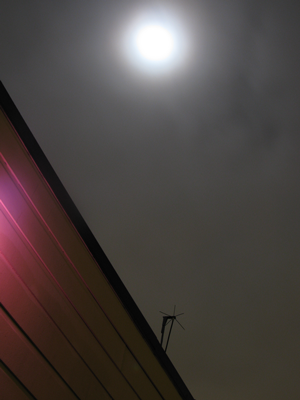 -- 144mzh 3element Yagi --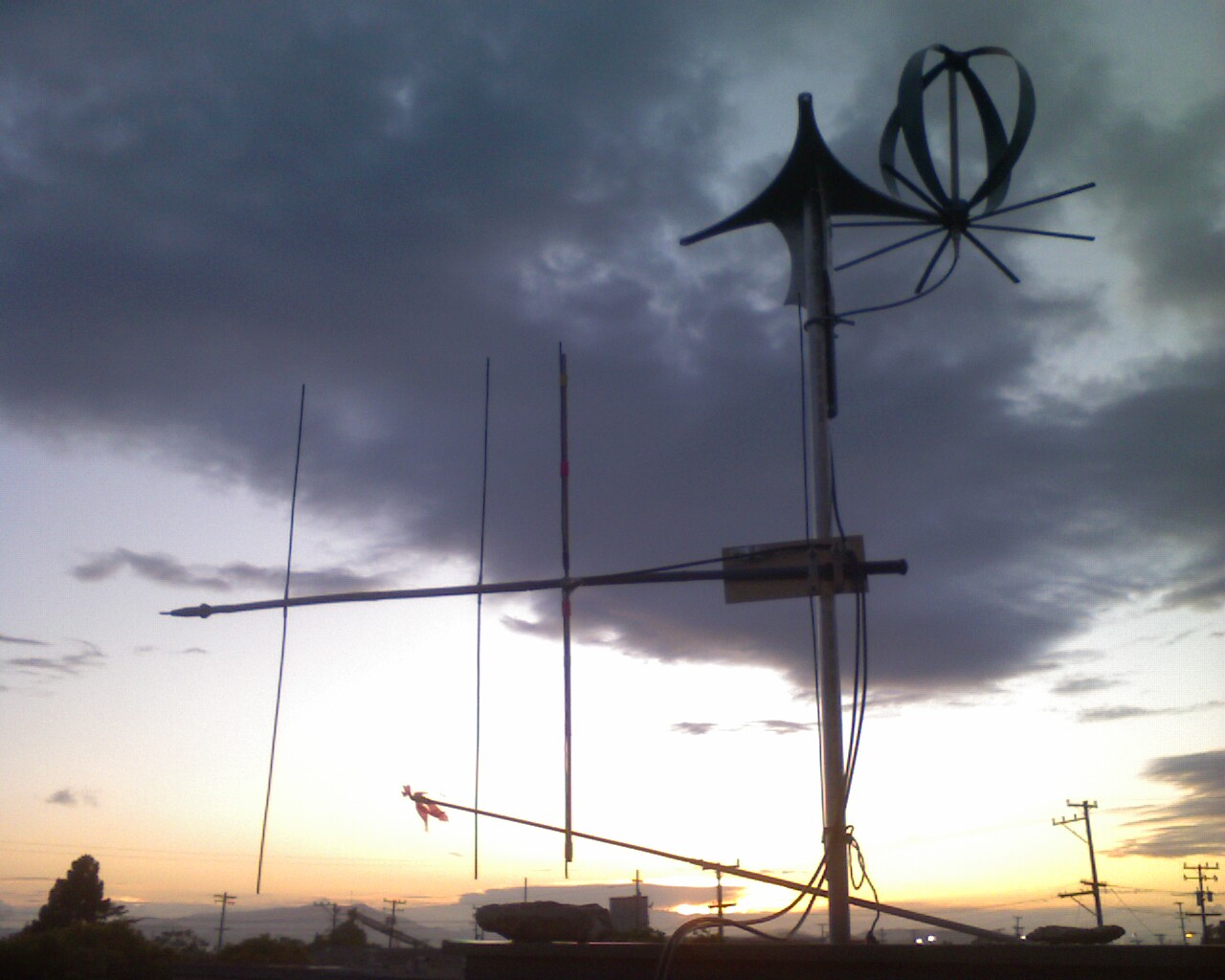 http://www.w8mwa.org/Moxon_Sat_Ant.pdf
-- 2422mzh 14element Yagi --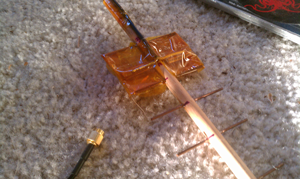 Second generation elements: split ends of Coax, cut to leanth for 2422mzh, and tined.
Plans I used Yagi Calculatorfor calculations.
3rd generation.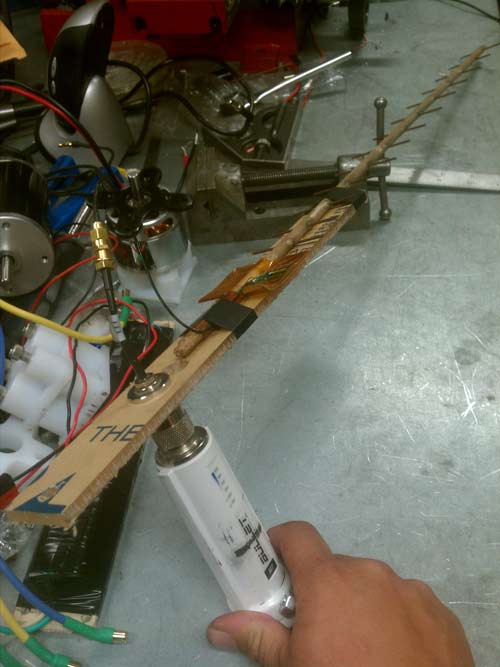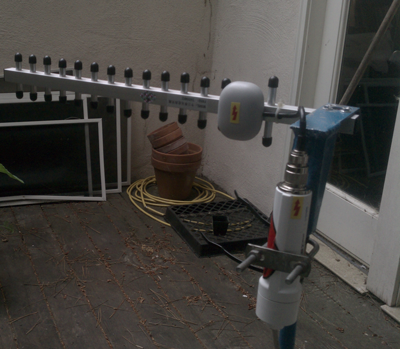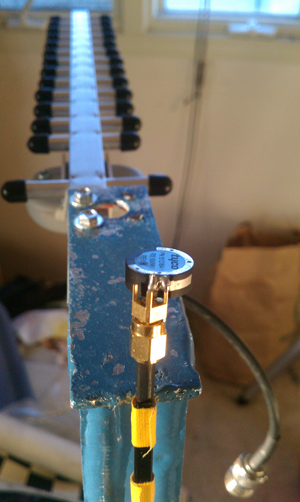 Antenna above :10$ POS Yagi from Ebay, I had to recut and tin the elements on the second of 2 purchesed, the modified antenna works fine.
Antenna on bottom : Tyco 1513164-1 , 2,400 - 2,483.5 MHz & 5,150 - 5,875 puck Antenna +4db, Or try 1513504-1 +2db.
-- 10 Meter Mast --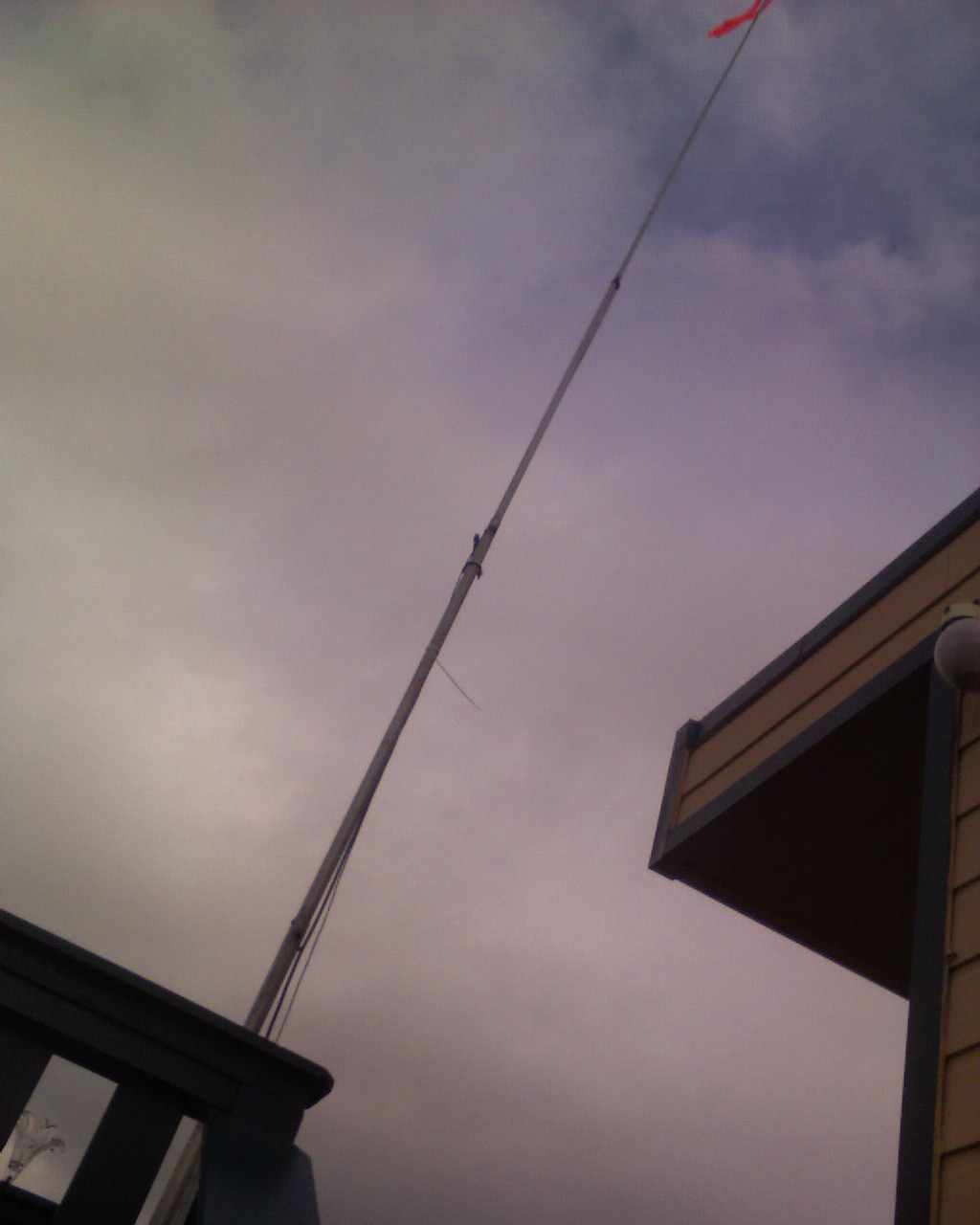 -- Plazma cut, 1/4" 5051 aluminium 3 way mount --
-- 144-575mzh Egg Beater --
Found it on E-Bay and made a custum GP~
-- Egg Beater MK2 --
(Modified) with phase lines, and without the ground plane, baced on the following paper by ON6WG.~
http://on6wg.pagesperso-orange.fr/Doc/Eggbeater-Ant-Revisited-English.pdf
I used 3 Aliminum disks and sylicon rubber to isolate the 2 loops and conections on the bace plate.
McMaster Carr part #'s
- 91221A230 Glass Filled Nylon Socket Head Cap Screw, 6-32 Thread, 1" Length.
- 94924A007 Nylon 6/6 Wing Nut, Off-white, 6-32 Thread Size, 29/32" Wing Spread.
- 1446T211 1 Ft. Polyurethane Film, .030" Thick, 4" Wide.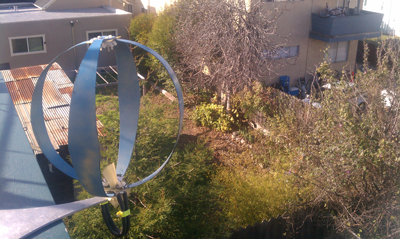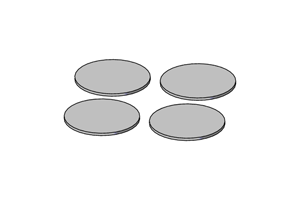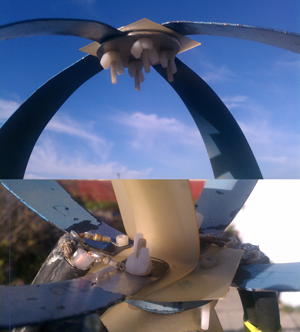 -- Satlite Tracking Head --
coming soon STOLEN FOR SCRAP By some fuck tard~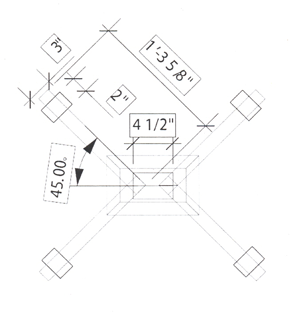 Ive still have a Make Application Board 2.0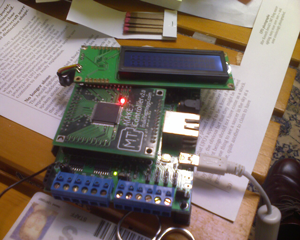 -- Papers --
A paper about picking the right antenna
-- 2-METER 146 MHz FM J-POLE --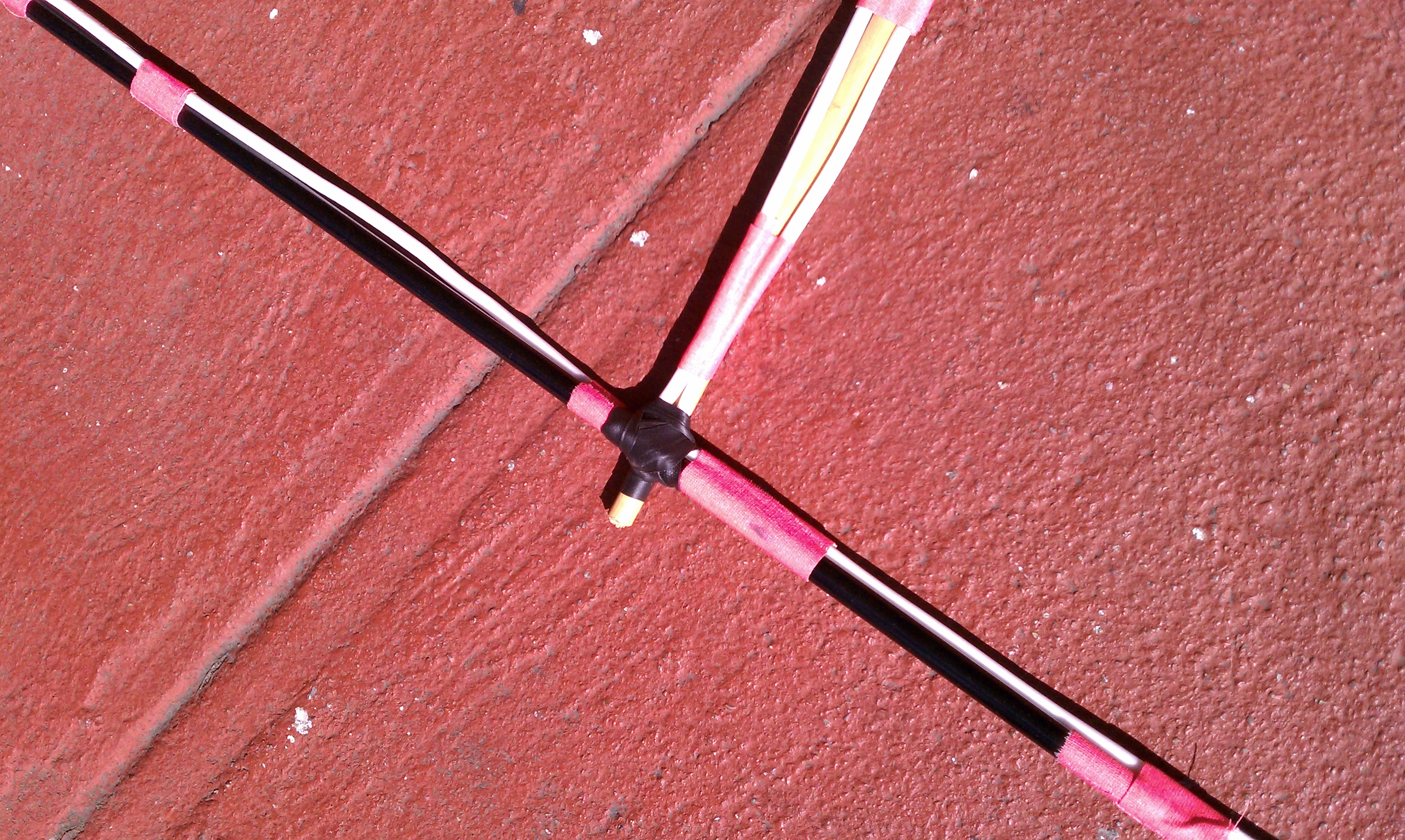 in the Air as of Dec 2010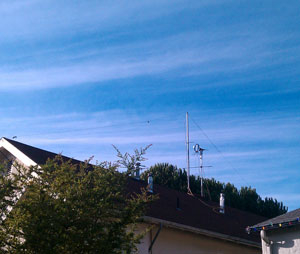 -- T2FD Modle with EZNEC and Construction and testing --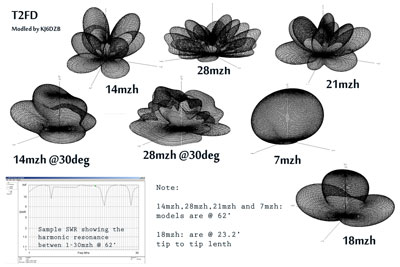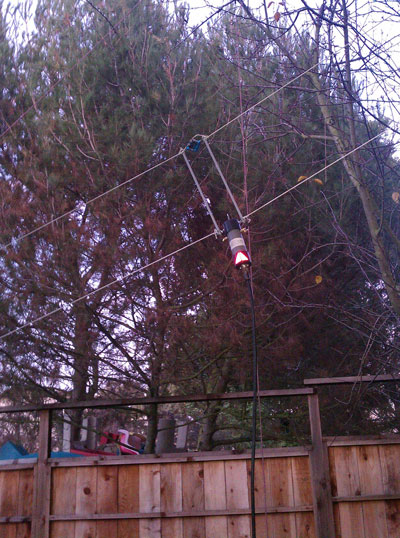 T2FD in place as of 2011...Then I moved.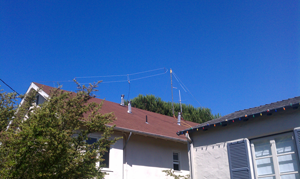 -- Antenna Vertical Bace Mount --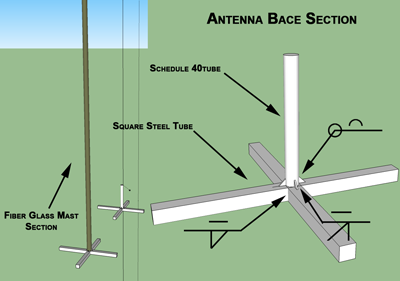 How-to-Make Better RFI Filters using Stubs
-- Bata-W6BB Antenna arry --
66.8ft leanths.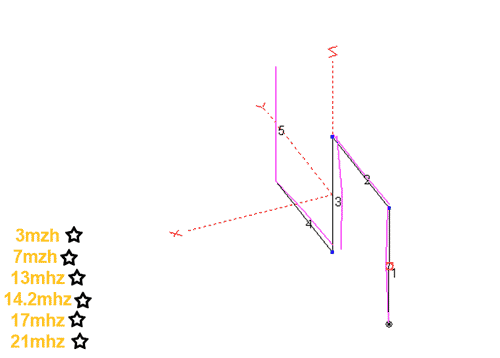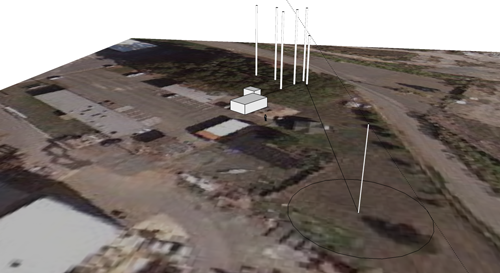 Sorry i didnt lable the CAD, its only skup.
-- MB-1 Multiband HF antenna --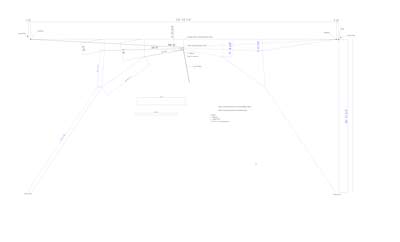 Credit: http://www.sgcworld.com/Publications/Downloads/ClassicMultiband.pdf
-- W6BB Tower --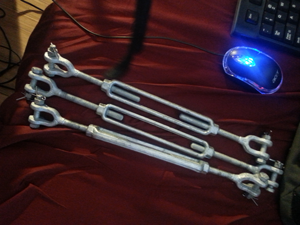 -- Back Pack Vertical --
I needed an antenna for my HT for padestrian modle operations. The design resulted in a week spot at the feed point. The coax went bad and i had to replace the feed line. The primary element was bent and and stratend and eventualy failed.
-- 2m 70cm Comet NMO moble antenna --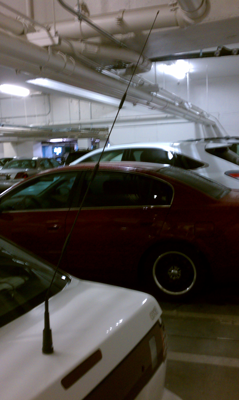 I pick this baby up at Pacificon 2013, to install on a Nissan Sentra with a Yeasue 857D, worked like a charm untill my wife wrecked it. I bent it back and installed it as a roof top atenna.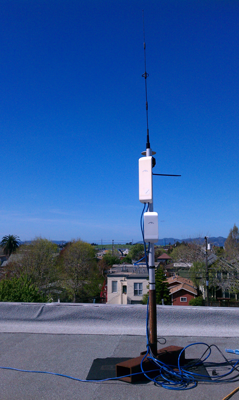 ~2m 70cm Comet NMO moble antenna Lives again as APRS tracker~
...
-- HF Long wire Array --
Custum design, derived from visists to the NB6GC USS-Hornet. I need a nmulti-band atenna and I live on the third story (top story) of the biulding, and have acces to the roof.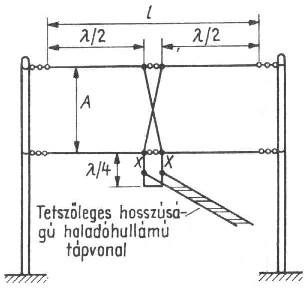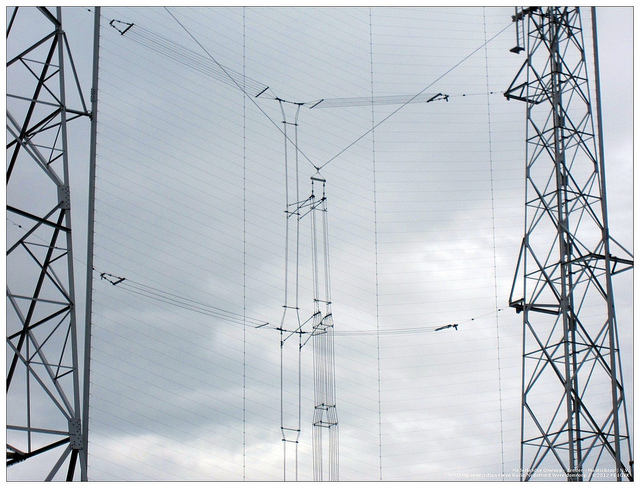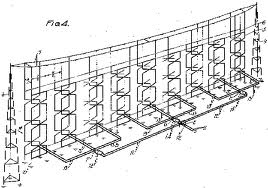 A curtin array... to much space for the bands I would operate on. I just dont have space for 2 1/2 waves. I saw something like this on a the USS-hornet, A multi band wire arry! I found that the feed point needed the wires to be spaces 30deg apart at the feed point.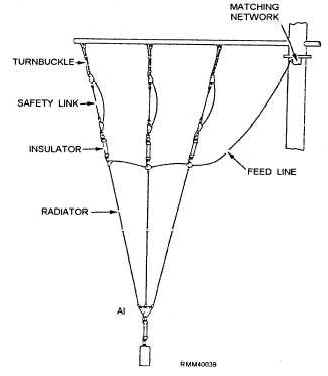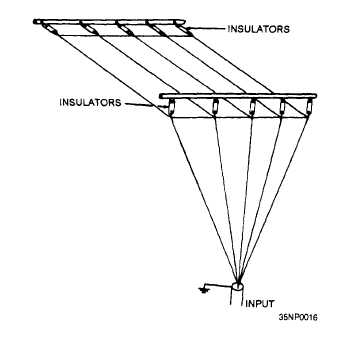 Here is the design...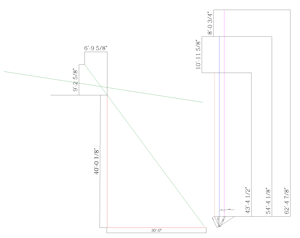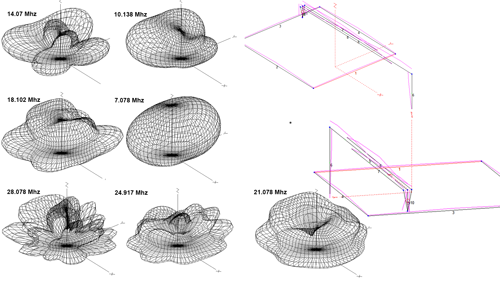 eznec.file (note I didnt conect the flashing on the roof to the system as it is in operation, comming soon... When i get a full version of EZnec this is pushing the limits of 22 segmant in demo mode.
The arry is oriented East to West, the Y axis is North/West.
-Looking West -

-Looking East-

sone other notes: http://www.i1wqrlinkradio.com/antype/ch6/chiave1280.htm
------------
-- Antenna as of 8/15 --
I rebiuld A3S in summer of 2015. One of the 10m traps was burnt out. Simple FiX! Replaced the pipe clampes. Placed it too low on my 4th floor roof. I picked up a 1:1 balun Kit after reading the instructions, its not nessecary.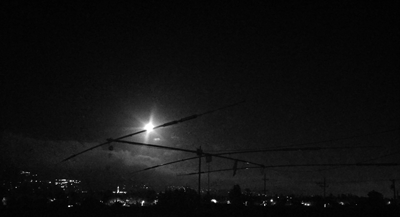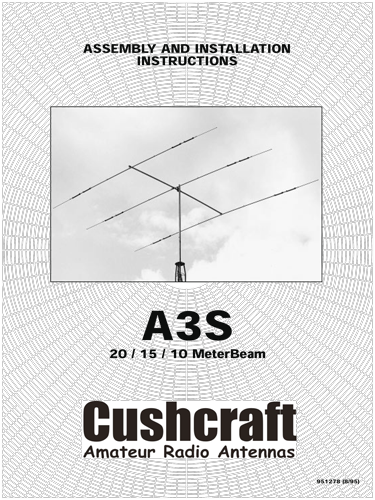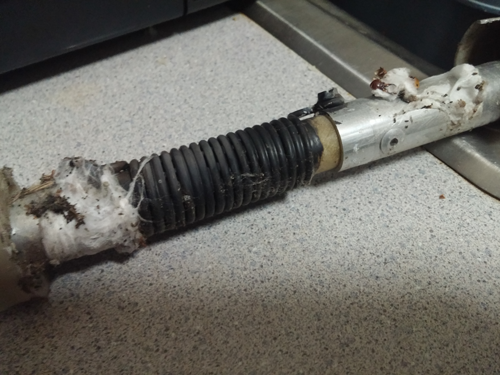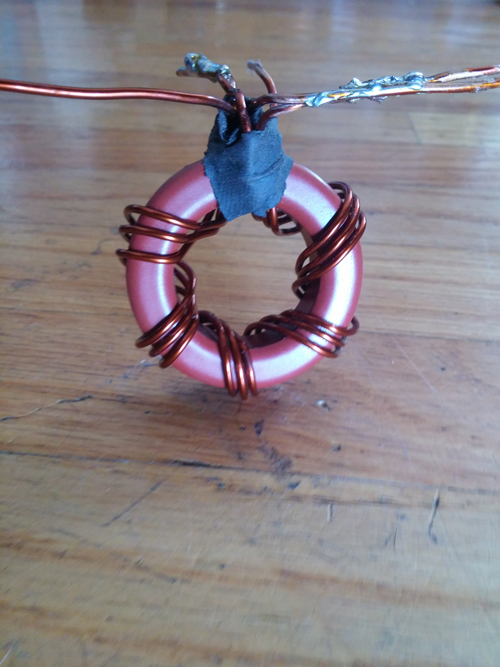 Coil Calulator: http://www.k7mem.com/Electronic_Notebook/antennas/shortant.html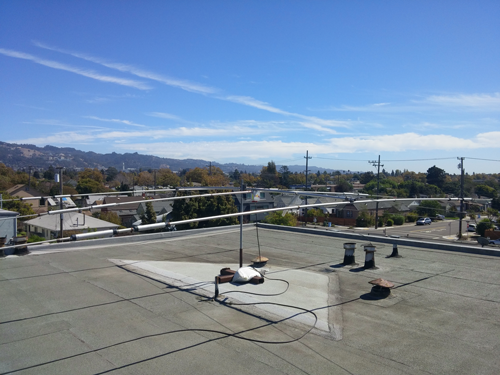 All Setup on the roof, this antenna worked ok... I have directional gain!!! but I have a lot of RFI from the sourounding urban area.
-- 2.4ghz DIY dish --
I was driving home one night and saw a direct TV dish laying on the side of the road. !SCORE! I receved 2 Pico StationsM2 for testing on our local mesh, so here is what i put together.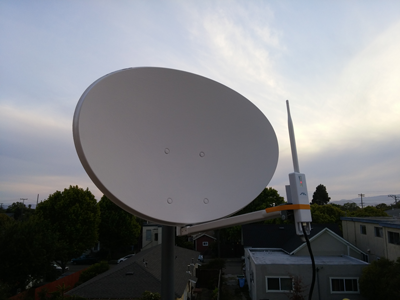 Well It worked but... Im not done, so I did some reaerch and ran some #'s on the dish. Calulating the focal point and what type of horn with parabola2. So I then picked up an Alfa APA-M25 8dbi @ 2.4ghz / 10dbi @ 5ghz, placed it at the calculated Focal distance and pointed it at the focal point. 
I hit the Jack Pot! It works great for a PTP solution, so I took it to Field Day 2015.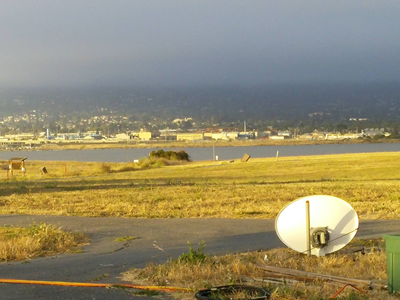 ------
-- Antenna Farm as of June 2016 --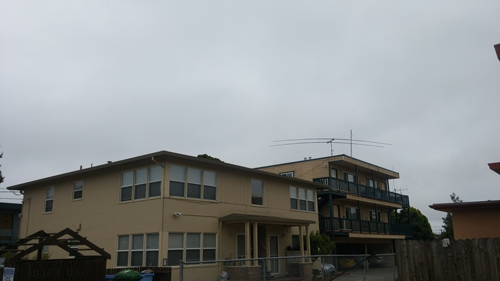 -17m Dipole / 40m Inverted V Dipole / 80m Inverted V end tucked
.....
-- SteppIR 2EL 6m -20m --
I rebiult a broken SteppIR, I made this video to documents the rebiuld effort, after I checked it out the antenna went into storage. I chose to use the SteppIR for the GOTA station W6BB at the W6CUS 2016 Field day.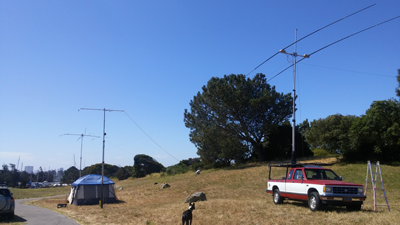 -- VR Antenna sites --
W6CUS Field Day site at the Berkeley marina
-- Antenna Upgrade for N6PF --
Upgrading a base mound for a Rohn mast, with a rotor, a SpiderBeam on top.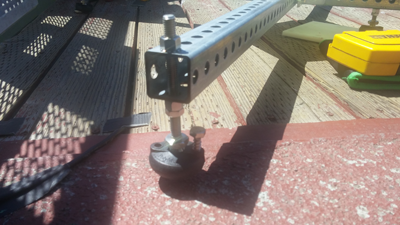 ~~ 2m Dish ~~
What do you do with a 2m C-band dish in 2018?
/kj6dzb/Robots/Antenna tracking systems.html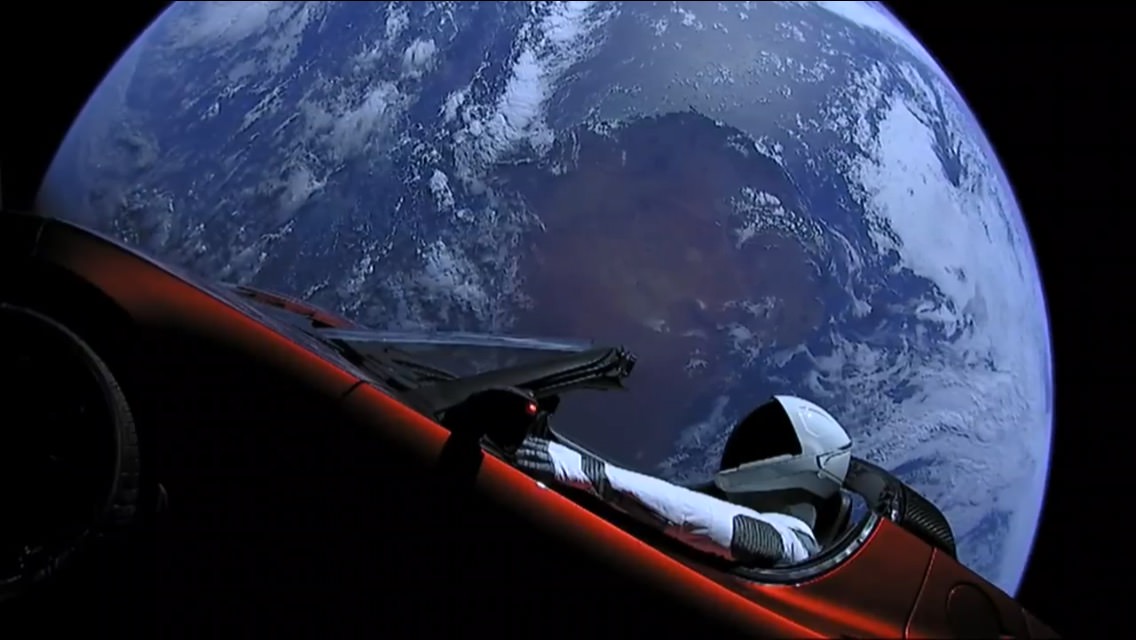 -- WiMo TA-1 --

VHF Turnstile 137 to 152 MHz antenna is now part of the satnogs network.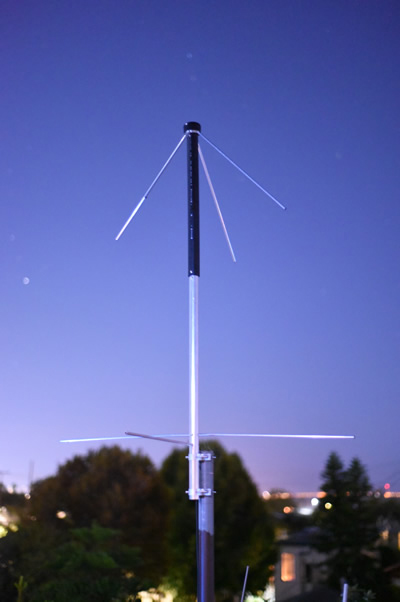 Soyuz 62s Recordings
Antenna Upgrade!!! I need more GAIN!

A circular polarized 3el Yagi with Arrow Antenna Elements!

Credit given to sv1bsx for the matching lines, and phase therory. https://www.qsl.net/sv1bsx/antenna-pol/polarization.html

The Arrow antenna is 50ohms at the feed point, building the 100ohm to 50ohm matching line was simple with a MFJ-259B. Simply trim the line to 100ohms at the desired frZ. I purched pre crimped 75ohm coax and simply cut it in half. I used BNC terminal blocks on the other end. Be advised that the BNC conector will effect the matching line! Dont foget to weather seal the matching line, Its going to be outside!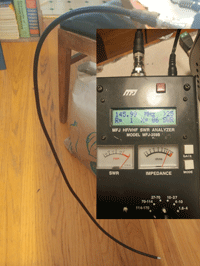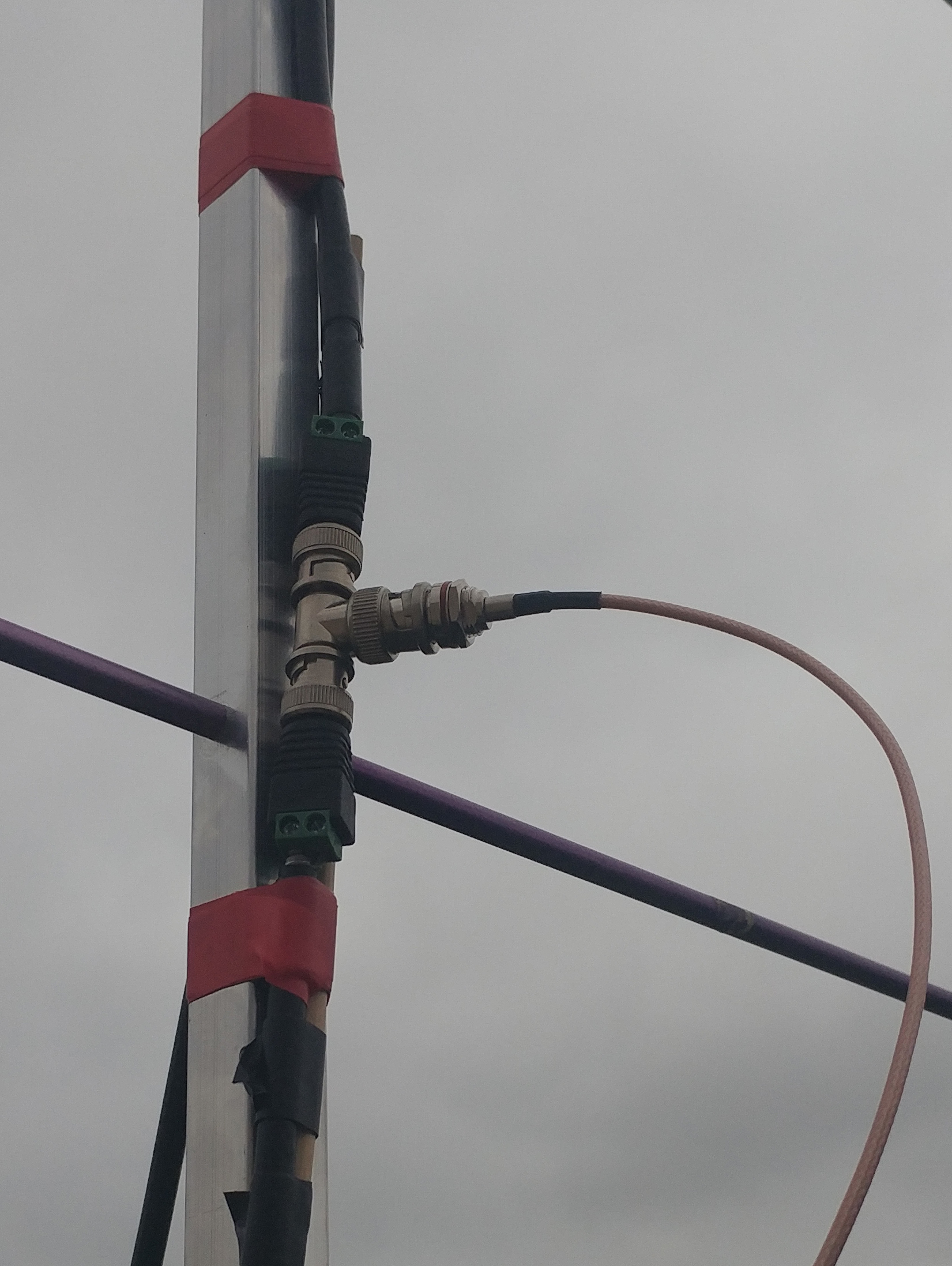 The Phase delay line proved to be to dificult to build a perfict match.I descided to phiscaly build the delay by off setting the elements.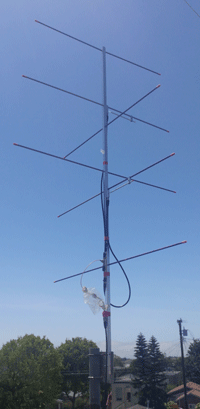 Arrow antennas dont hold up in the CM87vv weather. So the antenna was taken down. And founmd that I have a LOT of noise from power lines!!!! Here are some other antennas design Ideas for your low noise location..
https://www.reddit.com/r/RTLSDR/comments/a0g965/just_finished_making_a_tape_measure_turnstile/
https://www.aeronetworks.ca/2017/12/amateur-satcom-rx-antenna-for-2-meter.html
--Im working to improve ground station gain, for 2m LEO signal reception and for the new ISS transponders...
I aproched this in 2 steps. 1 improve the phical gain of the WiMo TA-1. 2 incress recever gain while rejection out of band urban noise. Noise has been a major problem!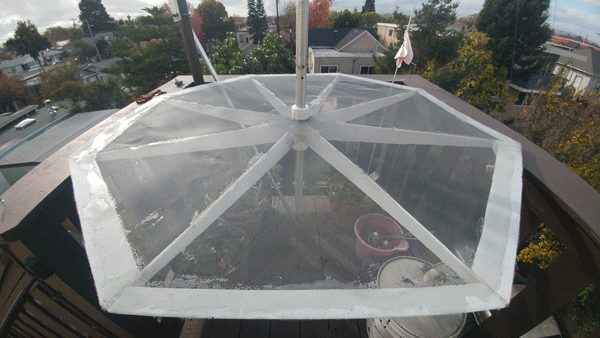 --A better DIY Reflector for the WiMo TA-1--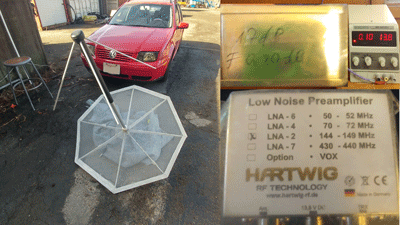 The Hartwig 144-149mhz LNA, is a major upgrade from the LNA for ALL!
https://network.satnogs.org/stations/984/
The story of the Big Signal 10BS-270 and my first ISS cross band QSO...
COVID-19 delayed international from shipping Spain...
-- 2022 / 2023 HF antenna upgrade to a new Big Signal 1BS-5B --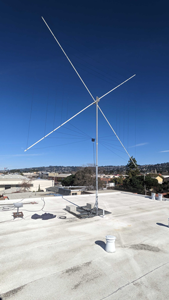 Jan 24th 2023 was the first time the mast stood fully assembled. It has been layed over on its back for most recent storms, waiting for a moment to shift ~ 400lb of Cinder blocks from ground level up to the 4th floor garden (Thanks N6SX). Once the antenna stood tall the old coax was suspect based on readings. So the new antenna, gets the new LMR-400 (Thanks KE6BEE).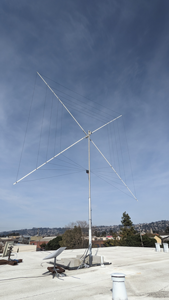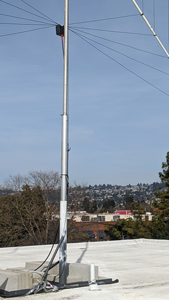 Let me take a moment to Step Back 1 year.... When I descided to fabricate the 3 section mast that now firmly plants the antenna on a NonPen brack. I pre-assembled the mast on the ground, then dismantled it and move it up to the roof. The antenna itself is shipped from. Spain! It came well over a year ago as a kit. It was shipped ready to assemble, for mounting on a mast. The mount here is made for the minimum suggested height. ~507lb of block balist.
Antenna is directly conected to a Z-11Pro and then radio.
-- END --
-Home-
-END-