My name is Morgan Croucher, KD8ZLK (KD8 Zoo Liking Kid), I am a young man living in Lewisburg, a small village in Preble County Ohio. My current mentor in amateur radio got me interested at the age of fourteen years old and helped me accomplish my Amateur Radio Technician License. I then set myself forward to purchase my first radio (rig), a Yaesu FT-897D, and accomplished it in 4 months. Now at fifteen years old I am currently studying for my Amateur Radio General License and my driver's license. I hold an (A) average at Tri-County North High School in my hometown, I am looking forward and getting ready for a life changing trip, traveling to the Island of Saba for a DX Adventure. I also enjoy working with animals and learning how to care for their medical needs. My plans for the future are to attend Montgomery County CTC (Career Technology Center) this fall studying robotics and work eventually in this field.

I like staying busy with the many involvements of high school and the two radio clubs I belong to, Dayton Amateur Radio Association (DARA) where I helped by working at the Dayton Hamvention in 2015, and Mound Amateur Radio Association (MARA), where I have worked many radio operations, chairing one in Miamisburg last year where I acted as the net controller, I also co-chaired an event for MARA. I am a member of The American Radio Relay League (ARRL), for 2 years now, and greatly enjoy their QST Magazine.
While listening to my first amateur radio conversation at 9 years old at a neighbor's house, l heard Big Ben chime in London. I was hooked. Electronics always interested me. After High School, I found moving forward in amateur radio rather difficult because I had no mentor to inspire and coax me along. I continued to listen, but didn't pursue my licenses. My goals changed along the way and I began to apply my efforts to helping others with their electronics needs through BSA. Through conversations with Daniel, our neighbor's son, I learned he had caught the amateur radio bug from his great grandfather. Daniel studied and achieved his Technician license, KD8DRY and is now an Extra. He always kept me up on all of the new things going on in amateur radio, throwing down the gauntlet, three years ago this 2016 Hamvention®, challenging me to get my licenses. I am so glad he did. I have been going strong ever since because of his challenges and inspiration. I am now an Extra. I am involved with local amateur radio groups: DARA, MARA, ARES, and CERT. I also found another deep devotion of mine, the Masonic Brotherhood, is very strong in amateur radio and makes for a great way to help others. One of my brothers in the lodge had 7 boys that were always looking for something to do. One of them started asking me questions and before long he caught the radio bug. He is now a Technician. Morgan, KD8ZLK, is now studying for his General. I am currently concentrating my efforts into helping him study for his General ticket and getting ready for the DX Youth Adventure to Saba Island, where Morgan and I will be traveling to this summer. Like my mentors, I enjoy keeping the amateur radio fever going by nudging others, like good friends Fred, W4YPW, Brent, KE8CNU, and Kyle, KE8CVC, to pursue that next step in the amateur license ladder. Wish them luck!!
Ruth, KM4LAO, is a 17-year-old General Extra Class Amateur Radio Operator from Georgia. Yay - congratulations. After discovering ham radio because of an interest in Morse code, she earned her Technician class license in June 2015. She earned her General in January 2016 and recently Extra. She is a member of the American Radio Relay League (ARRL), the Gwinnett Amateur Radio Society (GARS), the North Fulton Amateur Radio League (NFARL), the Young Ladies Radio League (YLRL), and the Straight Key Century Club (SKCC).
Ruth is on VHF/UHF nets weekly, including the NFARL Youth Net where she is often net control. However, her HF privileges have truly opened up the world to her! Operating either SSB or CW, Ruth loves making contacts, chasing DX, and working as many parks as possible for National Parks on the Air. In addition, she has participated in many events with local clubs, including Field Day, Maker Faire Atlanta, Girl Scout STEM Expo, Atlanta Science Festival ARISS contact, and Winter Field Day.
Recently upgraded to Extra!!! Yayyyy. Sharon has her Tech license just before the Dayton Hamvention. She was introduced to the world of ham radio through her daughter's interest in learning Morse code and obtaining her own license. While supporting Ruth in achieving her goals, she has attended several local ham radio events this year, including Gwinnett Amateur Radio Society club meetings, ham fest and Field Day. She has enjoyed getting to know the local hams and learning about all the many different aspects of this fun hobby.

Faith Hannah Lea (AE4FH) is an 11 year old Extra Class Amateur Radio operator. She was first licensed as KM4IBV on February 19, 2015. She quickly upgraded to General and Extra in February and April 2015.

I am homeschooled and am in many different grades. Probably the average grade for me is 7-8th. My parents used Ham Radio as part of our homeschool, and at first, I thought "oh no, all that studying!" But I found out that I really like it!

I have talked at the Dayton Hamfest Youth Forum with my brother about antennas. My call, AE4FH, means Amateur Extra For Faith Hannah. It came in the database in the middle of the night the day that my brother and I were speaking.

I like to work contests and enjoy working DX. I have worked many contests, and to name a few there are the CQWWSSB contest, November sweepstakes, Field Day, and ARRL DX Contest. I have worked HZ1HZ, one of two female operators in Saudi Arabia, and I was the second YL she worked that day. I think she is also in royalty.

When I spoke with Jeff (PJ6/NM1Y) on the radio, there was a HUGE pileup trying to work him after we were done talking. I hope that I get huge pileups and that I can get DXCC from PJ6 when I am down there!

One thing that is cool is that the house where we will be in Saba is that it is our old house, but I don't remember it because I was only two years old when we lived there. I know that it is a 5 square mile island in the Caribbean. I am excited about going to Saba.
James Lea (WX4TV) was first licensed as KA4UBN when he was 13 years old in 1991. Through the years, he has been active off and on on all bands and modes. His wife Michelle (N8ZQZ) earned her license in 1993 and both of them enjoy operating and participating in public service events with their four children - three of whom have earned their licenses and the fourth who is studying hard.
In addition to having lived all over the world, James has operated in many remote locations while working as a combat cameraman and storm chasing cinematographer for clients such as The Weather Channel and most of the worldwide TV networks. His experiences in disaster areas and war zones showed him that preparedness is key to a successful operation, and he works with ham radio operators to get out into the field to put their skills to use.
Lately, he has been very active on HF and satellite with his Ham Family. They especially enjoy getting out into the field to activate National Parks, contesting, and portable satellite operations. They also enjoy building and testing antennas.
2016 Results
The team is QRT! Thanks for the pileups!

*** Stay tuned for a special youth contest announcement ***

Almost all of the QSL Cards have been processed!!!! There are a few busted calls to reconcile.
New cards arrive daily and are processed as quick as possible.
Some Satellite contacts have not been processed as yet.
"Confirmed World Distance Record SO50 5,168.753km satellite QSO"

4,214 qso's, 104 countries, 50 states

6 continents, 26 CQ Zones.

*Does not include satellite

Our apologies to Asia and Japan as we only had vertical and OCF wire antennas so we could not turn the beam and contacts were few and difficult. Also there was this big mountain between us. We will take this under advisement for our next adventure and try to include all areas if possible.

You may still check your qso(s) in clublog.
See QRZ.COM for QSL information. *Satellite has not been uploaded.


Operator Leader Board:

KM4LAO - Ruth 1,599 38%
AE4FH - Faith Hannah 837 20%
KD8ZLK - Morgan 738 18%
N6JRL - Don 331 8%
PJ6Y - unknown op 203 5%
KM4TVU - Sharon 142 3%
KD8YPY - Joe 101 2%
WX4TV - James 98 2%
AB8YK - Jim 90 2%
NM1Y - Jeff 79 2%


Contact stats:
Band CW Phone Dig Total %
---- -- ----- --- ----- ---
80 0 9 0 9 0
40 1 678 0 679 16
30 256 0 0 256 6
20 160 2,411 0 2,571 61
17 0 675 0 675 16
15 1 8 0 9 0
12 0 1 0 1 0
10 0 1 0 1 0
6 0 15 0 15 0
2 0 1 0 1 0
-- ----- --- ----- ---
Total 418 3,799 0 4,217 100

Band conditions are horrible as you can see by the propagation sites. 10-15 non-existent and 17 light. Money bands are 20 and 40 right now. Have been doing a mix of voice and cw. We hdid satellite communications whenever there has been a pass.

SPECIAL QSL RECEIVED FROM ARRL CEO TO MORGAN CROUCHER KD8ZLK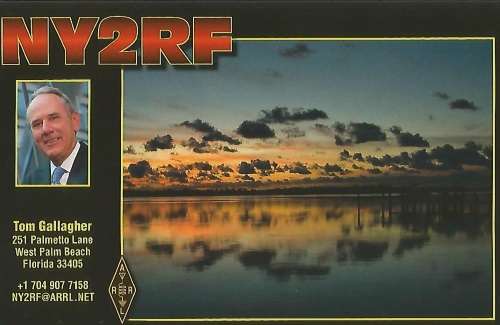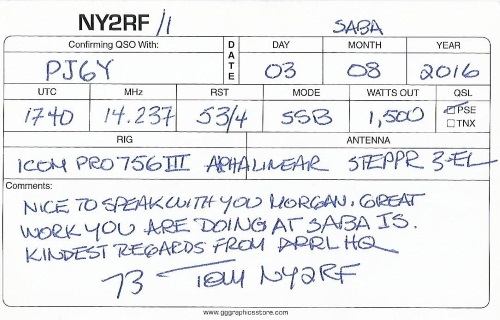 We were granted the call sign PJ6Y for this operation!
As in Poppa-Japan-Six-Youth.
All technician and general class members of the team have been granted rights under control op supervision!
SABA Island was our destination from August 2-9, 2016.
Our host was Jeff Jolie NM1Y or PJ6/NM1Y.
(Thanks Jeff)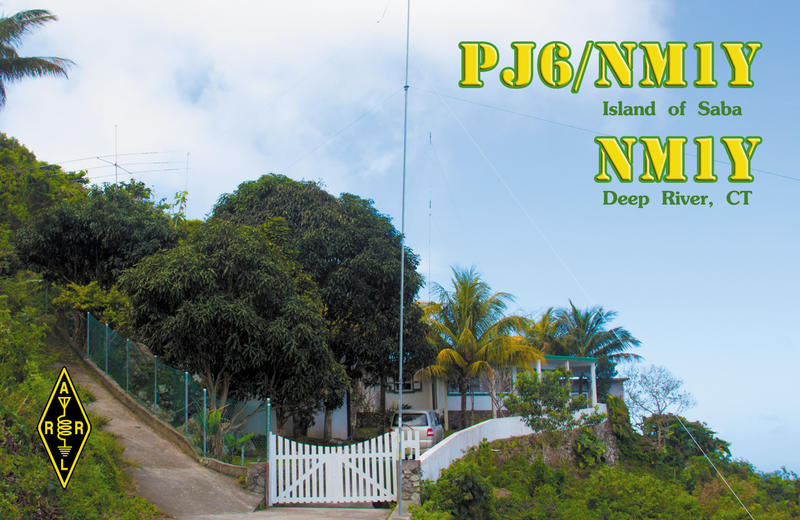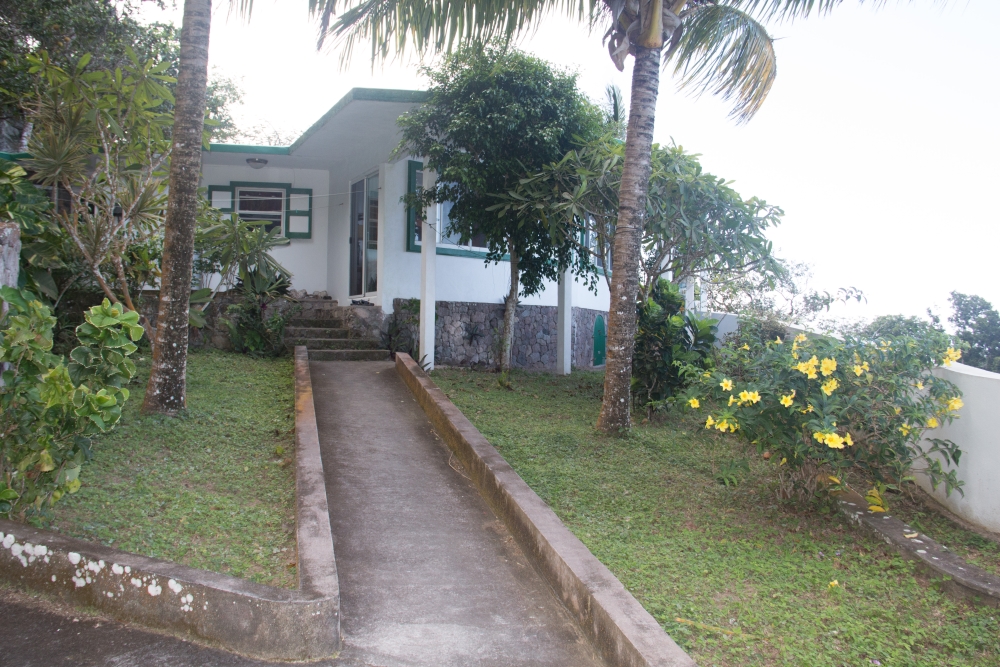 Main Entrance




The Shack

And the ocean is nearby to serve as a salt water ground plain. It is pretty also.