BPQ32 Windows node OH7FES-10 144.675 ja APRS Igate 144.800
OH7FES-2 ja OH7FES-4 ja OH7FES-6 144.800 ja 144.675 ja 50.625 Mhz
Joskus Mail MBX: OH7FES-11
BPQ config
OH7FES-8 Chat FESCHT:OH7FES-8
Node BROADCAST NODES
MAP oh7fes.ddns.net UDP 10093 B
ROUTER:
OH7FES-10,220,1

OH7FES-10 node siis kuuntelee kahta eri taajuutta.


OH7FES-6 Pakettiradioasema Lieksa, 144.675 vaaka-antenni
PAKRATT 232 Model PK-232MBX tai OH-TNC v2
RXTX 144.675 Mhz vaaka-antenni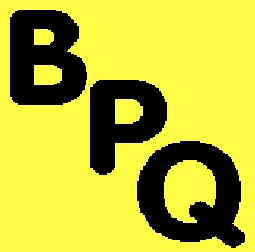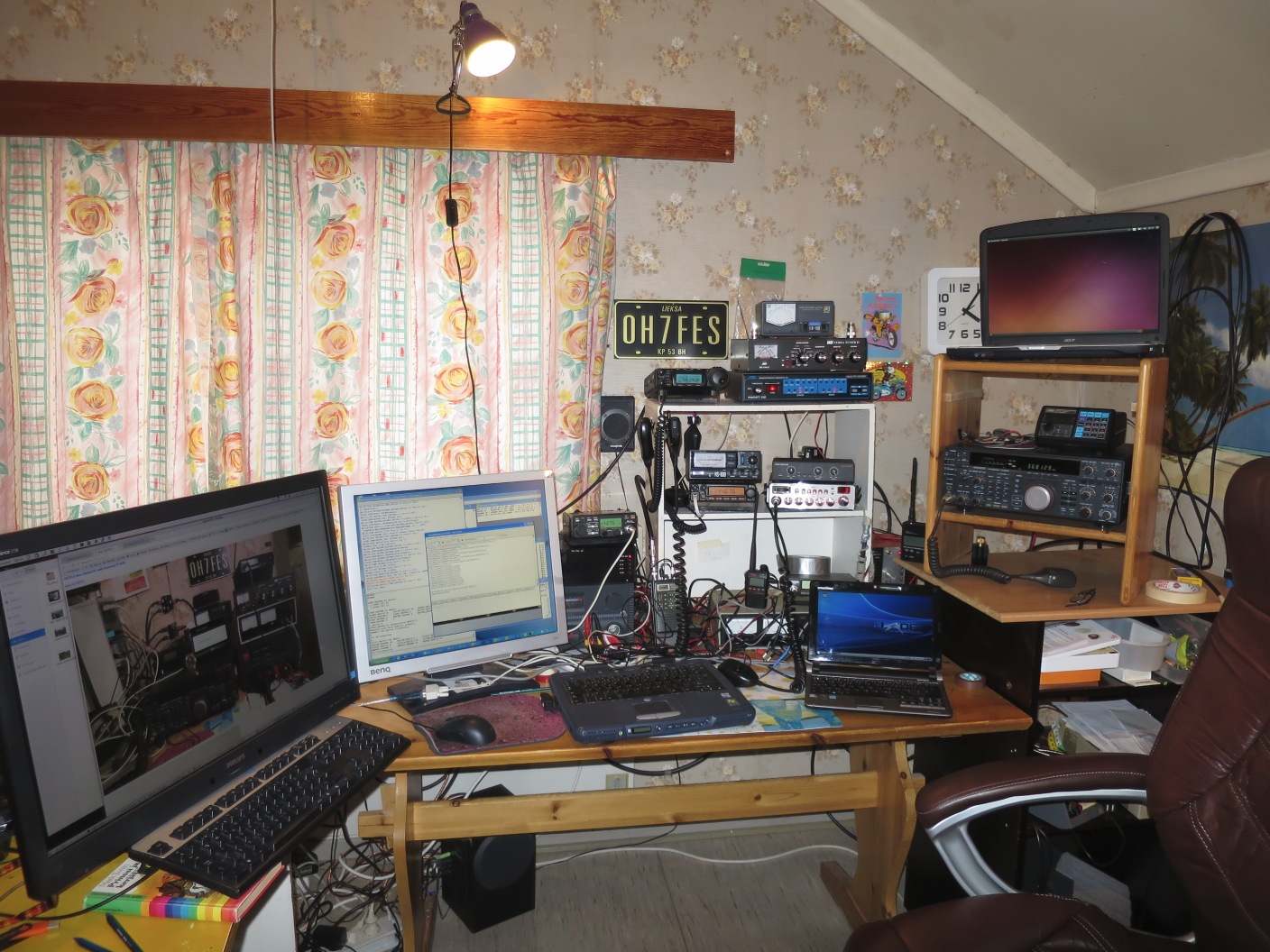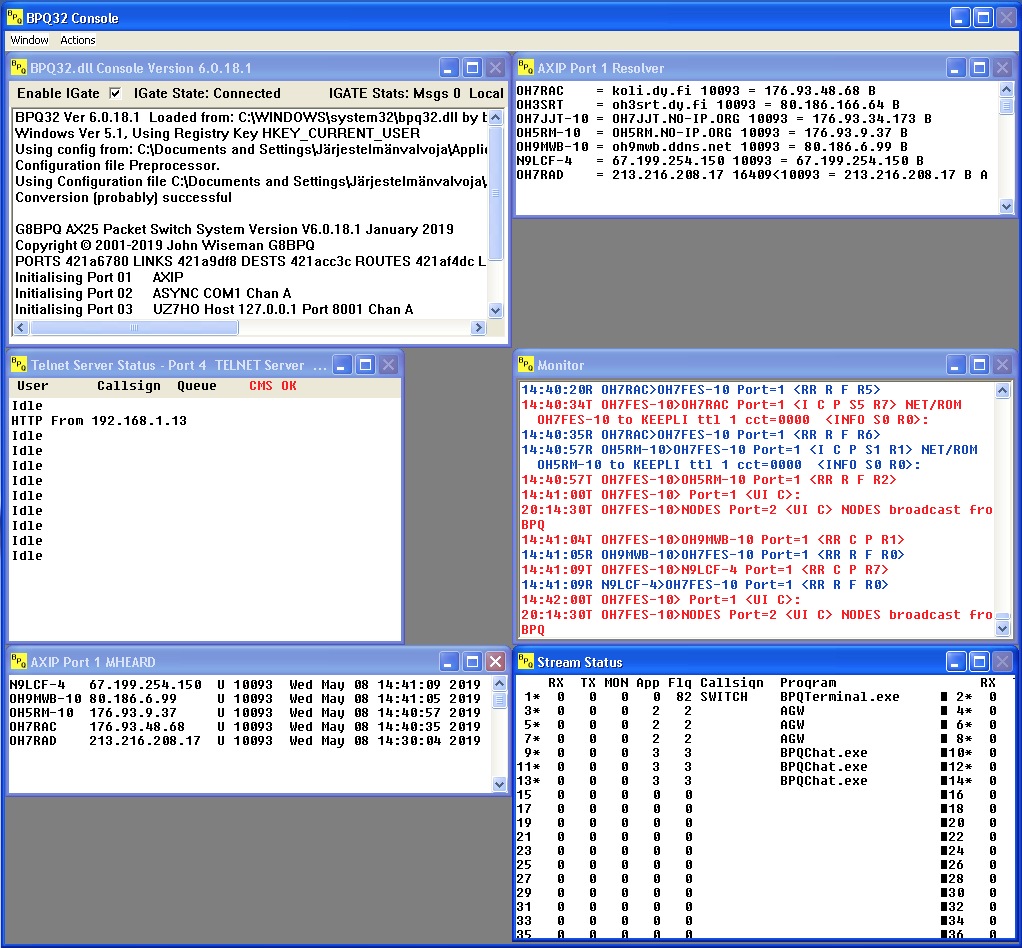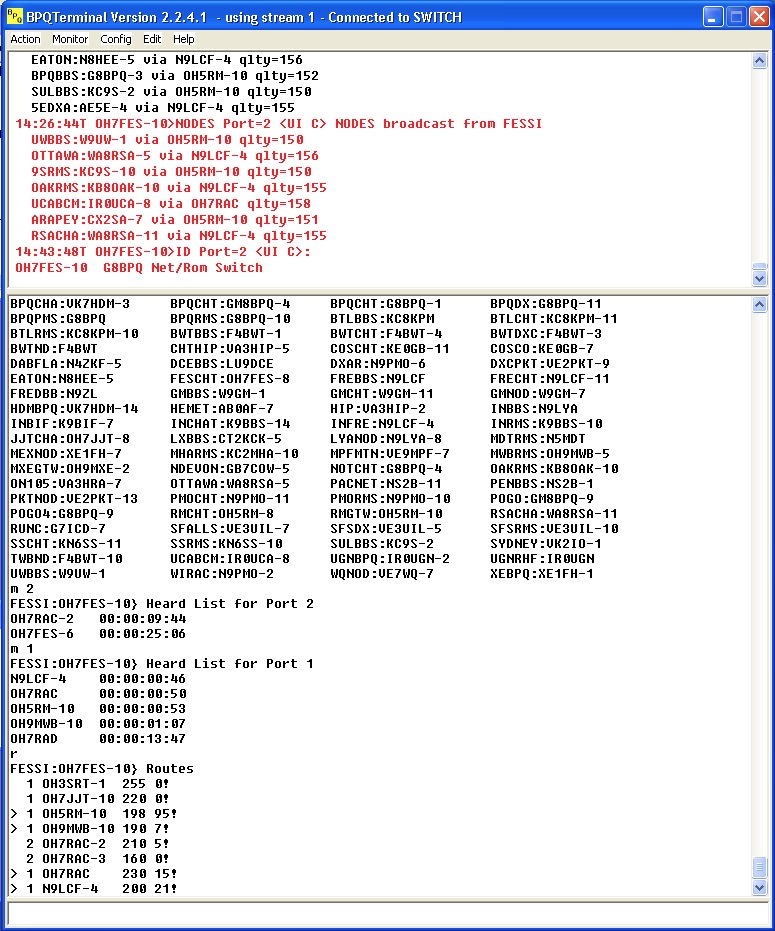 OH7FES-10 noden, noden 144.675 taajuudella kuullut paketit siirtyy OH7FES-10 tunnukselle
144.800 APRS Igate paketit siirtty myos OH7FES-10 tunnukselle.

OH7FES-10 node APRS paketit OH7FES-1
BPQ32 Noden APRS Igate toimii AX25 Soundmodem ajurilla 144.800 Mhz

Pakratt 232 nodeksi:
You need several commands to get KISS to turn on. Here is the exact command
sequence that will get an AEA PK-232 or PK-87 into KISS mode:

AWLEN 8 -- ensure it can speak 8 bit data
PARITY 0 -- no parity
RESTART -- warm reset; make the previous commands take effect
PACKET -- PK-232 or Heath only
TONE 3 -- PK-87 only
START 0 -- start, stop, xon, xoff, xflow to disable software
STOP 0 flow cont
XON 0
XOFF 0
XFLOW off
CONMODE trans -- pass through all characters
HPOLL off -- disable host polling
KISS on -- enable KISS version of host mode
RAWHDLC on -- turn off AX25L2 (the protocol is now handled by the PC)
PPERSIST on -- turn off DWAIT and enable p-persistence
HOST on -- start KISS running

Noden lopetus: naputtelle CTRL+C nopeasti terminaalissa, ainakin kolmesti.
tai CTRL-A O H O N CTRL-W ... pakrat manuaali sivu 6-65

PAKRATT 232 TNC
PAKRAT 232: JOS KIPPURAHÄNTÄÄ NÄYTÖLLÄ
paina * merkkiä startatessa tai heti sen jälkeen, manuaalin sivu 2-3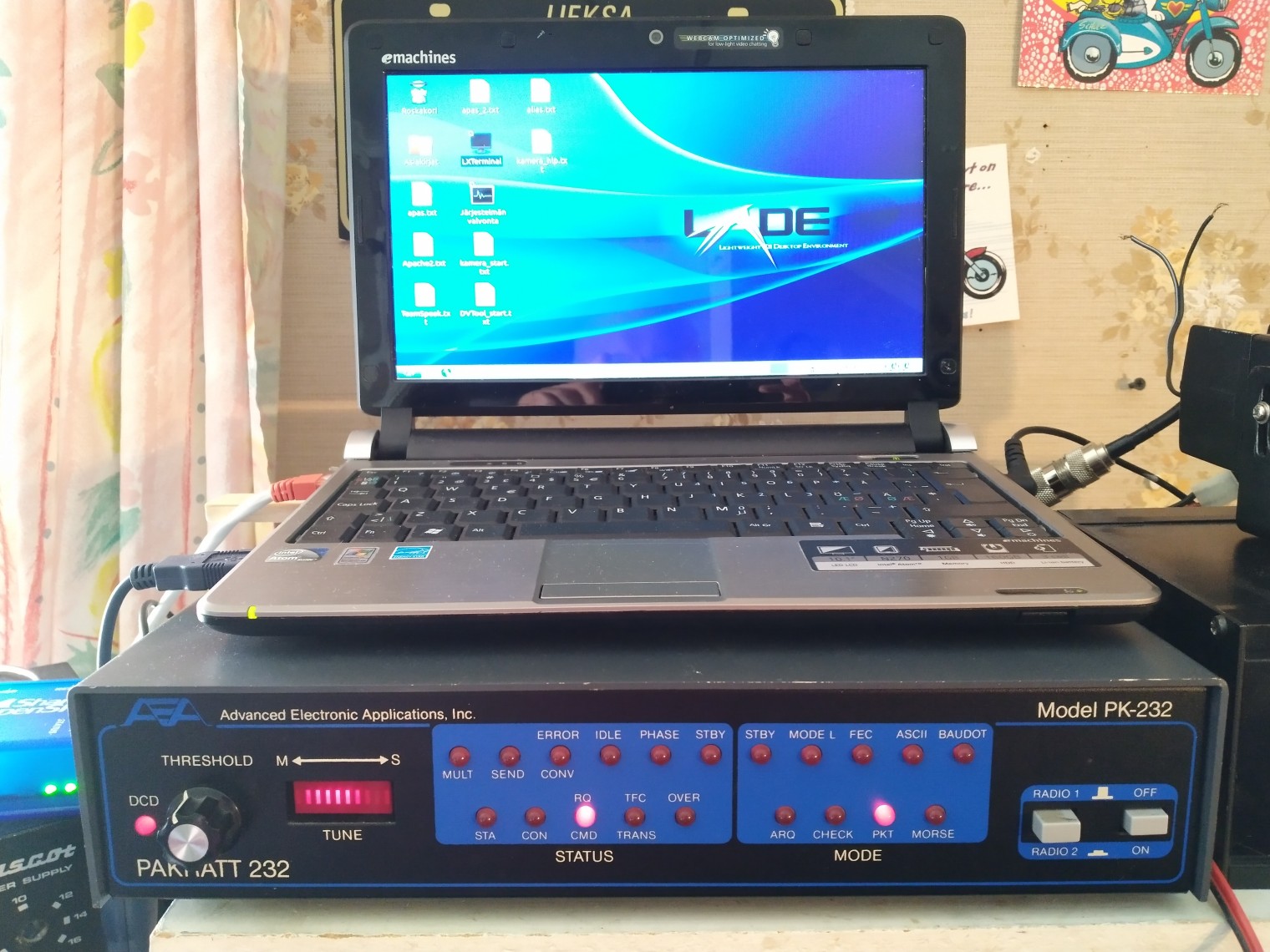 ICOM IC-28H 144.675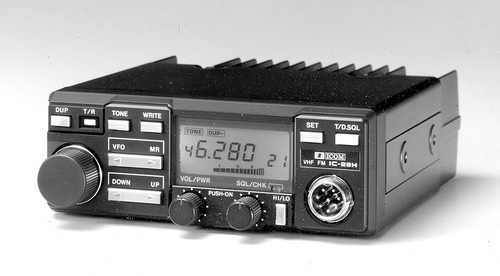 BAOFENG UV-5RTP Packet radio 144.800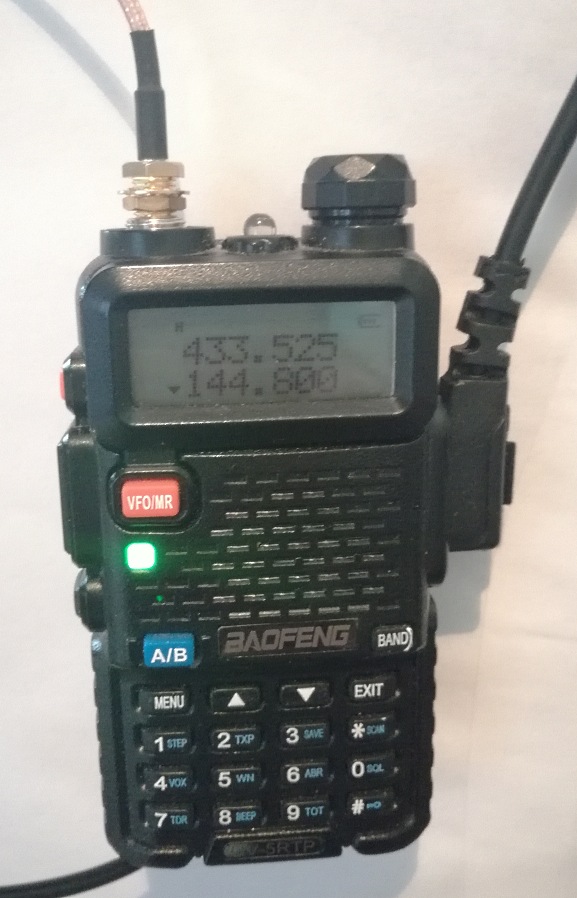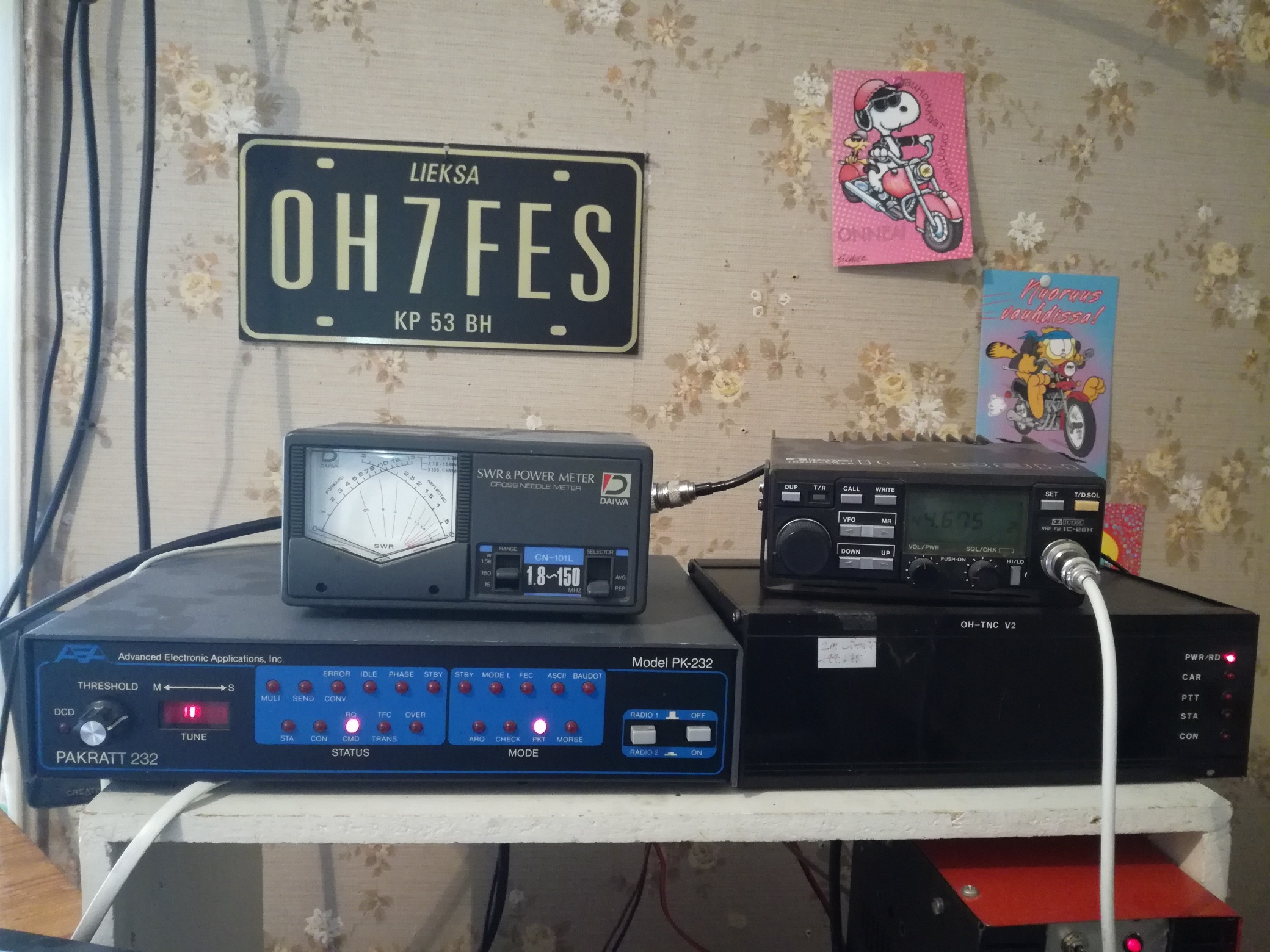 BPqTermTCP Android ohjelmalla joka on alypuhelimessa , voi etaohjata pakettiradio ja node -asemia ja osallistua nodella Chat keskusteluun.
Tama ohjelma ei loydy GooglePlay kaupasta, vaan vain alla olevalta Ham sivulta.

Download BPQTermTCP for Android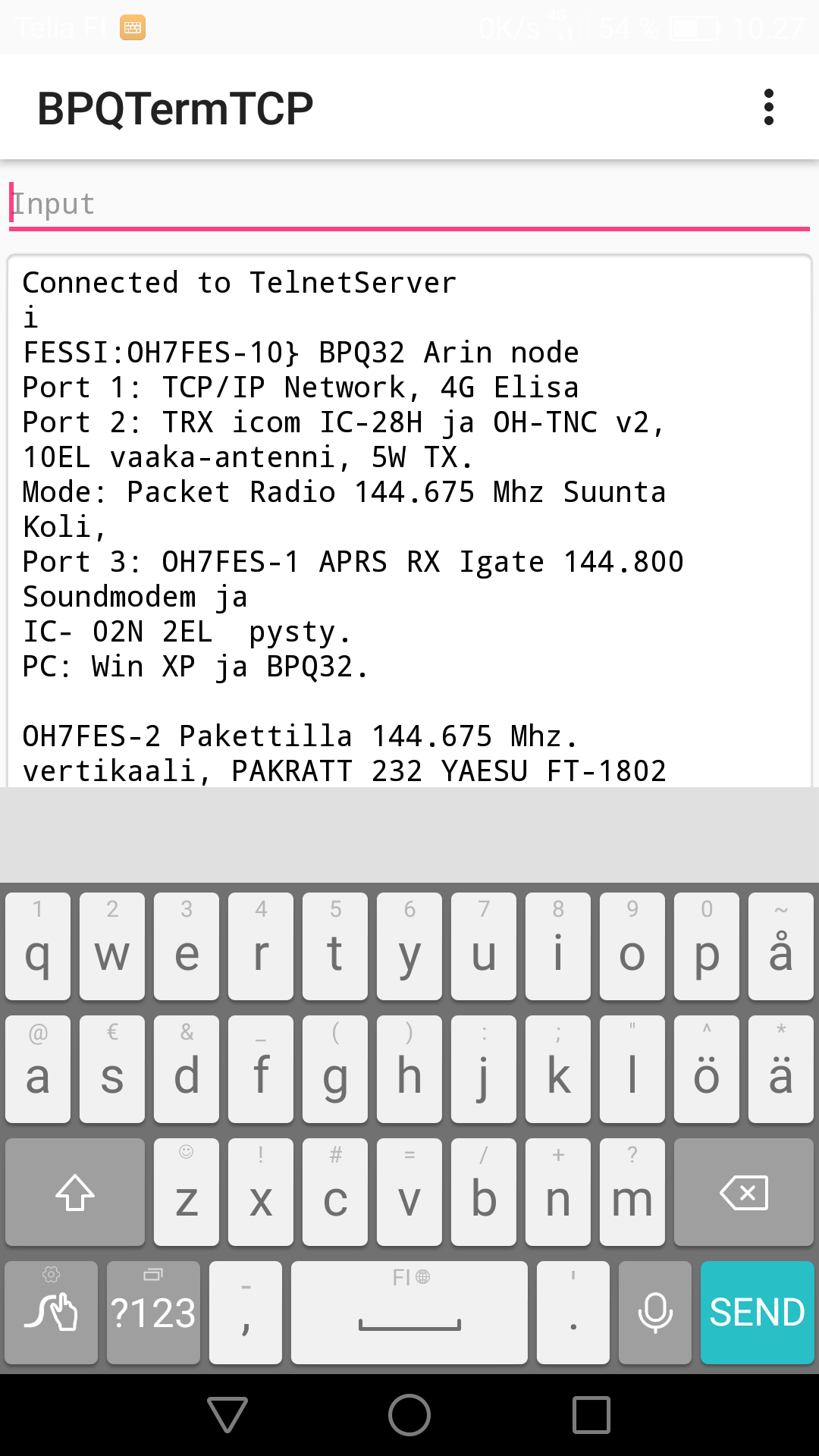 EasyTerm Windows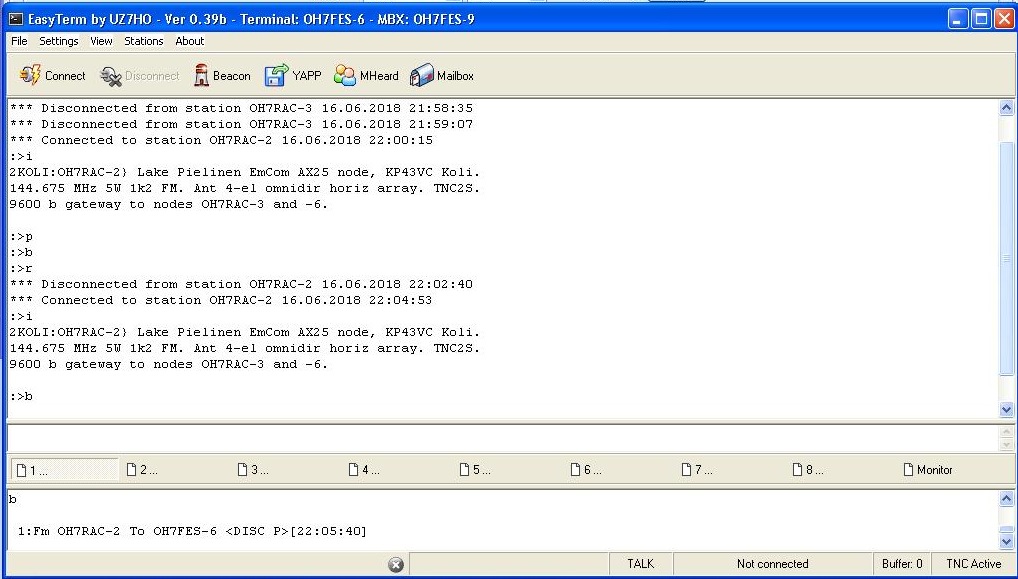 Download ja install BPQ32 Node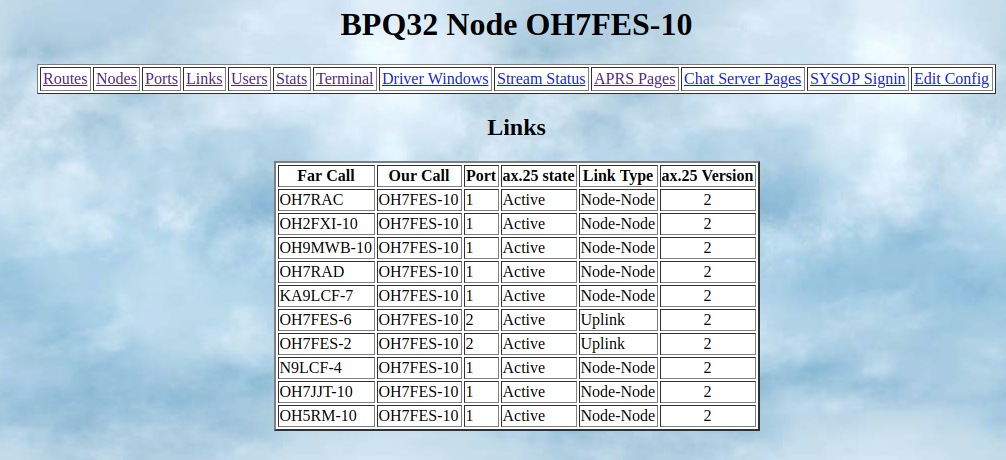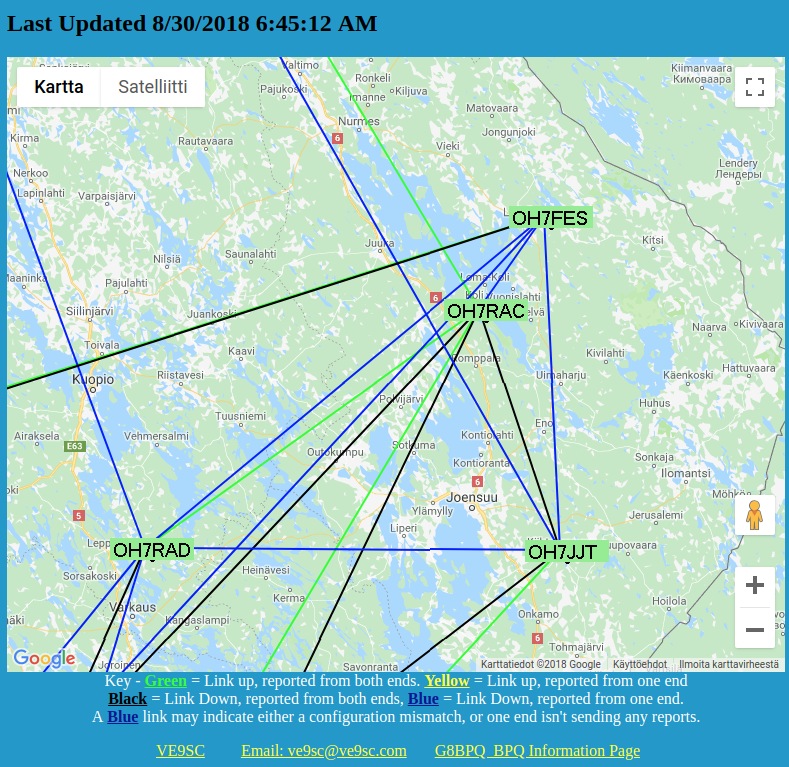 Winmor OH7FES OH5RM-5 3.590 Mhz
Windows XP + MicroHAM DIGI KEYER
old Windows XP support urouter_release_08_06_04.exe 8.4.6 versio