Belkin Hi-Speed USB 2.0 DVD Creator
1x S-Video, 1x Comp., Ulkoinen USB2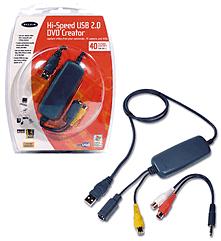 Belkin Hi-Speed USB 2.0 DVD Creator
Helppo ja edullinen ratkaisu videoeditointiin esim. kannettavalla tietokoneella. Laite on erittäin pienikokoinen ja kulkee helposti mukanasi.
Mukana toimitetaan myös Ulead VideoStudio 6 -ohjelmisto.
Kamera PITÄÄ olla kytketty laitteeseen ennen ajurin asentamista, ajuria ei ladata jos kameraa ei ole.
Liitäntä: USB 2.0
1kpl S-Video in
1kpl Composite Video in
Resoluutio:
- In real time 720x480
- 30 frames/sec
Windows® 98se/ME/2000/XP.
USB 2.0 -väylään
Laitteistovaatimukset:
Intel Pentium® or AMD Athlon 800Mhz, 256MB RAM (512MB suositellaan), 4GB kiintolevytilaa uDMA tai SCSI (jokaista valmista 20 elokuvaminuuttia varten), CD-rom, DirectX-yhteensopiva näytönohjain ja äänikortti.
Mukana:
- Asennuslevy, CD-ROM
- Englanninkielinen käyttöopas
- Audiokaapeli 3.5mm stereo -> 2xRCA naaras

Hi-Speed USB 2.0 DVD Creator

Part # F5U228

The Hi-Speed USB 2.0 DVD Creator allows you to capture and edit movies from a variety of analog video sources. The package includes powerful Ulead® movie editing and DVD authoring software that lets you add professional-quality soundtracks and titles, as well as stunning effects. When your work is completed, you can easily share your movies through e-mail, the Web, or as high quality VCDs or DVDs. You can play back your movies on your home DVD player, or on a computer running DVD playback software.


Advantages
•
Lets you capture video from camcorders, PC cameras, VCRs or other analog video sources
•
Supports high resolution still image capture for NTSL at 720x480 and PAL at 720x576 in DVD format and DVD quality
•
Lets you share your video creations on tape, DVD, VCD, via e-mail, or the Web
•
Creates DVDs to play on your home or on your PC DVD system
•
Supports CD- and DVD-burner hardware
•
Complies with Hi-Speed USB 2.0 specifications
•
True Plug-and-Play performance
•
Compatible with composite video and S-video devices
•
Supports NTSC, PAL, and SECAM video inputs
•
Supports 30 frames per second at resolutions of 352x288 and 640x480
•
Supports high resolution still image capture at 640x480
•
Includes Ulead VideoStudio 6.0 SE DVD software to make professional-level movie editing and sharing easy
•
Adds eye-catching titles, a music soundtrack and stunning effects in minutes
•
Lets you share your movies, via e-mail, the Web, or as high-quality DVDs and VCDs
•
Recommended System Requirements:
1 GHz Pentium 4+
Available Hi-Speed USB 2.0 port
Windows 2000 or Windows XP
128MB ram
500MB of free hard disk space
CD-ROM drive
Sound Card, speaker, and microphone required for audio recording

Download AMCap version 9.11 video capture software
Welcome to Belkin - Hi-Speed USB 2.0 DVD Creator
BELKIN Hi-Speed USB 2.0 DVD Creator
myynti Bulldog NetStore
we use USB 2.0 ports PCMCIA CardBus