Studio Action by Pinnacle Systems
Tällä laitteella voi kaapata videokuvaa + strereoääntä monista eri lähteistä (videokamerasta, composite kamerasta, digiboxista, videoista, satelliittilaitteista ym.). Laitteessa on RCA video-in ja strereo audio-in RCA liittimet (ks. kuva alla).
Videokaappauskuvakoko on 320x240. Ajurissa on myös digitaalinen zoom ja normaalit kuvan säädöt. Tämä laite on kuin koneessa olisi TV-kortti jossa on video-in. Huom. Tämä toimii myös kannettavissa. Tämän laitteen avulla voit tehdä videokamerastasi valvontakameran tietokoneeseesi. Myös liiketunnistusohjelmat toimivat, samoin kuin MSN videoneuvottelut ja videopuhelut. Myös Netmeeting toimii.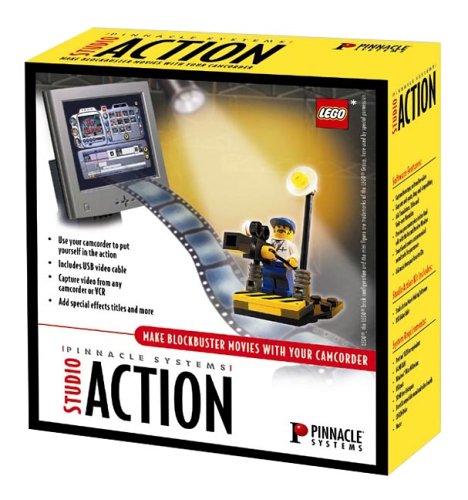 CD:llä olevaa Lego ohjelmistoa ei tarvitse asentaa, imuroi Windows XP driver Download vain ajuri ja asenna se.
With Studio Action you are director of your own blockbuster movies! Includes USB/video capture cable and easy to use Studio Action video editing software. Studio Action allows you to capture video from any camcorder or VCR. Show your movie on your PC, email it, or put it on the web.
Key Features:
Capture from tape, or from live video
Easy cut-and-paste, drag-and-drop editing
Add Transitions, Titles and Voice-over Narration
Preview your masterpiece before final edit with the Instant Preview Window
SmartSound creates custom musical soundtracks for your movie
Add music form your favorite CDs
Includes Studio Action Movie Making Software
Includes USB Video Capture Cable
System Requirements:
Pentium II 233 or equivalent
64MB RAM
Full support Windows 98 or Millennium Edition and (Windows XP device works but not Lego software)
USB port
30 MB free disk space
Direct X compatible sound and video boards
CD ROM Drive
Mouse
USB Video Capture Cable:
Video Capture up to 30 frames per second
Video Capture resolution up to 320 x 240
Inputs: composite video, right and left audio
NEW Studio Action USB device driver Win98, Win98SE, WinME, WinXP. It also works on Windows XP. WDM drivers. Download.
Tämä laite ei toimi omalla ajurillaan WinXP:ssä, mutta minun "virittämä" ajuripaketti toimii myös WinXP:ssä Download, CD:llä tuleva Lego ohjelmisto ei toimi XP:ssä eikä sillä muutenkaan tee mitään.
Kytke virta päällä oleva kamera ensin tähän laitteeseen (RCA video-in), jonka jälkeen kytket laitteen USB liittimeen. Windows XP löytää laitteen ja kysyy ajuria. Etsi se kiintolevyltä sieltä minne purit zip ajuripaketin. Siinä se, ei muuta. (Jos et kytke kameraa tai videolähdettä laitteen rca-liittimeen, ajuria ei ladata käyttöön).
Vanhemmissa Windowsissa CD levyllä oleva ajuri toimii, mutta voit myös asentaa tämän uuden ajurin (lisää uusi laite,... haluan asentaa itse luettelosta...ääni- video- peli- ohjaimet), etsi kiintolevyltä ajurikansio.
Download AMCap version 9.11 video capture software
Lego software updates link www.driver-windows.com - /Special Drivers XP/Pinnacle Systems/Studio Action/
Studio Action from Pinnacle Systems