Logitech QuickCam Pro 4000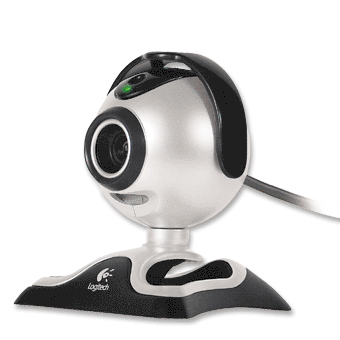 Product Specifications
Video capture: Up to 640 x 480 pixels (VGA CCD)
Still image capture: Up to 1280 x 960 pixels
Frame rate: Up to 30 frames per second (with recommended system)
High-quality VGA CCD sensor, built-in microphone
By combining a digital zoom, built-in microphone, and high-quality VGA CCD sensor, the QuickCam Pro 4000 lets you express your creativity like a pro.

Now you can create amazing videos and shoot 1.3 megapixel still photos with ease. Or add live video to Yahoo! Messenger, MSN Messenger, and AIM while you chat. You may also make live video calls, set up a video monitoring system, or send photos and video along with your email. You can even add video to your eBay auctions. Enhance the way you communicate and animate your life. It has 640x480 video resolution with the advanced VGA CCD sensor and high-quality 1.3 megapixel photo resolution; add live video to Yahoo! Messenger with integrated software; use Logitech's free IM Video Companion to add live video to MSN Messenger and AOL Instant MessengerSM; create movies like a pro with studio-quality MGI editing software. sku#961239. Retail Box.

Features: Add video to your favorite instant messenger: Yahoo! Messenger, AOL Instant MessengerSM (AIM), MSN Messenger. Shoot 1.3 megapixel photos and high-quality videos. Edit movies and photos with studio-quality software Make live video calls. Email video and photos easily. Get closer with a digital zoom. Conduct online video conferences and calls using Windows Messenger or Microsoft NetMeeting. Speak your mind with the built-in microphone. Add video to your eBay auctions with SpotLife VideoSnap. Create fun animated films. Create web albums, broadcast live video and audio, and set up a web cam. Works with Mac OS 9.04 and 9.1.

Specifications: Video capture: Up to 640 x 480 pixels (VGA CCD). Still image capture: Up to 1280 x 960 pixels, 1.3 megapixels. Frame rate: Up to 30 frames per second (with recommended system). Included Software. FREE Logitech IM Video Companion. Live video-enabled Yahoo! Messenger. One-click video e-mail software. Video broadcasting software. Web album creator software. Web camera software. Motion detection software. Animation software.

System Requirements for PC: Windows 98, Windows 2000, Windows Me, Windows XP. Pentium II 400, Celeron, AMD Athlon processor, or higher (Pentium III 500, Celeron, AMD Athlon processor recommended). 64 MB RAM (or minimum OS requirement whichever is higher). 200 MB free hard drive space. CD-ROM drive. 16-bit color display adapter. Windows-compatible sound card and speakers (full duplex sound card recommended).

System Requirements for Mac OS 9: Macintosh with USB port. Mac OS 9.04 and 9.1. Not compatible with Mac OS X or Classic Mode. 64 MB RAM. QuickTime 4.1.2 or higher. CarbonLib 1.2.5.

Limited Warranty: One year from invoice date with Directron.com. 30-Day money back with 15% restocking fee for non-defective returns. No credit or refund after 30 days.
Logitech > Cameras > Logitech® QuickCam® Pro 4000
Geek.com Review: Logitech QuickCam Pro 4000
Logitech QuickCam Pro 4000 Desktop Video Camera w/ Digital Zoom, Microphone & USB for Mac & PC, -dh
Home Web Camera Lieksa Finland