TraxVision BabyCam Wireless Video Camera Kit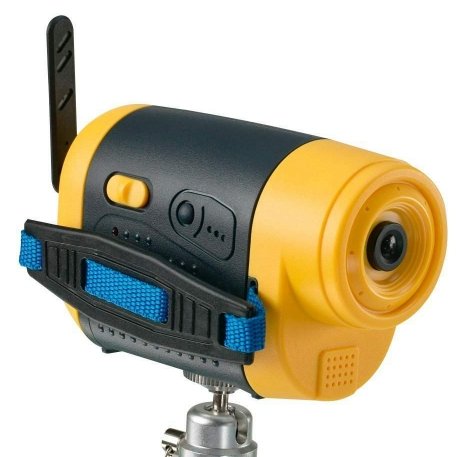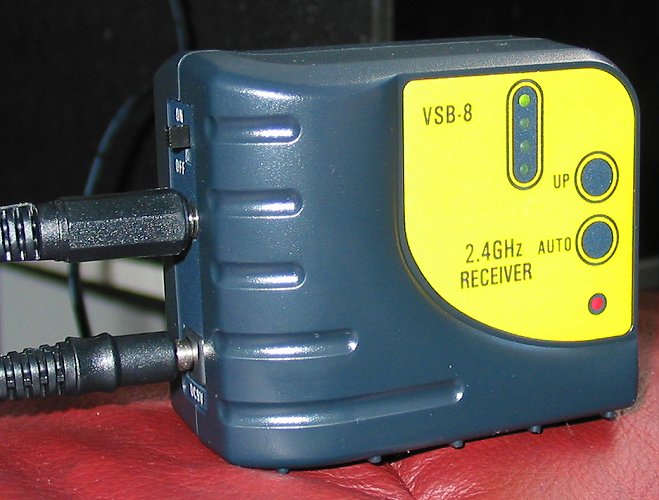 Is designed to safeguard your family and home (or small bussiness) ensuring total peace of mind.
After simple installation, colour video and sound are transferred directly onto your chosen TV set or VCR providing live monitoring with no cables and no fuss!
If your PC is equipped with a video capture card, the BabyCam can also be used as a wireless webcam!
Portable and lightweight Easy to install and use Range of up to 45m Built in microphone Transmits through most walls ceilings and floors Use up to 4 cameras with 1 receiver, (additional camera TXVC10 Wireless Video Camera available separately)
Transmitter/Reseiver:
Freguency Range: 2.400-2.4835GHz
Channel: 4, reseiver 1 manual or 4 auto channel
Channel Space: 18MHz
A/V Modulations Type: FM
Video In-/Output Format: NTSC/PAL
Operating Temperature: -20C - 44C (typ.)
Contains:
- Camera
- A/V Receiver
- Detachable Tripod
- A/V Cable, 3.5m (3.5 jack to 2x RCA)
- 2x Power Adapters 9V 350mA
- User Manual (eng.)

VOC-9 SERIES 2.4 GHz WIRELESS VIDEO CAMERA
The VOC-9 is a magic wireless video camera with 2.4GHz transmitter. This unit has compact design and high quality wireless video and audio output for home use. Through the 2.4GHz mini receiver, the image and sound can be connected directly to home TV set or Monitor,
This VOC-9 2.4 GHz Wireless Video Camera with high quality, low power CMOS Image Sensor gives an outstanding 150 feet range for transmission of images and microphone sounds ( 80 feet through walls and floors ). The VOC-9 have four channels available for multiple cameras by multiple receiver operation. The receiver can be connected to TV set or monitor for monitoring or entertainment purpose.
Features
Operating frequency of ISM band 2.4 ~ 2.4835GHz on 4 channels
CMOS image sensor and low power consumption
Goes through most walls, floors and Ceilings
Range up to 150 Feet
Application
Baby monitor
Home security
Children toy use
Student learning course
Visible doorbell
Camera Specification
| | | |
| --- | --- | --- |
| Specification | NTSC | PAL |
| Picture Elements | (Color) 510 (H) X 492 (V) | (Color) 628 (H) X 582 (V) |
| Number Of Pixel | Color 250K | Color 365K |
| Pick Up Sensor | 1 / 3"CMOS Image Sensor, Color 10 LUX | 1 / 3"CMOS Image Sensor, Color 10 LUX |
| Resolution | 300 TV Lines | 300 TV Lines |
| Lens | F 3.6 / F 2.0 | F 3.6 / F 2.0 |
| Power | 9V 0.45 Watts | 9V 0.45 Watts |
| Dimensions | 75L x 50H x 40D mm | 75L x 50H x 40D mm |
| Weight | 90g | 90g |
| Audio Output | 200m Vp-p | 200m Vp-p |
Technical Specifications
| | | |
| --- | --- | --- |
| | Transmitter | Receiver |
| Output Power | 0 ~ 10dBm (PD) | - |
| Receiver Sensitivity | - | Over – 87dBm |
| Frequency Range | 2.400 ~ 2.4835 GHz | 2.400 ~ 2.4835 GHz |
| Channel | 4 Channels | 4 Channels |
| Channel Space | 18 MHz | 18MHz |
| Frequency Stability | + / - 250 KHz | + / - 200 KHz |
| A / V Modulations Type | FM | FM |
| Video Format | PAL Or NTSC | PAL Or NTSC |
| Video Input Level | 1Vp-p @ 75 Ohms | - |
| Video Output Level | - | 1Vp-p @ 75 Ohms, S/N>38dB |
| Audio Input Level | 1Vpp @ 600 Ohms for Mono | - |
| Audio Output Level | - | 1.45Vpp @ 600 Ohms |
| Antenna Interface | 50 Ohms SMA Jack | - |
| Power Supply | Input: 220 or 110V | Input: 220 or 110V |
| | Output: 9V, 350mA | Output: 9V, 350mA |
| Power Consumption | 9V, 200mA | 9V, 300mA |
Traxdata BabyCam - eXpansys UK