Welcome to my home page!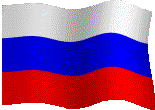 UA4CC
Arkady J. Voloshin "Ark"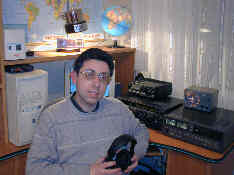 I`m Arkady J. Voloshin and I live in Saratov, Russia.
I was born in Saratov on Dec 28,1958.
I`m active Radio Amateur (Ham) since 1973.
1973-1975 - SWL call sign UA4-152-305.
1975-1981 HF call sign UA4CDC.
1981 - now HF call sign UA4CC.
I was licensed as KB7LOT in 1990.
---
My equipment:
- FT-1000MP, FT-900/AT from YAESU
- Power amplifier FL-7000 from YAESU
- DR-130, DJ-180, DJ-191 from ALINCO for 144 MHz
- Computer Pentium-III 933 MHz/256 Mb RAM
You can see the view of my shack: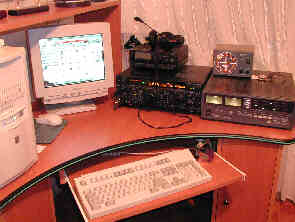 My Antennae :
- 10/15/20 meters Yagi A3S from Cushcraft for 10/15/20 meters and rotary dipole for 40 on the same mast
- vertical for WARC R7000 from Cushcraft
- trap dipole for 80/160 meters (home made)
- vertical for 144 MHz ARX-2B from Cushcraft
All antennae located on the roof of the building about 30 meters up the ground (level)
You can see the pictures of my antennae :
---
My hobby in HAM RADIO:
I like DX`ing. It`s my favorite hobby in Ham radio
You can see DX-results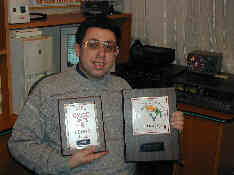 WOW!!! My dreams are here now: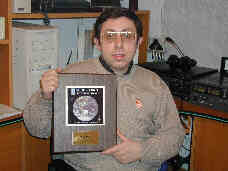 My toys on the wall! Next reason?
---
Вы сможете увидеть небольшой фотоотчет о миниэкспедиции, "открывшей" два новых района по RDA в Саратовской области - SA-22 и SA-27.
В эфире несколько часов были UA4CC/P и RA4CSX/P
Конечно, это больше не экспедиция, день на природе, была хорошая погода, хорошее настроение и .... и конечно, общение с друзьями на диапазонах! Впереди новые (может и более серьезные!) экспедиции. А пока всем спасибо, что звали. QSL 100% via bureau or direct.
Кстати, у меня дача расположена в довольно редком районе SA-56. Теперь я научился быстро разворачивать позицию и на даче. Кому этот район нужен - я всегда готов! UA4CC/A к Вашим услугам!
---
8 Мая состоялась очередная миниэкспедиция по активизации редких районов Саратовской области по RDA.
В эфире из SA-33, SA-37 были:
UA4CC/P, RA4CSX/P, RK4CR/P
вы найдете небольшой фотоотчет об этой поездке.
а ЗДЕСЬ можно почитать небольшой рассказ о нашей поездке.
---
My occupation :
All about my buisness here:
That's me in my office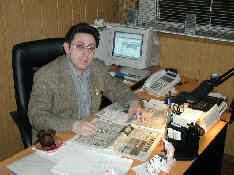 ---
My Family:
I was married in 1980, my wife Natasha. Our son Vitaly was born on 23 Nov 1984 in Saratov.
He is a student (but not ham! hi)
You can see couple of the pictures of my Family:
---
Did you work UA4CC on any band? You can check my log here:
---
---
---
---
If you have any comments please send them to
Webmaster


Last update 14-December-2002

---

Welcome to my GUESTBOOK! Your comments would be appreciate very much!

---

73!

You are visitor number since 10/02/1998