Although it's one of my favorite QRP events of the year, I never seem to have much luck with the Flight of the Bumblebees contest. My plan was to ride my bike from the Oaks trailhead on the Schuylkill River Trail up to the Lower Perkiomen Vally Park on the Perkiomen Trail. It's a very scenic 5 mile round trip that I've made many times. However, just like last year, weather was a factor. The weatherman was forecasting late afternoon showers. Erring on the side of caution, I decided to change my plans a bit. I wound up parking just north of the park, which made the ride only about a mile or so roundtrip. I figured if the storm came in early, I would only be a few minutes away from my truck.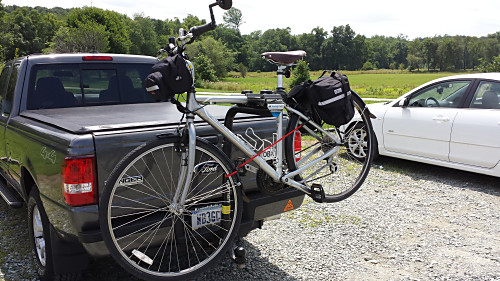 On arrival, I loaded up the panniers on my bike and made the short trip down into the park. I picked out a picnic table in a secluded area of the park and set about setting up my station for the afternoon.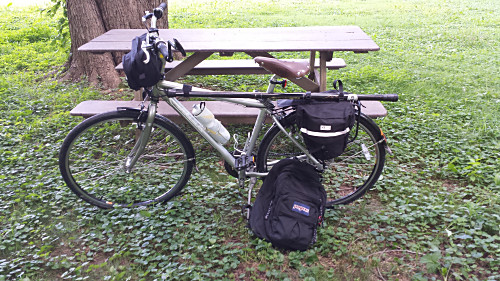 For the antenna, I used one I had built many years ago. It's just a 56-foot doublet built with wire stripped from computer ribbon cable. It's fed with about 25 feet of 300 ohm TV twinlead. I set it up as an inverted vee supported by a 20-foot Black Widown pole. The pole was mounted on the wooden handle of a large screwdriver that I shoved into the ground. It's, by no means, an optimum antenna but I used to have pretty good results with it years ago.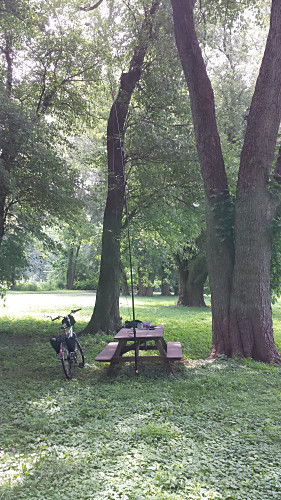 The rig I used was my trusty YouKits HB-1B, running about 4 watts. For matching the antenna, I used an Elecraft T1 tuner and a 4:1 balun.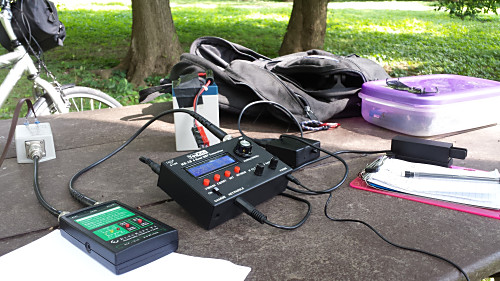 In the end, I wound up with only 10 QSOs over about 2 hours or so. Six of those were Bumblebees. Actually, this was about twice as many QSOs as I made in last year's contest. The best DX of the day was K7RE in Wyoming on 20 meters.
Even though the band conditions were horrendous, the bugs were annoying and it was very humid, I still enjoy operating QRP rigs out in the field. I guess there's something not quite right with us QRPers!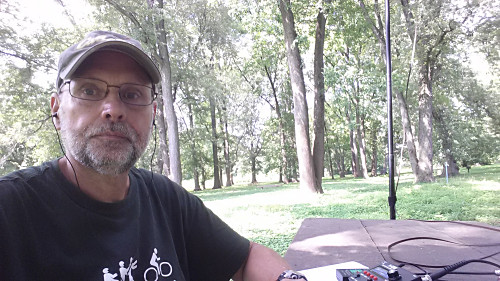 NAME:  Craig LaBarge
CALL:  WB3GCK
LOCATION:  Lower Perkiomen Valley Park on the Perkiomen Trail near Oaks, PA
TOTAL NUMBER OF CONTACTS:  10
TOTAL BUMBLEBEES:  6
TOTAL:  10 QSOs x 18 BB Multiplier = 180 total points
		
73, Craig WB3GCK