My family, along with my brother's family, have been vacationing on the Outer Banks almost every year (except for 2006) for the past 11 years. I always look forward to doing some QRP portable operating from down there. This year, we were again in Corolla, near the northern-most part of the Outer Banks in North Carolina. We typically rent a different house each year, so I never know exactly what to expect, antenna-wise, until I get there. I always take a couple of wire antennas along, with the hope that I'll be able to get something half-decent strung up.

Based on my last ten trips to the Outer Banks, I figured that I could count on having access to a 3rd story deck and room enough to run a wire out to a tree or something nearby. The antenna I used for this trip fit the bill. I went with an antenna that the old timers sometimes referred to as the "Up and Outer." Basically, it's nothing more than a center-fed doublet with one vertical leg and one horizontal leg. Before I left for the trip, I made up a simple 56-foot doublet fed with about 35 feet of 300-ohm TV twinlead (the cheap brown stuff). Once I got to Corolla, I strapped a 28-foot Jackite telescoping pole to the railing of the deck and used it to support the vertical leg of the antenna. The horizontal leg was attached to a nearby pine tree. In what has become a family tradition, I once again enlisted the support of one of my athletic nephew to toss a golf ball with a line attached up over a specific tree branch. (He got it on the second try.) Using my trusty homebrew Z-match tuner, the antenna loaded up nicely on my primary bands of interest: 40, 30 and 20 meters.

For the first couple of days, I operated from a screened-in porch, enjoying the nice breeze. One day we had a thunderstorm and I decided to relocate my equipment indoors. For the remainder of the trip I operated from the master bedroom on the 3rd floor. I used a cardboard tube from a spool of twine to bring the feedline into the house, keeping it away from metal as a best as I could.

I had quite a few QSOs during the week. On my first day of operation, I gave out a few points in the Flight of the Bumblebees contest (although band conditions were horrendous). During the rest of the week, I worked some 40 meter CW in the mornings and moved to 30 meters in the evenings. I had a lot of fun working PSK31 on 30 meters late in the evening. A nice group of folks hang out there. I was getting some very good signal reports from West Coast stations and was able to work a few European stations with 5 watts. So, I was very pleased with this year's choice of antenna for the Outer Banks.

I'm already starting to make plans for next summer!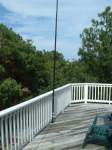 Antenna mounted on the 3rd story deck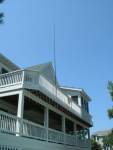 Antenna viewed from
the ground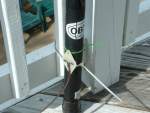 Antenna feedpoint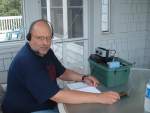 Operating from the porch