Pocomoke River
State Forest and Park
July-August 2000
Craig LaBarge, WB3GCK
This summer, my family and I spent a week camping in the beautiful woods of Pocomoke River State Forest and Park near Snow Hill, Maryland. Being the earliest riser in our family, I managed to get some time on 40 meters each morning.
During this trip, I used my trusty Small Wonders SW-40 transceiver running 950mW into a 24-foot homebrew vertical mounted on my pop-up camper. I used a 7 A-H gel cell battery for power. Since we had an electric hookup at the campground, I was able to top off the charge each day.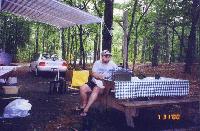 Band conditions on 40 meters were pretty good. I managed 2 or 3 QSOs each morning. Fellow EPA-QRP Club member, Ken Newman, N2CQ, gave me a call one morning from his daughter's house in Baltimore. Worcester County, on the Eastern Shore of Maryland, didn't appear to have much local Amateur Radio activity and seemed to be somewhat rare, as far as counties go. When I arrived back home, I had a few QSL cards waiting for me from county hunters for whom Worcester County was a "new one."
Thanks to all who managed to hear me. Here is my log from the trip:

BAND: 40M
MODE: CW

DATE    UTC     CALL            RST-S   RST-R   QTH                NAME
7-31-00 1304    W0EHP/3/QRP     589     569     Telford, PA        Rich
        1429    N2CQ/3/QRP      579     579     Baltimore, MD      Ken
8-1-00  1050    K9WYP           569     339     Buffalo Grove, IL  Rick
        1151    K1YAN           579     549     Plymouth, MA       Gary
        1225    VE3KQN/QRP      559     459     Minden, ONT        Jim
8-2-00  1138    N3NHX           579     599     Erie, PA           Al
        1210    WB3HLG          599     579     Manheim, PA        Pete
        1326    N2NTS           589     579     East Brunswick, NJ ED
        1515    VE3AR           589     559     Toronto, ONT       Bill
8-3-00  1152    N2VDF           599     579     Oakdale, NY        Bob
        1212    ND3G            599     589     Greensburg, MD     Dick
        1537    W5GJ            599     599     Newton, NJ         Bob
8-4-00  1235    KO1C            ---     ---     Plainton, NH       Bob
        1454    AB8EL           579     459     Hilliard, OH       Don
8-5-00  1257    NR1C/QRP        579     449     Watertown, CT      Mike
        1325    N3OO            599     239     Tidioute, PA       Bob
        1433    KD3OR           569     529     Somerset, PA       Rod
8-6-00  1115    K8JRO           579     539     Nr Flint, MI       Jerry
        1201    W1KX            579     559     Livermore, ME      Bill