RCA WV-98C (K) Senior Voltohmyst kit VTVM
A classic workhorse. The RCA WV-98C Senior Voltohmyst series from a time when RCA put out some good stuff. The Voltohmyst and it's friends can still be nice to use especially for working on tube equip. The DC input resistance is 11MΩ. AC impedance varies from 830KΩ shunted by 70pF to 1.5MΩ shunted by 60pF. On the low AC scales the advertised frequency response goes to 3Mhz; I have gotten closer to 4Mhz and beyond. The voltage ratings DC and AC 1500V AC 4200V peak-to-peak make this (and other) vintage VTVM perfect for old tube gear. Acknowledging they certainly don't meet modern CATIII standards at those voltages. The analog dials are large advertised 6 1/2 inch and easy to read though you DO need to used the correct scale. When 'peaking' or 'nulling' the analog pointer is easier to interpet than a digital DMM. The "blue/gray hammeroid case - satin aluminum panel" I think is attractive. The paint scheme with matching knobs were shared with all the RCA equipment of the time. Power is a 2-prong non-polarized plug to a small transformer. The circuit uses an isolated ground from chassis/case by R31 (1MΩ) and C7 (.01µF).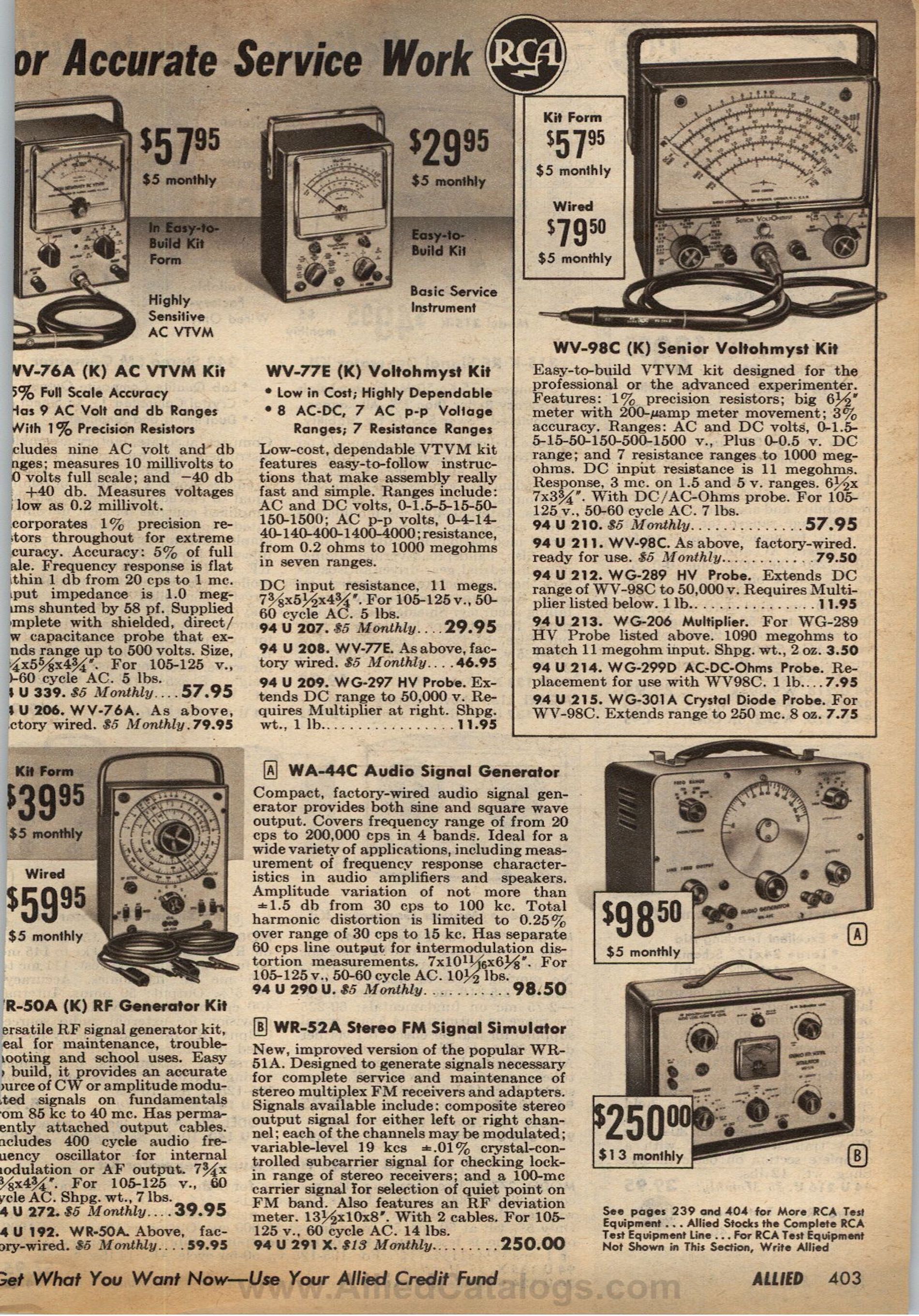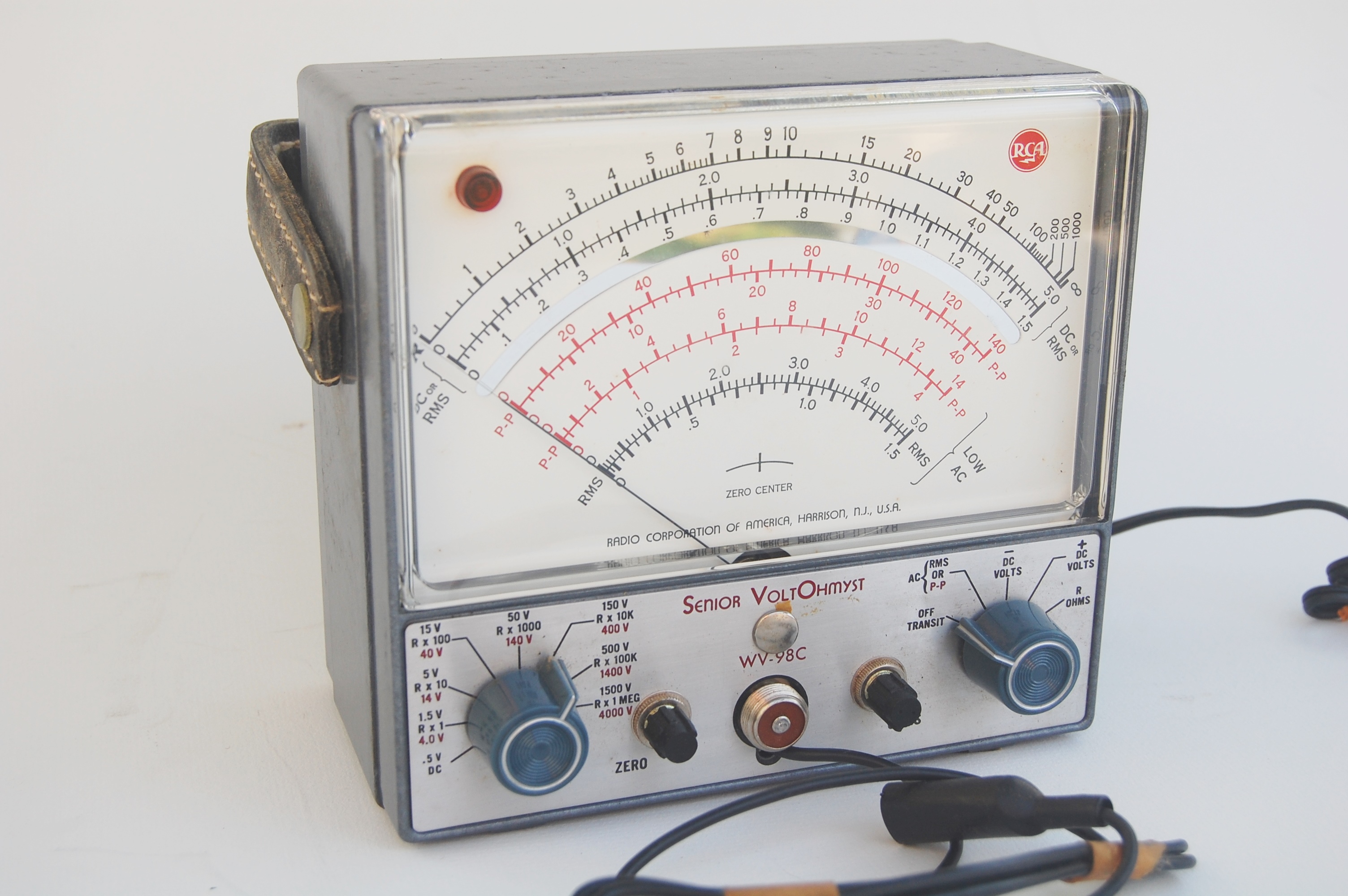 You could buy a WV-98C Senior Voltohmyst in 1966 from Allied for $57.95 kit or $79.95 factory wired. The first Allied catalog offering is 1963 $79.50 with the WG299D (dark blue) probe. By comparison the Master Voltohmyst WV-87B was $137.50. By 1969 the Allied price for the kit was unchanged but factory wired had gone up to $88.50. The Allied catalog for 1970 does not offer a kit and the probe is now the WG299E (light blue/gray and a smaller diameter more flexible cord). The probe alone was $9.75. In 1971 the 98C rose to $99 and the solid state WV-510A Master Voltohmyst appeared for $128. While there was always a parallel 'Volt Ohmyst' to the 98C 'Senior' The 510A Master appears to be an solid state replacement for the 98C. Prices again rose in 1972; $112 for the 98C and $131 for the 510A. The WV-98C price remained essentially unchanged until 1976 which was the last year Allied listed it. The 510A rose to about $150.
There are only minor production differences in the 98C as RCA went along. I've not found anything that leads me to think early or late versions would be 'better'. They are essentially the same age now so the indivdual condition is more important than anything. I do think the earlier units had slightly better paint and finish - especially after the change to VIZ. Note the probes are glued together and not amenable to repair. The isolating resistors may have drifted and the DC/AC-Ohms switch can get cranky; and I don't see any good way to repair them. At least not without mangling the probe body.
SN121623 K 12 66
My best example is serial number 121623 presumably assembled about December 1966. It was unused and in the original shipping box. Shipped from RCA in Edison N.J. to First State Electronics in Wilmington, DE. about Janurary 16, 1967. The cables were all still wrapped and taped. I probably had never been plugged in. Certainly never used. Included was a WG-299D probe.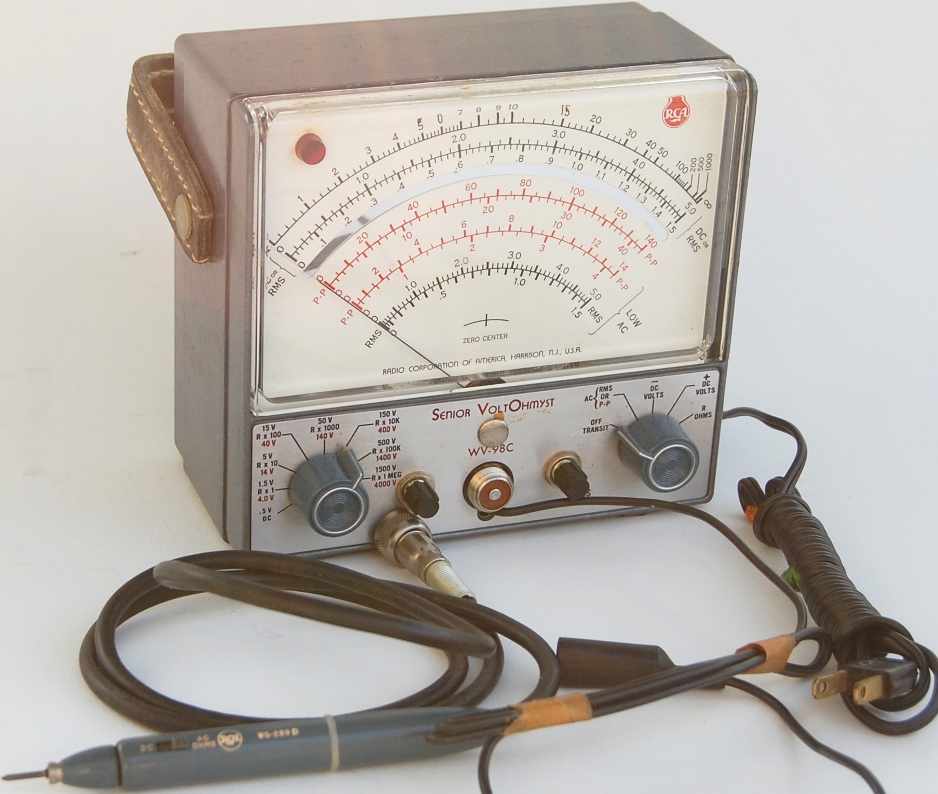 The power light at upper left is covered by a plastic cap. The RCA meatball is upper right. The Peak to peak red scales and RMS or DC scales are grouped togeher. At the bottom is Radio Corporation of America, Harrison, N.J.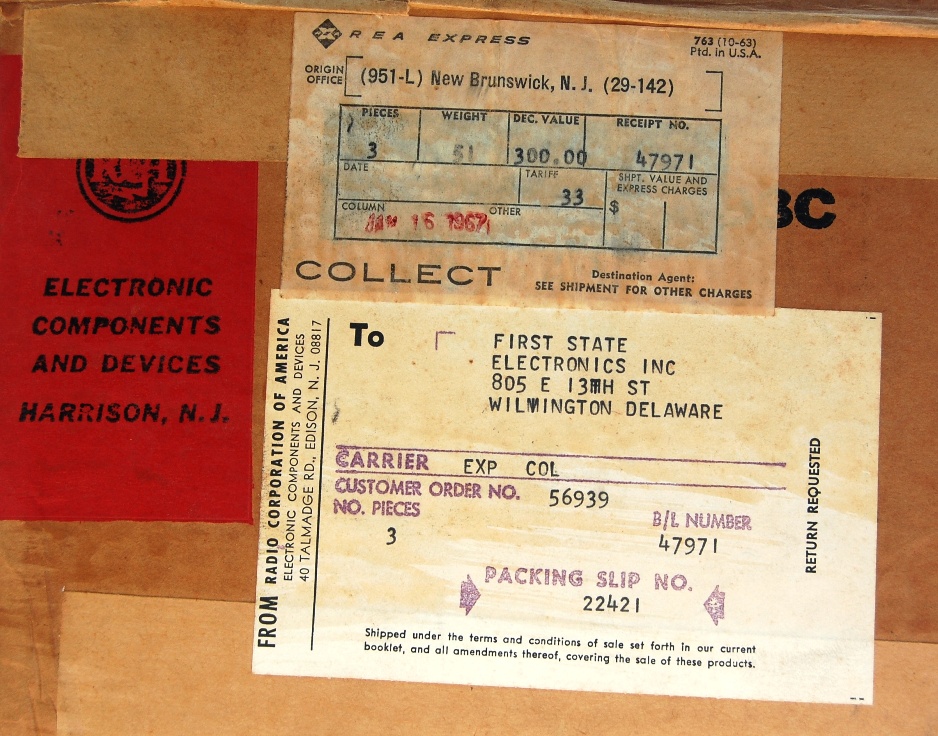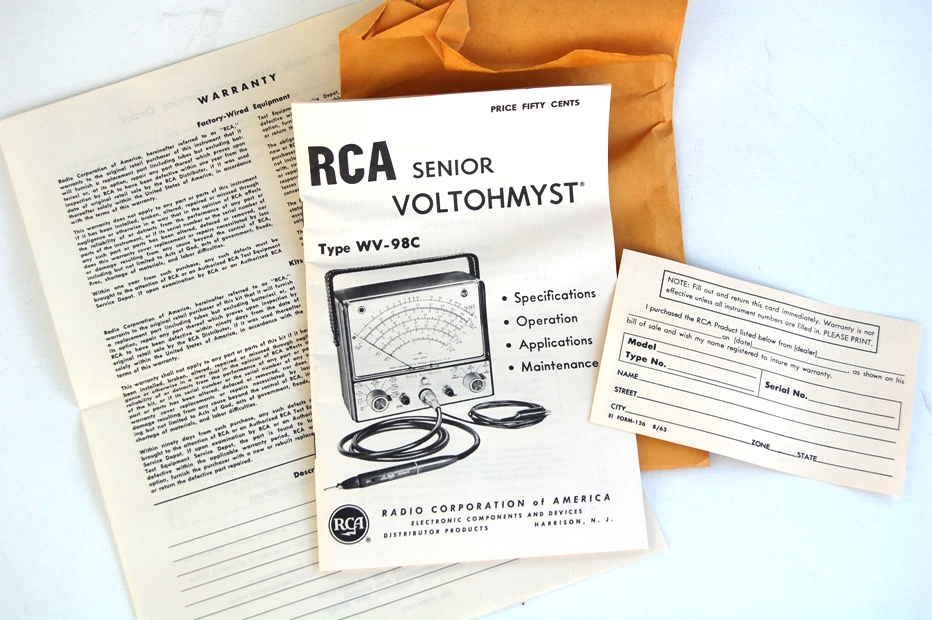 A remarkable thing about this unit was the original oem RCA branded battery installed! There is no chemical leakage (so far). I am told this was due to the original battery chemistry not being so corrosive as modern akeline and other. It still measures 1.47V. Sufficient voltage to make an ohms reading! Wow.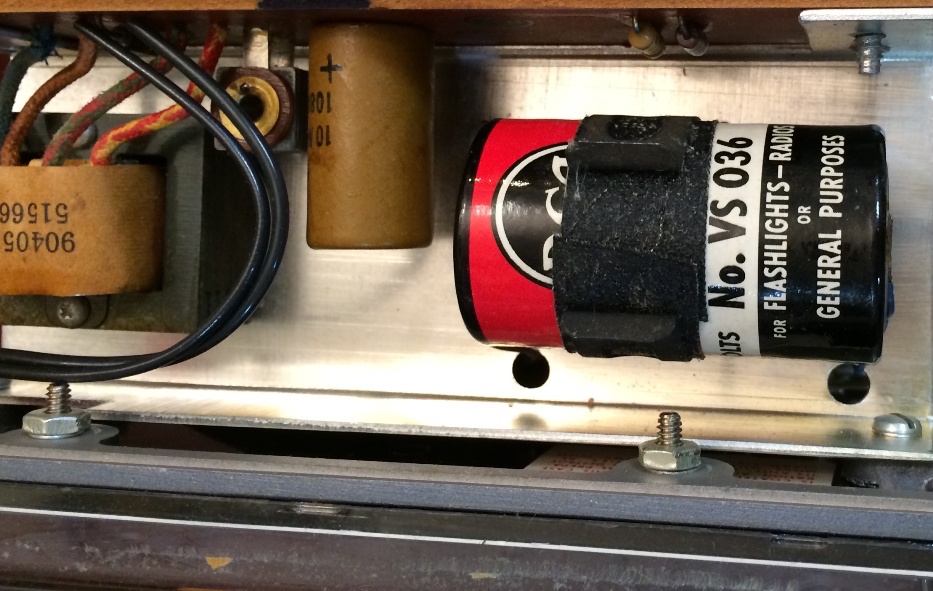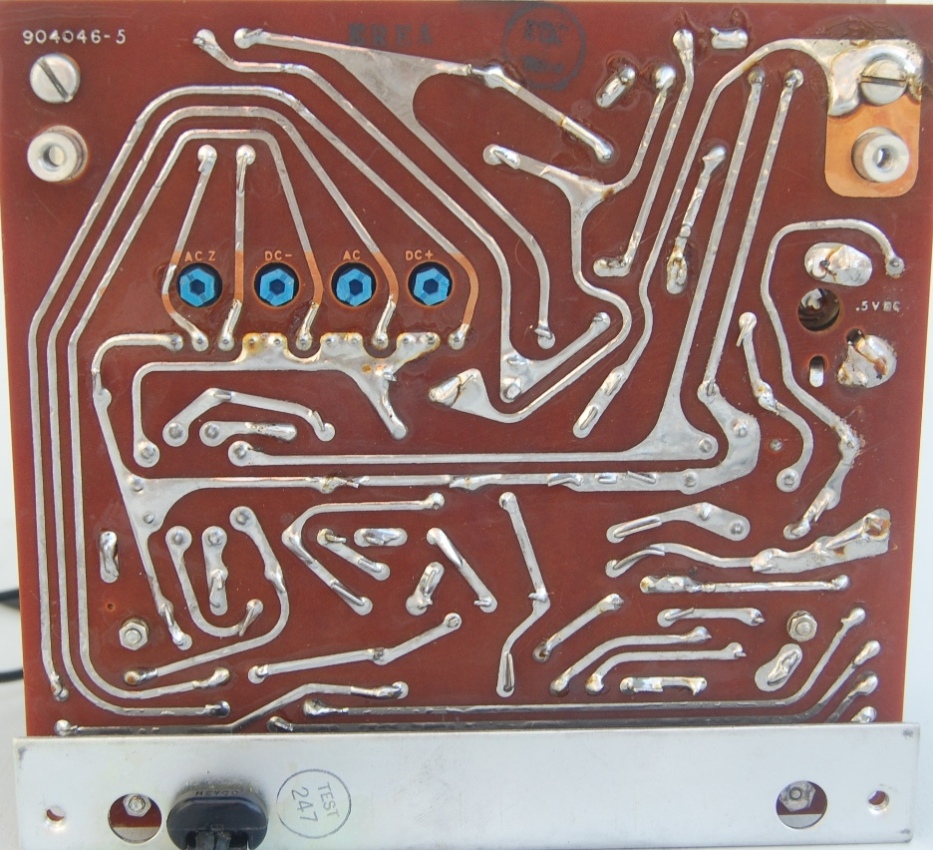 The far left 'AC Z' pot is accessible through a hole in the case. The remaining three plus the .5V DC pot (R35) are internal adjustments. The pcb is marked 904046-5 upper left corner. R35 the .5V DC adjust is mounted on the pcb.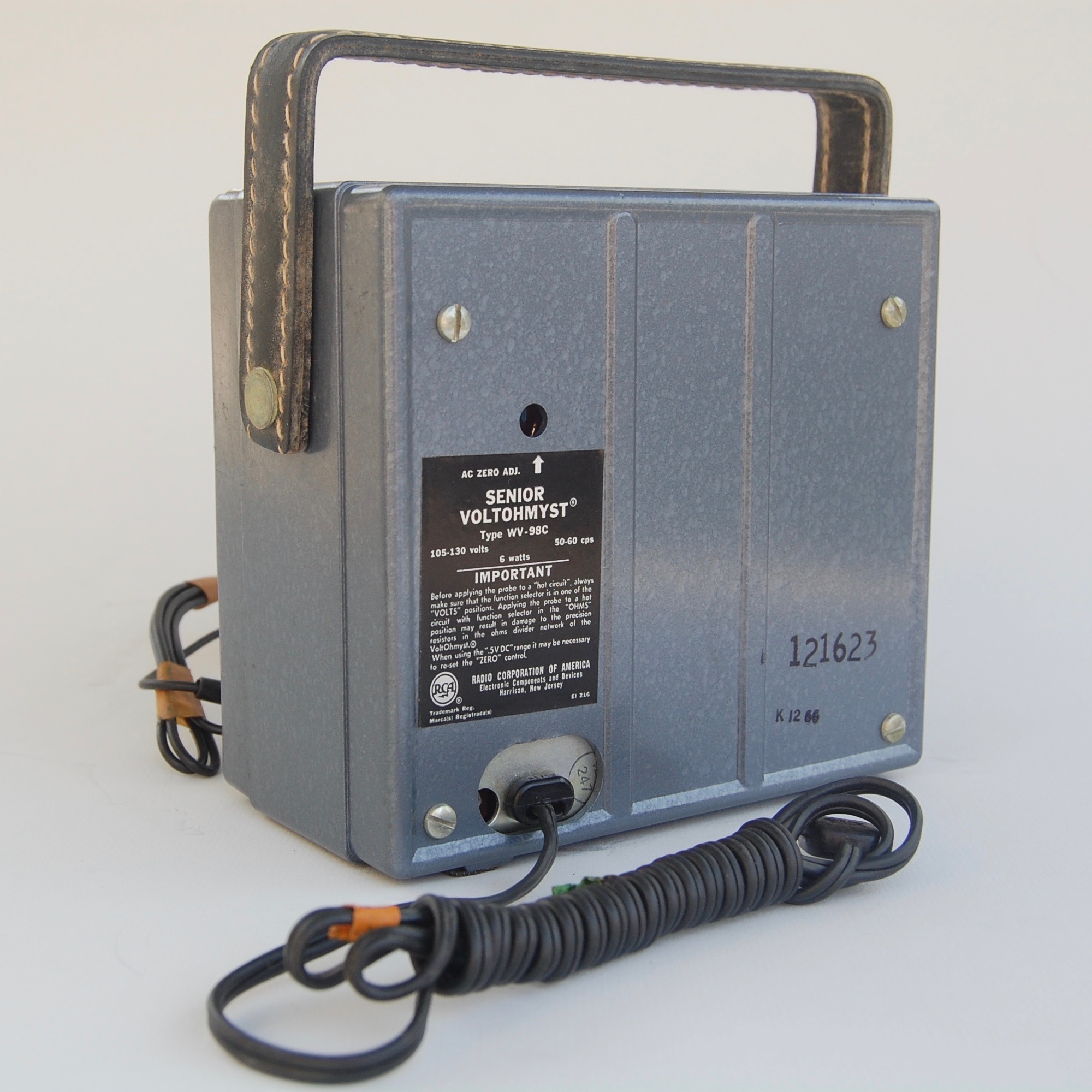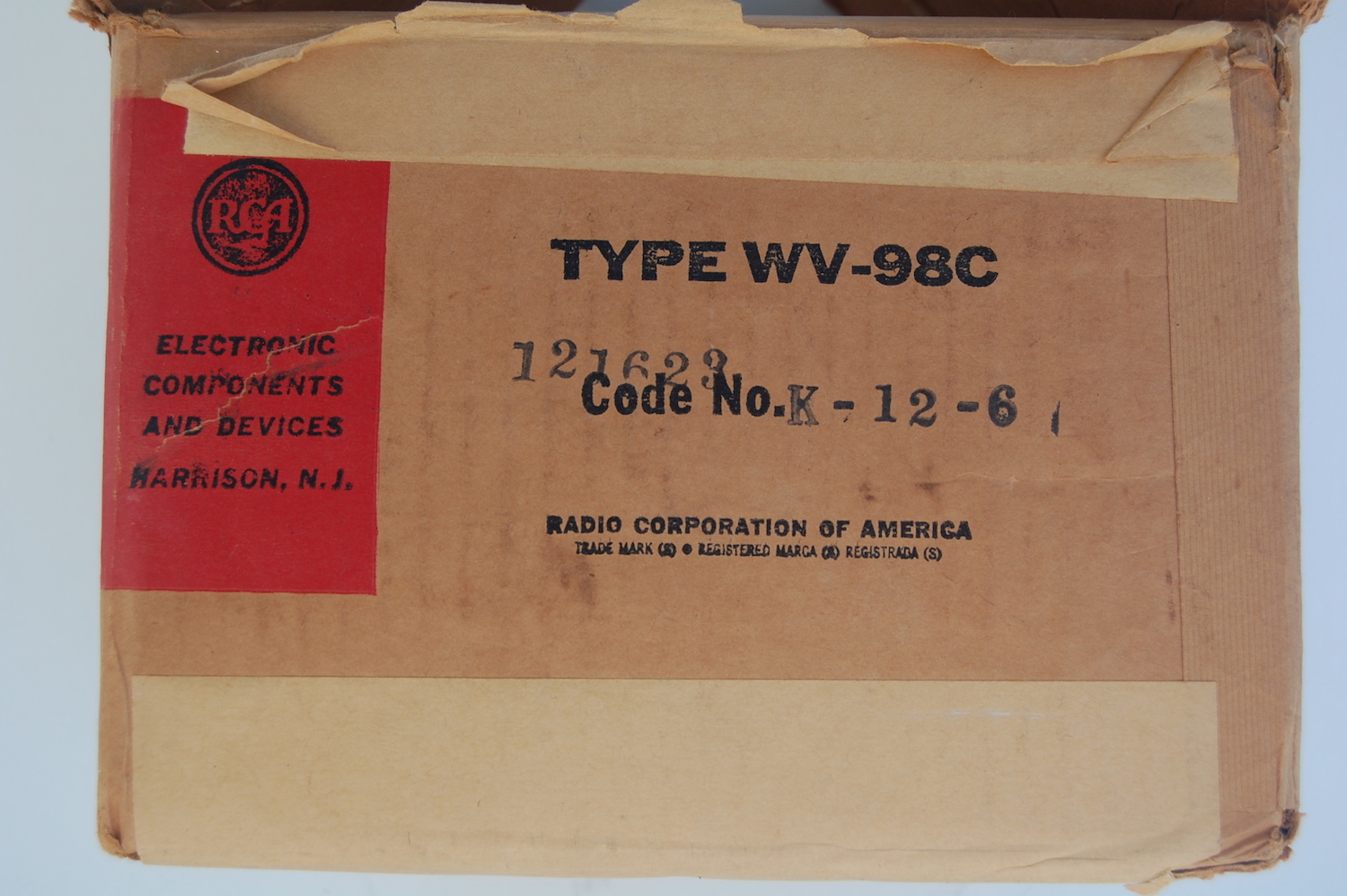 The lower right marking is: K 12 66. The 'K' could mean a kit. One of the Allied catalogs implies as much listing "...98C (K)" and pricing for both versions. But ALL the WV98Cs I have are marked with a "K"! It seems unlikely they all were kits. And this unit certainly appeared to ship as a complete meter in it's custom box. Workmanship doesn't put you in mind of an HP or Tek of the same era but it seems very good. The 12 66 combined with the shipping label date implies December 1966 assembly.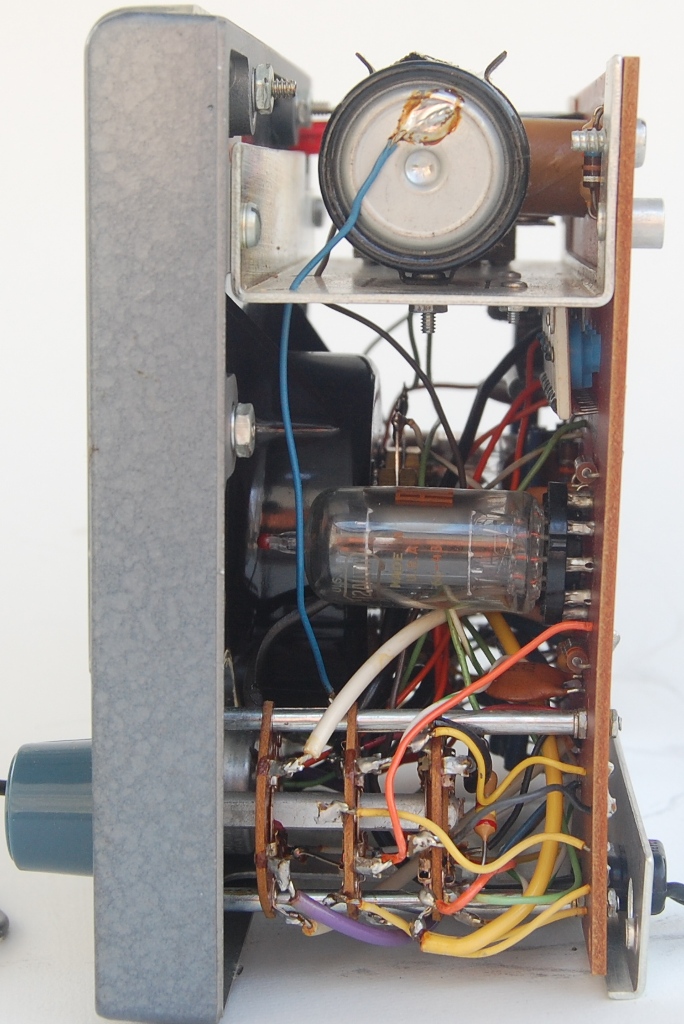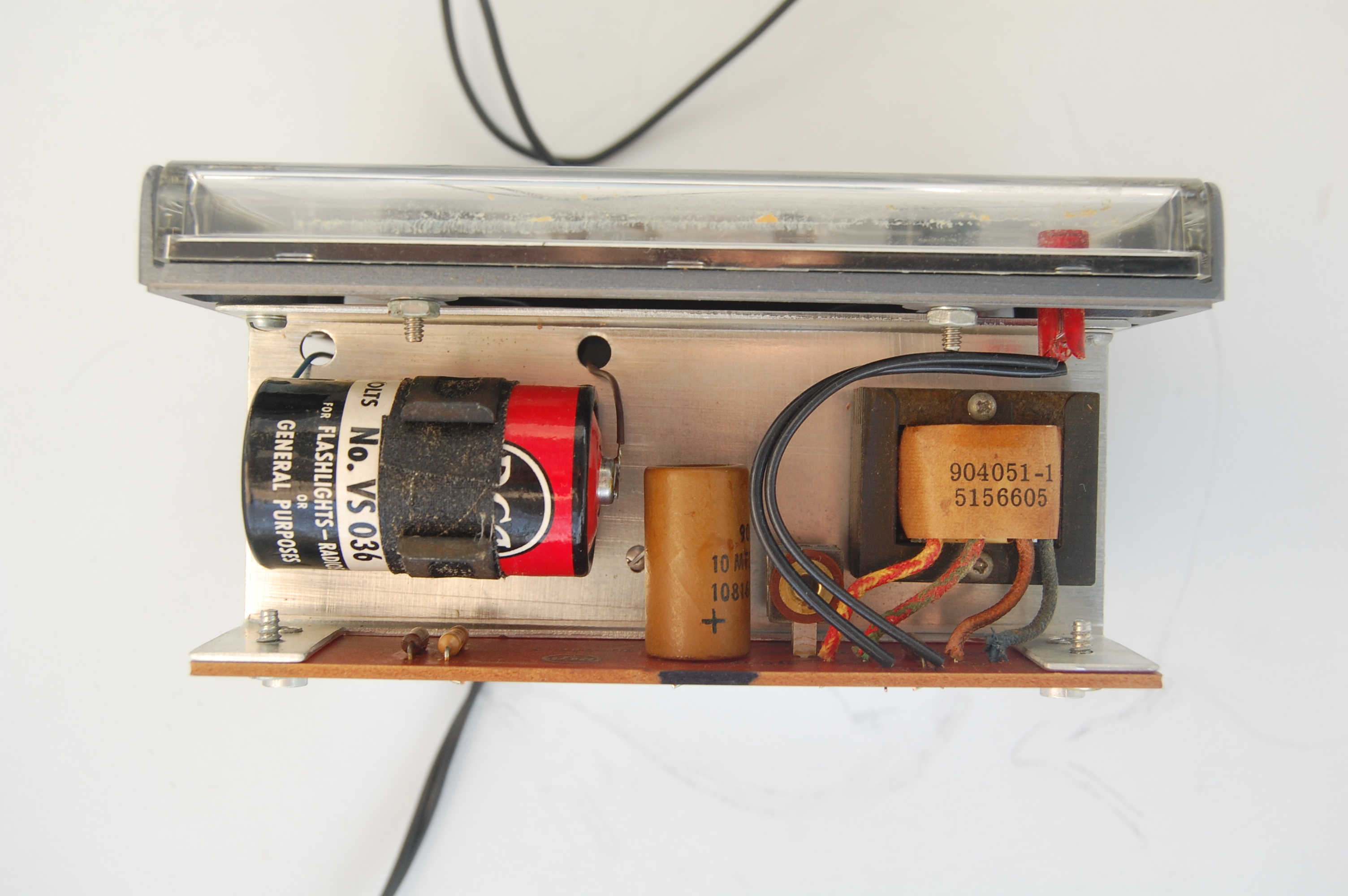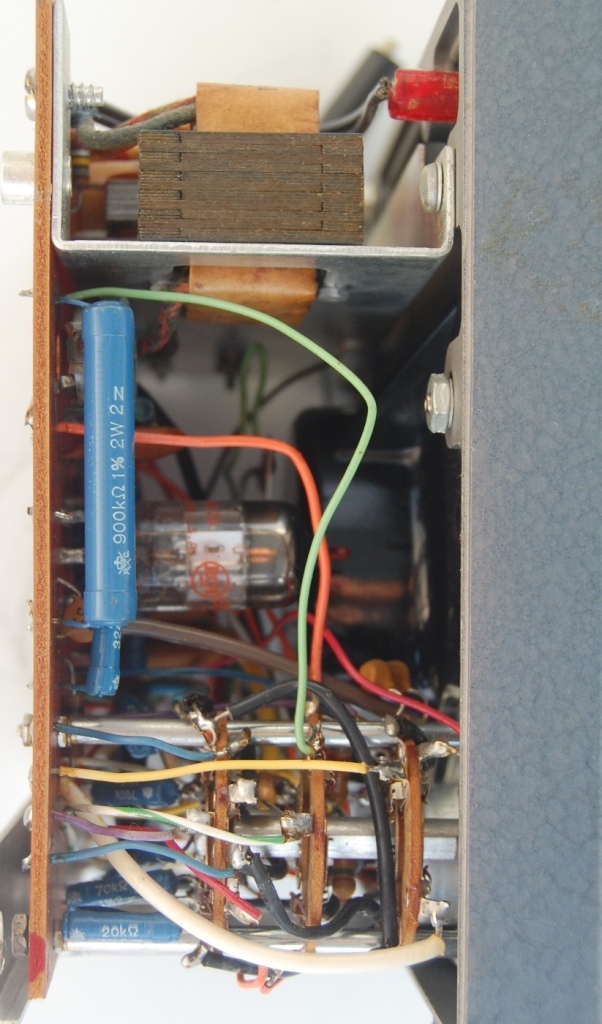 SN120772 K 11 66
November 1966 assembly. My daily driver VTVM courtesy of Josef Kirrer who marked his name in three places inside. Also with the -5 pcb. I use it with the WG299E probe. Note the warning sticker on the backside of the meter: CAUTION The inside surface of this case is coated with a special preparation. Any rubbing will destroy its anti-static properties. Remove dust by blowing with clean air. So don't. An online search will turn up a couple of instances of this happening and suggested solutions.
The RCA series wasn't lab quality but they were workhorse rugged and accurate for the day. I lucked into this one just about like it was the day RCA shipped it down the road. It may never have been plugged in. I'm not at lall squeamish about using the old stuff; but this particular unit is just SO unsed I can't bring myself to plug it in. The original RCA branded battery is still installed. Hasnt' leaked. And shows 1.483V. (Obviously not measured with a field VTVM. Fluke for that.)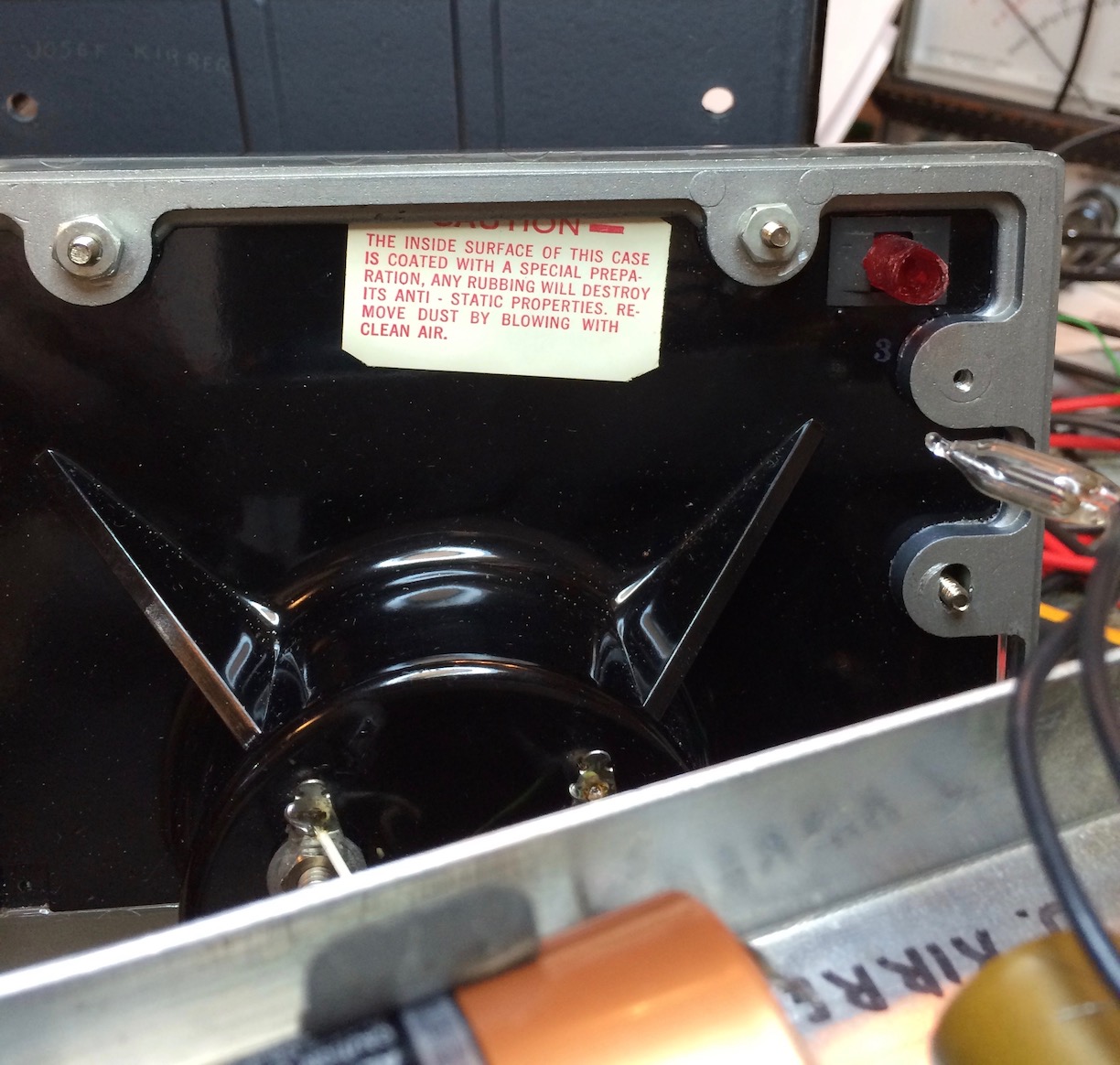 SN 109089 K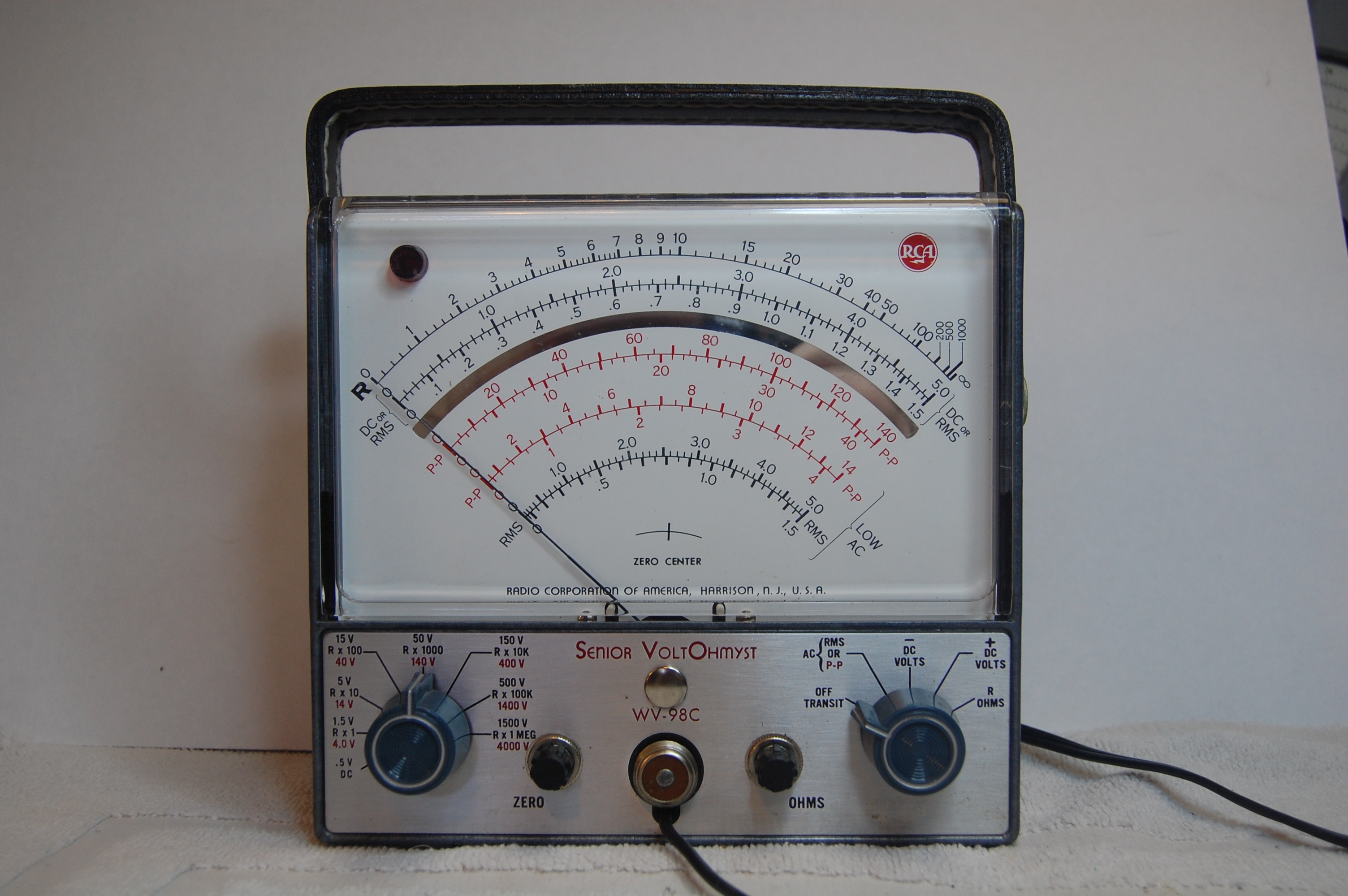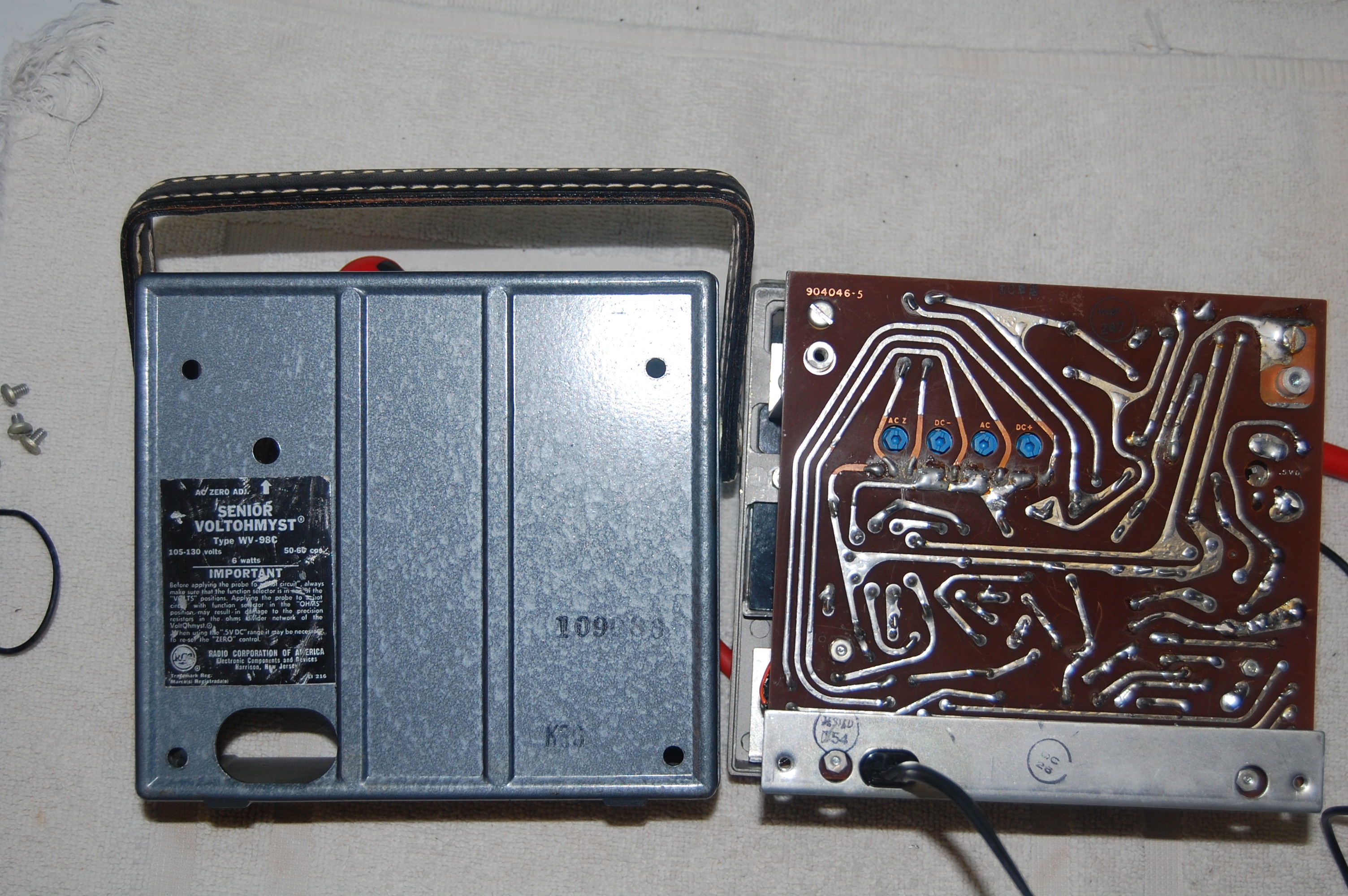 SN102445 K15 and SN95946 K34
If old test equipment could talk to tell their tales? 95946 sports a calibration sticker (bottom right) Tektronix 21 Nov 1986. Close enough. A quick run through it does still meet spec.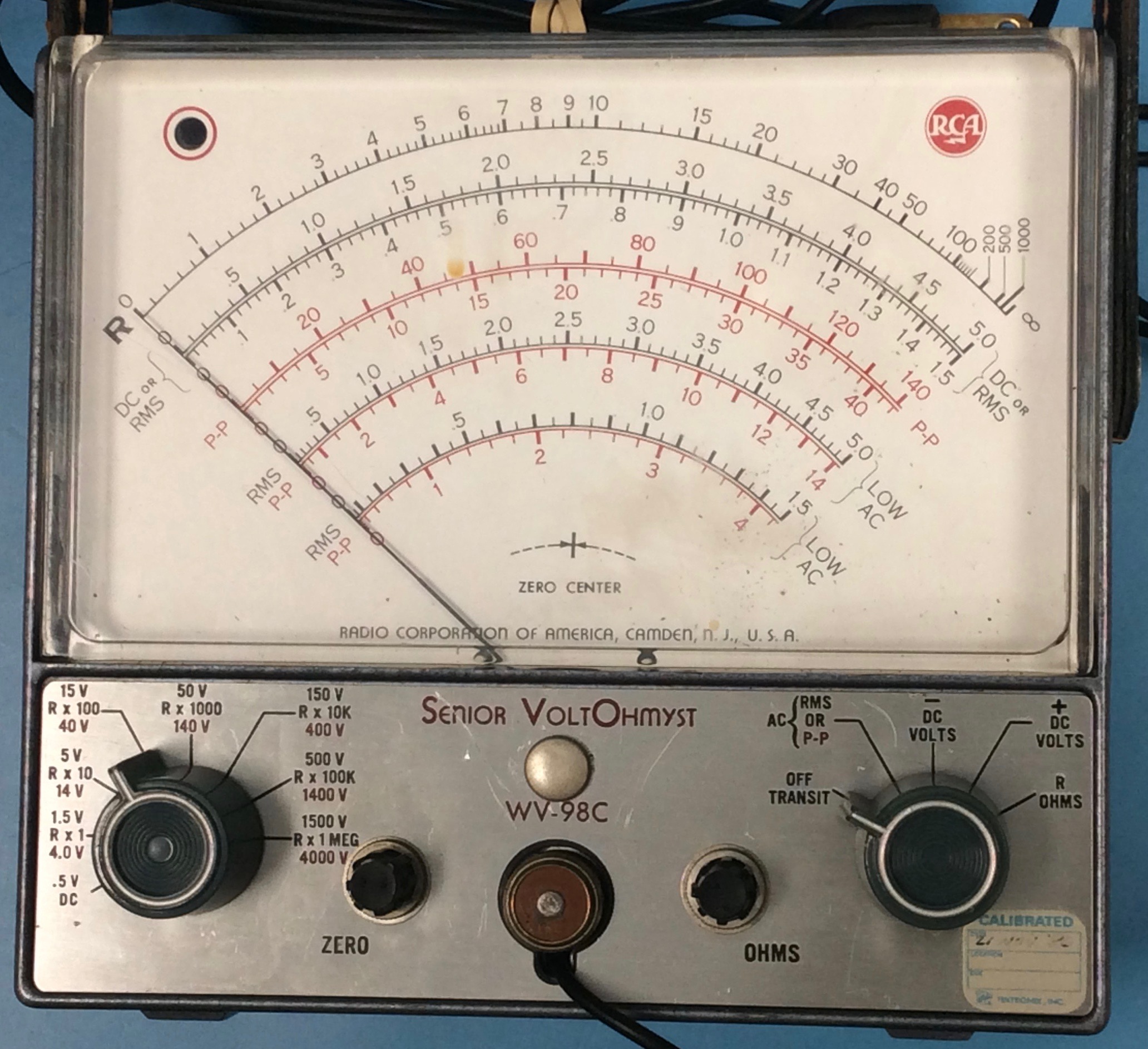 SN774630 K12
Printed circuit version -1; only difference obvious R35, .5V DC adjust, is mounted directly on the switch instead of the pcb. The picture shows a non-oem ground lead.