Before you start reading here, review the MFSK16 description, as the modes have much in common, and common features are not repeated here.

DominoEX works by sending short transmissions of 18 different tones (called symbols), one at a time, each carrying four bits of data. Two more tones than strictly needed for 4-bit MFSK are used, in order to accomodate IFK+ code rotation. So DominoEX is an MFSK mode, meaning it is naturally sensitive, resistant to interference and ionospheric effects. However, several new techniques are used.
DominoEX uses an Offset Incremental Frequency Keying incremental coding algorithm called 'IFK+', developed by Murray Greenman ZL1BPU, which avoids repeated tones (inter-symbol interference strategy) and gives strong sync.
IFK+ means that data is carried in frequency differences rather than absolute frequency, so also gives complete independence from tuning errors and frequency drift. The codes rotate around 18 tones.
DominoEX has an unusual and highly efficient 'Nibble Varicode'. It also has automatic nibble sync, a large character set, and secondary channel data transmitted when the keyboard is idle. These features are designed into the character set, and add no overhead to the sending speed.
With FEC activated, DominoEX uses the spreading effect of IFK+ to mitigate the effects of carrier interference, and soft decision receiver techniques to reduce the effects of burst noise and Doppler.
These features make the mode easy to use, easy to tune, convenient, and ideal for beginners.
- Fast typing
- Automatic ID
- Very quick to tune
- Needs no error correction
- Retune without losing data
- Faster sync than other modes
- Designed for slick QSO exchanges
- Full extended ASCII character set
- With FEC, perfect copy down into the noise
- European accented characters and simple graphics

Nibble Varicode DominoEX is based on 'nibbles' of information (four bit data entities), and since exactly one nibble can be transmitted on each tone element (which we call a 'symbol'), the mode can be very efficient. The specially designed character set is defined in nibbles, marked with an identifier bit to ensure automatic nibble sync (initial nibbles have the MSB cleared, further nibbles in a character have it set). Each character transmitted consists of one, two or three nibbles (that is, one, two or three sequential tones), depending on whether the character is often or rarely used. The frequency of each symbol transmitted represents the mathematical difference between one nibble and the next (actually the increment from the last tone number to the next tone number represents the value of the next nibble).

At the receiver, the identifier bit in each nibble (which provides character synchronism) is automatically discovered because of the bit weighting, and used to decide the nibbles in the data stream to be used to decode each character. The Varicode almost doubles the text speed (compared to ASCII), and allows a very large character set (584 characters!) to be accommodated. Because of the way the character set is defined, no extra sync bits are required - they are built into the character set.

FEC Option
With FEC activated, the transmission changes to a bit-based system similar to MFSK16, and the MFSK16 varicode is used (identical except for the extension to provide secondary text). At present no practical convolutional decoder exists for four-bit data, so a bit-based system is used, the same as MFSK16. Robust convolutional coding and error correction result, although the typing speed is halved. IFK+ continues to provide the same advantages, and the combination of IFK+ and FEC working together (soft decisions, code puncturing, stuck code spreading) add further advantages.

Offset IFK IFK+ The receiver measures the frequency difference between successive symbols and calculates the nibble value to be decoded into characters or groups of bits. Because frequency measurement is made with high resolution (¼ of the tone spacing), differential tuning errors (such as drift and frequency offset) can be rounded out. Because measurements are made synchronously, i.e. exactly over the whole duration of each symbol, and on nothing else, there is high sensitivity and very good rejection of multi-path distortion and other inter-symbol interference.

The Offset Incremental Frequency Keying (IFK+) algorithm also ensures that no symbol is followed by another on the same or an adjacent frequency, and so no overlap can occur between tones arriving via different paths, to degrade reception. A fixed offset or increment is added to each symbol, causing the tones to rotate and avoid previously used tones. This considerably enhances the already good multi-path performance. Since symbol sync is recovered by studying the response to the tones in the receiver (no sync is transmitted), the sync is also enhanced because there can never be a missed sync edge caused by two or more sequential tones the same.

The algorithm also spreads the effects of carrier interference. Although errors will still occur, copy can often be maintained rather than stopping dead, as happens in MFSK16 under similar circumstances. When FEC is turned on, the errors caused by carrier interference are spread by the IFK decoder and again by the FEC de-interleaver, and may be completely corrected. The results are impressive, and much improved over MFSK16 and other MFSK modes, which cannot spread these 'stuck bit' errors.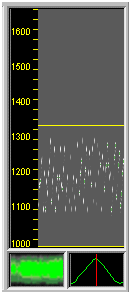 Other Tricks
You can tune the signal while receiving, without losing copy! You can also do this to push an interfering carrier (but not one between the tones) out of the active receive region.
You can set the secondary text message to a simple ID message, a net cordinators message - or anything you wish. It will be sent whenever you slow down or stop typing. It will also mask your slow keyboard skills!
The design uses overlapping DFT techniques which provide symbol sync (as in MFSK16), and also provide a remarkable synchronous waterfall tuning display, far more sensitive than other MFSK tuning aids (example on right). Unlike conventional asynchronous tuning displays, this design shows the signal virtually noise-free until sync is lost. It also clearly shows propagation effects on the signal.
There are also sync and sync history displays, Doppler and signal strength meters available.