UPDATE
The email address for submitting logs for this years RTTY Contests on April 23rd & 30th has changed. Please submit electronic logs to the following address: [email protected] any logs sent to the old zl2sky address will not be received.
The 2011 KDMG RTTY Sprint Contest will be held over two Saturdays in April. The first night will be for 80M only and will be on Saturday April 23rd and will run from 1000 UTC to 1100 UTC. The 40M contest will be the following Saturday which is April 30th and again the hours will be from 1000 UTC to 1100 UTC.
The rules and information for the 2011 KDMG RTTY Sprint Contest are now available.
The format and points system have changed this year. Please download the new rules file below.
The rules are available in either a MS Word document or as a PDF document. Please click here for the MS Word version, or here if you would like to download the PDF version. I am hoping that with the advanced notification of this contest that even more stations will take part in the contest, particularly those stations from the VK call areas. 73 de Allan Chandler ZL2SKY
The results are in for the 2010 VK-ZL RTTY Sprint Contest which was held on 40M & 80M in April. There were a total of 21 VK & ZL stations active over the two nights. Interestingly there was also reported in the logs received by me a total of 4 other DX stations worked including some Russian DX. The number of active stations were up on last years contest and the number of logs received by me were up as well which was great to see. This could be due to publicising the contest a bit more on the various reflectors and also getting it included in the WIA magazine and the WIA News. Many thanks to both editors for including this as it enabled more VK stations to take part this year.
Ok on to the results for this years contest. Congratulations to all those who took part and I hope you all had a good time during the contest and that you will take part in future ones. Thanks again. 73 de Allan ZL2SKY.
| | | |
| --- | --- | --- |
| 40M ONLY SECTION | | |
| 1ST ZL | ZL2IFB | GARY HINSON |
| 2ND ZL | ZL1PETE | PETE LENG |
| 3RD= ZL | ZL3AKM | ROB GLASSEY |
| 3RD= ZL | ZL4AD | BRIAN COOK |
| 5TH ZL | ZL2ACG | ANDREW GOLDIE |
| NO VK's ENTERED 40M | | |
| | | |
| 80M ONLY SECTION | | |
| 1ST= VK | VK3HJ | LUKE STEELE |
| 1ST= VK | VK7AD | ANDREW CAVILL |
| 3RD VK | VK3AMA | LAURIE COWCHER |
| 1ST= ZL | ZL2AUB | PETE MOORE |
| 1ST= ZL | ZL4AS | CLIFF GRAY |
| 3RD ZL | ZL2UKW | MIKE PRIOR |
| | | |
| 40M/80M COMBINED | | |
| 1ST | VK3TDX | STEPHEN ROSE |
| 2ND | ZL1LDS | LAWRENCE SIMPSON |
| 3RD= | ZL3NB | BILL CARNEY |
| 3RD= | ZL4AA | OTAGO BRANCH 30 NZART |
| 5TH | ZL2SGA | STUART ANDERSON |
| 6TH | ZL3DMC | DON MACDONALD |
| 7TH | ZL2AHB | LORNE DOUGLAS |
| | | |
The results for the December 2009 VK-ZL Twin Sprint are provided in the table below.
This contest whilst innovative in being made up of a half hour period each of PSK-31 and RTTY was not widely supported and this could be due to it clashing with the VHF Field Day which ran the same weekend. I had not realised when posting the original date and information for this that it would be on the same date. Maybe if this hadn't been the case it might have been supported a bit more. Also the time for it was set down too early to start particularly at that time of the year and if I decide to run this contest again I will be starting it at a later time which will hopefully entice more operators to partake particularly from VK. The results is not a true reflection of the number of participants as I only received logs from those stations who figure in the results table below and there certainly were more operators active in the contest who for some reason or another decided not to submit their log. It also did not help things at my end with having transceiver problems which forced me out of the contest part way through it.
I would be very interested in receiving any comments and suggestions for this contest, and any others that the digital community would like to see. You can email me at this website using this address: [email protected] or alternatively to [email protected] I would like to thank all who participated in the contest and I hope that you all will have a go at the next contest which will be the second running of the ZL/VK RTTY Sprint on 40 & 80 metres in April 2010. Once again thanks for the support. 73 & Happy Contesting & Dx'ing de Allan ZL2SKY.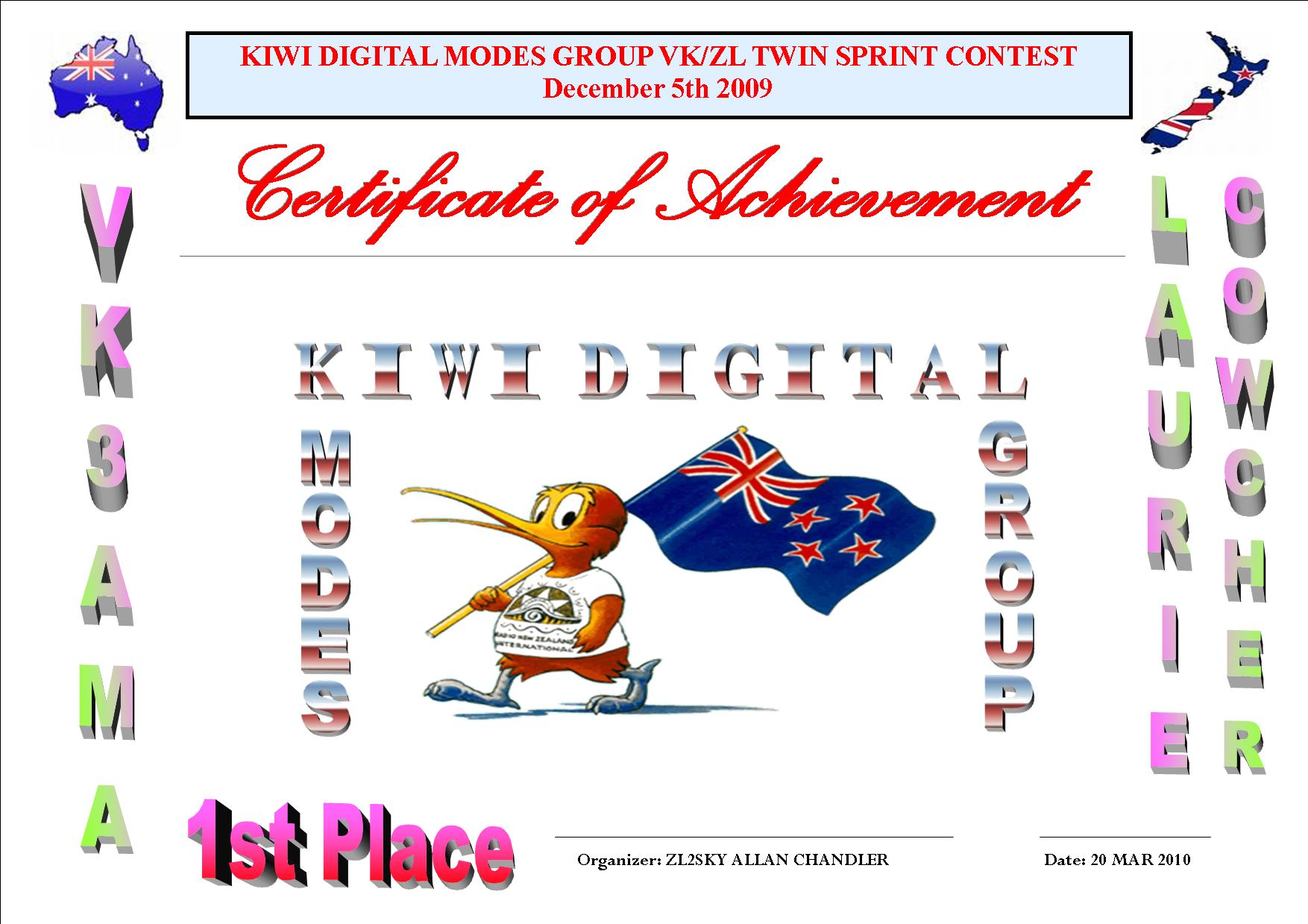 | | | | |
| --- | --- | --- | --- |
| 2009 ZL-VK PSK/RTTY SPRINT RESULTS | CALLSIGN | POINTS | PLACE |
| Laurie Cowcher | VK3AMA | 20 Points | 1st |
| Pete Moore | ZL2AUB | 19 Points | 2nd |
| Peter Keong | ZL2PW | 15 Points | 3rd |
| Michael Bull | ZL2VM | 7 Points | 4th |
| Allan Chandler | ZL2SKY | 5 Points | 5th |
The first ever KDMG Contest was a RTTY Sprint Contest run over one hour on two consecutive Saturday's in April 2009. The concept was to work RTTY contacts on 80M the first Saturday and to do the same the following Saturday but this time on 40M. The contest was open to all licensed amateurs in both New Zealand and Australia. This contest will run again this year on Saturday 17th & 24th of April 2010.
Below is the results of the 2009 KDMG RTTY Contest.
Many thanks to all who participated and congratulations to all the winners.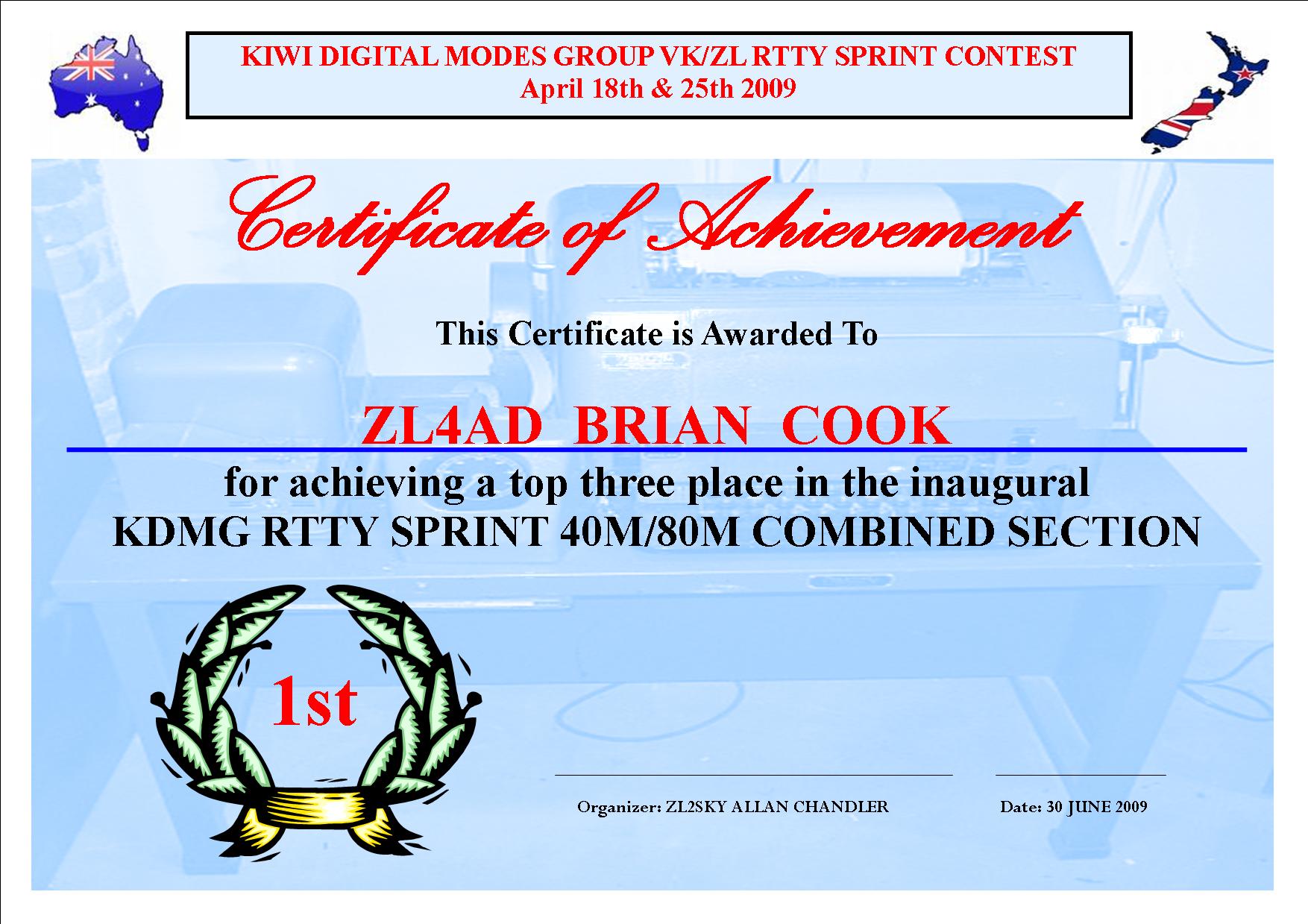 | | | |
| --- | --- | --- |
| 40M ONLY SECTION | | |
| 1st VK STATION | VK5NPR | Roman Loparev |
| 1st = ZL | ZL1FAV | Fred Vermeulen |
| 1st = ZL | ZL3PAH | Phil Holliday |
| 3rd ZL | ZL2ACG | Andrew Goldie |
| 4th ZL | ZL1IJ | Jack Davison |
| | | |
| 80M ONLY SECTION | | |
| 1st VK STATION | VK3AMA | Laurie Cowcher |
| 1st ZL | ZL4AS | Cliff Gray |
| 2nd ZL | ZL3NB | Bill Carney |
| | | |
| 40M/80M COMBINED | | |
| 1st | ZL4AD | Brian Cook |
| 2nd | ZL1BYZ | John Shaw |
| 3rd | ZL2TZE | Phillip Conza |
| 4th = | ZL1ALZ | John Balsillie |
| 4th = | ZL3AKM | Rob Glassey |
| 6th | ZL2CC | Mike Mather |
| 7th | ZL2AUB | Pete Moore |
| 8th | ZL4NR | Ken McVie |