Amateur Radio Contesting FAQ
See the end of this document for copyright and contact information.
---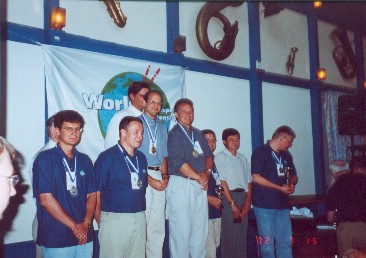 The top three teams receive their trophies at the
World Radiosport Team Championship 2002 (photo: Marijan Miletic S56A)
---
Contents
---
Questions & Answers
---
Copyright © Andrew Roos 2003-2004, all rights reserved.
Last updated: November 2004
This FAQ was written by, and is maintained by, Andrew Roos ZS1AN. Contributions, suggestions and criticisms are welcome and should be emailed to [email protected]. My sincere thanks to the following people for their contributions: Jim Smith VE7FO, Stan Turnbull WA6ST, Mark Bailey KD4D, Jay Pryor K4OGG, Dave Lawley G4BUO, Bob Wanderer AA0CY, Yuri Blanarovich K3BU, Marijan Miletic S56A.