---

This information is supplied for educational purposes only!
Please Note: This information is for educational purposes only and is not an endorsement of the information supplied. I assume no liability or responsibility with respect to the use of such information. So if you try some of the articles on your own equipment,
it's on your own risk.
Be aware of the type acceptance laws and the FCC Rules and Regulations.
Performing modifications of some equipment may be a violation of local laws. If you have any doubts, do not perform the modification.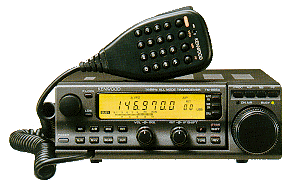 TM255 and TM455 discussion group
MODS FOR THE KENWOOD TM-255E
My Kenwood MODs:
Adjust LOW power setting
The way to adjust low power is to regulate VR401. This trimmer can be found under the speaker (regulates power between 2 and 30 watts).

Adjust HI power setting
To regulate the power of the HI position is to adjust VR601. You can find this trimmer on the back left side (remove top and locate the alu cover).
Please be carefully when you dismount and locate the trimmer.

Adjust TX-Power/SWR ratio
At the same place you can find VR603 and that is the SWR protection control. Be carefull when adjusting this trimmer, because it protects your transceiver against bad SWR, but can be usefull when power drops to much on relative good SWR.

Adjust AGC
To adjust the AGC time constant of the transceiver locate VR402 that can be found on the left side at the center when removing the top.

Bulb voltage
Each lightbulb (Display lighting) has a voltage of 6 volts which are connected in pairs (in serie making it 2 x 6v = 12v).


Improved audio quality with the MC-44/45 that comes with the TM255/455
Replace C1 (33nF) with a 100nF. This capacitor can be found down left corner.
View picture of this microphone mods


Note:
Please be carefully with these adjustments! All modifications you make is totaly at your own risk.


If you have any other mods for this good transceiver then please contact me. ON6MU
You'll find lots and lots more in our TM-255/455 discussion group
TM-255E service menu
BEFORE ANYTHING: write down the original values, just in case!
To enter service menu :
Hold down NB and MHz keys + Power ON.

Turn the Frequency Tuning knob to change menu number.
UP/DOWN keys to change value
>
>A0 Checksum diplay
>A1 RIT center
>A2 IF-Shift center
>A3 LSB carrier point
>A4 USB carrier point
>A5 S-meter adjust S1 (not FM)
>A6 S-meter adjust S9 (not FM)
>A7 S-meter adjust full (not FM)
>A8 S-meter FM start
>A9 S-meter FM full scale
>AA RF-meter adjust low
>AB RF-meter adjust middle
>AC RF-meter adjust high
>AD DTSS single tone frequency
>AE ALC start (microphone gain control by ALC)
>AF ALC zone max (microphone gain control by ALC)
>B0 ALC zone +6dB (microphone gain control by ALC)
>B1 Microphone gain level FM
>B2 Microphone gain Level SSB
>B3 Write to Eprom by pressing UP or DOWN key.

More mods and info, tips and tricks at https://on6mu.groups.io/g/tm255-455

73" Guy

---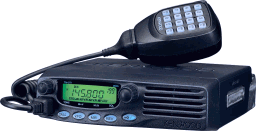 TM-271e
Specs:
FM VHF transceiver
60watt/25watt
meets the strict U.S. Department of Defense MIL standards
200 memory channels
DTMF microphone
Multi functional menus and options
High quality front speaker
Memory name function
High frequency stability (build-in TCXO)
1200/9600 baud packet

To change & adjust the maximum (low and high) output RF power:

Remove the plastic cover,
Remove the rubber waterproof seal, and remove the 8 screws on the aluminum cover.
Set the radio so that the front is facing you.
Locate VR1 (measure approx. 5cm from the right and 5 cm from the back)
Rotate VR1 counter-clockwise to reduce the ouput power towards the setting you desire
Note: the relation between the low- and high power setting is about 2,5 x.
Example: If your maximum power is set to 50 watts your low power setting will be around 20 watts
---
Featuring
Today's highlight!!!:

Discover the unique features of MDSRadio: MDSRadio
---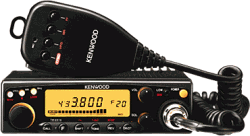 TM-441e
Kenwood TM-441e 9600 baud modification (improved version de ON6MU)
---
How to use the Kenwood TH-D7e, TM-D700 or TS-2000 with GP 1.63 (Graphic Packet)
You can download a special DOS utility that I programmed to select and configure the TH-D7, TM-D700 or TS-2000 for 9600 baud or 1200 baud in use with GP. Easy to use and makes all the needed configurations for you.
Download GPKTNC11.ZIP .

Simply install all the files in your GP-directory and run GPKTNC.EXE and follow the instructions on your screen.
FreeWare!
---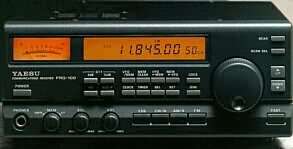 YAESU FRG-100
RX expantion
The new RX Yaesu FRG100 is a very good receiver. The specifications are: frequency 130 KHz to 30 MHz, but 30 KHz to 30 MHz is also possible if you:

Press and hold the folowing keys while turning on POWER.

<< AM and SSB keys >>

FRG-100 AGC much faster
To improve the original AGC and make it even faster as it is:

Remove the top cover
The C1225 1uF/50v capacitor is located on the main board in the left region about 5-6 cm from the S-meter (near a two pole connector)

C 1225 (original 1 uF ) replace with 100 nF

It works really very well!


Improved audio with following mods:

Replace C1183 (near de TDA2003 10 watt amplifier) with a 3n3 capacitor.
Solder parallel over R1165 a 47nF capacitor
View picture -> FRG-100 audio mod
This modification will improve the higher end of the audio spectrum, making the sound clearer (less "muddy").

Added 06/2018: The resonance of the case enhances the low-mids of the spectrum with the stock speaker. The stock speaker isn't suited for this type of enclosure at all.
Improved sound clarity can be done by using a proper external speaker (HI, kinda obvious). But you can improve the sound of the internal speaker by adding a filter to enhance the mids and highs. This is done by a 10uF/50v capacitor parallel to a 15 Ohm resistor. This is placed series with the speaker inside the Frog. This super simple modification clears the audio of the inside speaker much. The plus of the elco is soldered on the red wire (picture), the other side is of course connected to the speaker (where the red wire was initially connected).
You do loose a bit of the volume, but the result is a much clearer sound for use in a communications receiver.
This mod does not affect the output speaker connection.

Bass responce of FM audio of FM-unit-100 mod:

To improve the bass responce of the audio in FM mode you need to place/solder a 100nF capacitor parallel over C4007 (0.0047uF) and a 10nF capacitor parallel over C4008 (0.022uF) in FM-Unit-100.

Fix / reduce CPU noise and power supply interference:

I've got my radio for more then 10 years now, and just recently I noticed a kind of hiss (hum, electrical interference kind of noise) with no antenna connected. After connecting the Frog to a battery to be sure it wasn't the power supply, I was sure it had to be inside the FRG and probable a ground type of fault. And surely it was! Grounding the CPU shield (bottom board) to the chassis reduced it by 60%. After loosening all screws on the top print board and the screws holding the bottom print board, put some contact cleaner on each hole and tighten all screws again. Humming sound gone. I've got the CPU interference better then original by soldering a little wire from the CPU shield to the chassis - picture and by using a shoke on the power connecter - picture (using a ferrite rod and about 7 turns of the power cable around it)

Note:
Please be carefully with these adjustments! All modifications you make is totaly at your own risk.


DRM Reception with the FRG-100:

DRM mods: 455 Khz MF to AF converter used for DRM reception in a Yaesu FRG-100 receiver

Review http://www.eham.net/reviews/detail/476
DRM Mod: http://www.kb2ljj.com/data/yaesu/frg-100.htm or here
---
Featuring

If you have any questions
then please contact me.
---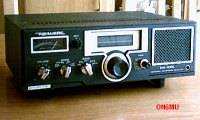 Realistic DX-100L
An analog AM/CW/SSB receiver
Produced in 1981
Coverage: 150...30000 KHz
Improve audio, SSB tuning and much more mods:
modifications and extra info can be found here...
---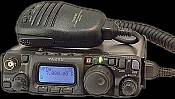 Yaesu FT-817ND
Yaesu broke new ground with the introduction of the FT-817: the world's first HF/VHF/UHF self-contained battery-powered Multi-mode Portable Transceiver. Providing up to five watts of power output, the FT-817 is designed for operation on the 160-10 meter HF bands, plus the 6 meter, 2 meter, and 70 cm bands. Whether your preferred operating mode is SSB, CW, AM, FM, Packet, or SSB-based Digital modes like PSK31, the FT-817 is ready to join you on your next hiking, camping, or search-and-rescue adventure!
---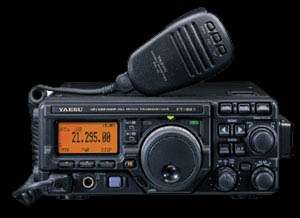 Yaesu FT-897D
The FT-897D is a rugged, innovative, multiband, multimode portable/base transceiver for the amateur radio MF/HF/VHF/UHF bands. Providing coverage of the 160-10 meter bands plus the 6 m, 2 m, and 70 cm bands, the FT-897 includes operation on the SSB, CW, AM, FM, and Digital modes. It's capable of 20-Watt portable operation using internal batteries, or up to 100 Watts when using an external 13.8-volt DC power source!
The FT-897 includes a wide array of analog and DSP filters to help you dig out those weak DX signals on a crowded band! One-touch activation of the DSP filters, plus a convenient "DSP" LED on the front panel, enhance the ease of using the DSP. DSP Bandpass Filters, Noise Reduction,a nd Auto-Notch Filter circuits are included.
---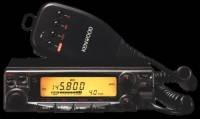 Kenwood TM-251
The Kenwood TM-251A series include dual band receive capability. The TM-251A and TM-451A can switch between 144 MHz and 440 MHz on receive. They also feature packet compatibility for 1200 or 9600 bps accessible from the rear panel. There are 40 memory channels plus 1 call channel, and all can be used to store transmit and receive frequencies as well as repeater and signaling data. The built-in digital recording system enables automatic storing of a signal picked up by the radio for later playback (for two 8 second messages). The TM-251A transmits on 2 meters with three output power levels: 5/10/50 watts.
---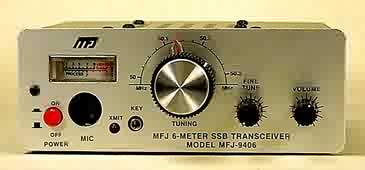 MFJ-9406x
An analog SSB/CW transceiver
Coverage: 50.000...50.305 MHz
Power: 10 watt
Peak amps: 2A

MODS
Digital Frequency read-out: My mod to connect a frequencycounter to an MFJ-9406
MFJ -9406 SQUELCH CONTROL mfjsqelch.zip
MFJ CW ADAPTER mfjcw.zip
---
CONDOR 16
Old VHF mobile transceiver
1/10 watt
FM
---

Kenwood TH-215/TH-415
To get the unfiltered LF output from the TH-215/415 Kenwood portable you need to get to pin 9 of IC1 (TA7761P).
You could use the unused mic connector pin that feeds the top pin of a 3.5mm jack. You need to remove the SMD 220 Ohm resistor too (mine was 47 Ohms) which can be found beneeth the mic connector.

MODS
TH-215/TH415 mods for wide LF 9k6 output from discriminator TA7761
---
TS-120S
Power: 100 Watt
Bands: 80m, 40m, 20m, 15m, 10m
Modes: CW/USB/LSB
Features: Vox, RF ATT, NB, RIT, RF-gain, optional CW filter, external VFO etc...
---
---
HAM RADIO EQUIPMENT MANUFACTURES
---
---
SBuild-it yourself antennas
A directional antenna with high gain (Yagi)

And how to build them on my homebrew site
---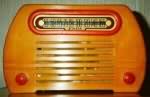 FADA 652