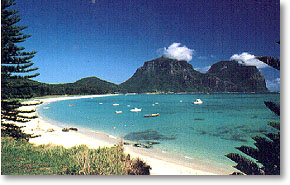 1997 Sponsors
Our special thanks goes to: W9VNE, WW8J, ODXG and VK4FW, CDXC, DEBCO, W8UVZ and the Battle Creek Special Team, KK4HD for the best logging software, DX4WIN and many others. Without their help, your contact may not have been possible!
1998 Sponsors
The following companies, groups and inividuals have made it possible for us to bring you the Lord Howe '98 DXpedition by generously supporting this endevour :
Emtronics for great deal on WARC beam- thanks Rudi!, ODXG and VK4FW (FT-920), DX4WIN for logging software, W7TVF - Bill (160m UNUN), NM7M - Bob propagation info.
Also thanks to Masahiko Ikeda JQ3DUE, Satoru Endo JF3MYA, Andy K.Yamakita JG3GMG, and Hitoshi Abe JM1KNQ / VK9LNQ for their donation of 6m F9FT beam and MFJ beacon.