Home
>
1296 MHz Communications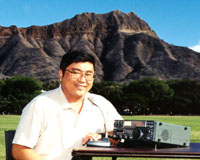 1296 MHz (23 cm) Radio Band
Curious about what 1296 MHz operations is like? Take a look at these articles. You'll see why its my favorite simplex band.
July 28, 2007
See gain antennas for a discussion on using gain antennas on 1.2 Ghz.
These operators have 1296 Mhz operating experience in Hawaii.
Mike Burger, AH7R
Rick Ching, KH7O
Chris Colquhoun, NH7QH
Ron Hashiro, AH6RH
Jeff Sue, AH6IX
Dean Tanimoto, KH6DT
Find out more by contacting: rhashiro(remove this part)@hawaiiantel.net
Copyright © 1997-2015 Ron Hashiro
Updated: December 15, 2010
DISCLAIMER: Ron Hashiro Web Site is not responsible for the content at
any of the external sites that we link to and therefore
are not necessarily endorsed by us.