Home
>
Packet Radio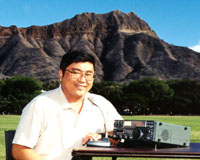 Packet Radio Communications
Packet radio offers quick, automated handling of messages. The messages can be in the form of short lines of messages, position reports, or other status reports.
This page offers insight into this marriage of digital and computer communications.
June 2, 2008
Click on this link to read about JNOS, and download the software.
May 25, 2009
If you're looking for reading material on what a TAPR TNC2 Terminal Node Controller is all about, click on this link to read about the MFJ-1270C, which was pretty much a licensed copy of the TAPR TNC2 design.
May 25, 2009
Having worked with the control head for the Kenwood TM-D710 for a couple of hours, I think I understand the value of the Kenwood RC-D710. It seems to be a replacement Remote Control head for the TM-D710, and also seems to fit the TM-V71A, if you have the connecting control head cable. The RC-D710 differs from the control head on the Kenwood TM-D700A because the D700A control head uses a six-pin modular jack cable, and the TM-D710A uses an 8-pin modular jack cable which is very similar to a CAT-5 network cable.
This unit would be useful for an office, den or similar location where you don't want to leave a PC/Mac computer turned on all the time to read APRS messages and track activity.
The value of the RC-D710 is that it is a self-contained TNC, display screen, and a menu-operated TNC. You connect the power cables and transceiver cables from the optional PG-5J kit into the RC-710, and plug it into the 6-pin Mini-DIN data connector of your transceiver, it functions as a self-sufficent unit. When you power it on, you push the [F] button, then press the tuning knob in to select the menu mode. When you access the APRS menu, you can program in your callsign, map coordinates, and other APRS configuration parameters. Then, when you activate the TNC in APRS mode a number of APRS capabilities are yours.
A key feature is the ability to receive APRS messages addressed directly to your APRS ID. If another APRS station sends you a short message (very much like a text message) using another Kenwood APRS radio, a PC/Mac computer running an APRS client program, or a web page that accesses the FINDU.COM APRS IS servers, you can view it directly on the LCD screen of the RC-D710. Similarly, you can send a short message using the RC-D710 without having to have a PC/Mac computer hooked up.
You can also access the TNC directly from a PC/Mac computer by buying and installing the optional PG-5G ($40) programming cable.
With a street price of $330 for the RC-D710, $88 for the PG-5J, it would seem better to buy the TM-D710A for $540 which is a price difference of $112 and you get the radio and mounting brackets for that price.
You can get further info from Bob Bruninga's web page.
Find out more by contacting: rhashiro(remove this part)@hawaiiantel.net
Copyright © 1997-2015 Ron Hashiro
Updated: May 25, 2009
DISCLAIMER: Ron Hashiro Web Site is not responsible for the content at
any of the external sites that we link to and therefore
are not necessarily endorsed by us.