Home
Hi and welcome to my pages.

My name is Frans van Santbrink, and my call sign is J69DS. Amateur radio is my hobby. I have my shack but also love doing portable from the beach (J6 Portable Crew). In the shack I use a Elecraft K3, or an Icom IC-706mkII, which is also used for portable with a buddipole with a few extra bits and pieces. to tune my antennae (specially the buddipole) I use a YouKits FG01 Analyzer.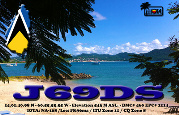 My Favourite modes are digital, rtty – psk – digital voice – sstv, but I do also enjoy ssb.
I also enjoy making and trying out antennae. My club numbers: EPC 2114, DMC 460 and 30MDG 0915
We [J6 Portable Group] run a repeater on 442.690 [+5.000 tone 118.8], and a DMR MMdvm based repeater on 442.530 [+5.000 CC 1].
I also have an AllStar Node 51686 with Echolink J62DX-R from my shack.
!! If you are coming to vacation here in J6 Land and are wishful of operating from Saint Lucia you will

have to apply for a license. The procedure is as follows fill out the Amateur Radio Application ( Found on NTRC's website https://www.ntrcslu.lc/ ) in triplicate and then post it directly to them or if you wish I can assist. In that case contact me for further info at my call at hotmail.com. The process usually takes about two to three months so it is best to start the process way ahead of your visit just in case of delays.
My QSL information:
QSL only via LOTW Club Log, QRZ or even E-Qsl. Paper qsl I do respond to those I do receive but imho I am not receiving all those that are sent. I do reply and send out to those received here.
Hope to meet you on the air!! 73 de j69ds
J69DS - J62DX Station:
AllStar Node 51686 and 546010
Echolink node # 819089