And, A little about me!
---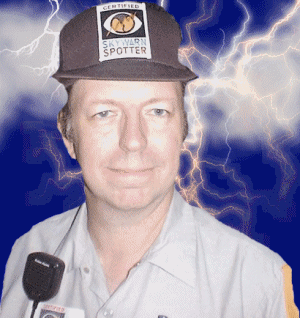 Edgar KcKinney
KB8QEU
Born 19540414 in Saint John's, Michigan
---
In the beginning, 1993, I started with an Icom IC-2AT HT, which I still have and needs some repair.

The manager of Radio Shack at Crossroads Mall Radio Shack (Prosperity, West Virginia) gave me a HTX-202.

A friend, Mack Blackburn - KB8ULU/SK, gave me another Radio Shack HTX-202, and about the same time I traded some equipment for a Radio Shack HTX-252 mobile which died after about 2 years of use.

This particular HTX-252 was used, by a friend - Bill Biggs KC8PDR, to provide emergency commo from a Red Cross ERV, during a major flood event in southern West Virginia, in 2001. It finally died in 2005, leaving me back to the HTs with a barley useable outside antenna and one 146 Mcs. mobile mag-mount antenna is dead as well. The other 146 Mcs Mag-mount antenna, that has a loading coil in it's base, uses the coax from a computer network with a BNC connector.

I, also, wish to have a 224 Mcs. mobile and other rigs shown below, but doubt I'll have that kind of luck living on SSD.

As you can tell, I've had other rigs that died. My luck.

I have always been involved in some sort of emergency commo, during the past floods, hurricanes as well as parades or special events, whether on 27 Mcs. band, as KBHZ5746, or 146 Mcs. band, as KB8QEU.
Since the late 90s I've been involved with severe weather research, and became the VP of The National Weather Technologies Service - WXTECH, till the owner, Tom Burgess - KD8BSJ, diabetes gotten so bad it incapacitated him in 2009.
ARES, ALERT, Red Cross Communications, and LEPC are some of my interests.
Another interests I have is locating, databasing and mapping Ham repeater sites for many reasons, like knowing which covers certain areas and those that do not do so well or not at all. Which, in turn, helps in the aid of emergency communications.


---
Update 20171104

---
Hello to whomever is reading this....


I doubt I'll have any more or/and new radio, or even be a ham much longers.

Being on disability since 1988, most of my stuff, Amateur Radio that is, people gave me.

The only radios I bought are the Icom IC-2720, for $200.00 (after scraping up the money in a years time), which is now broken; and the Wouxun KG-UVD1P, for $80.00 from a widow of a great acquaintance that got killed while driving home from work and was on the air when it happened. It now, is down.

There are several radios that I drool over, but, at this point, however, I may just drop out the Amateur Radio all together and fade away.

In this area of Kentucky (Since 20141101), and in West Virginia, I have no real friends, just close acquaintances. No one to help me, or anyone else. I never was in a 'click', always an outsider and a loner.

ARES is non-existent. No one cares to help, via ham radio, anymore.

I've had many dreams and I do have dreams and wants but I know, now, I will never achieve them. So, I am giving up.

I will maintain web sites, for individuals, clubs and corporations which that will be my only hobby. Does not pay but keeps me somewhat sane.

Like my model railroading, amateur radio may be a thing in the past.

In this area when I had a HT on my hip for ready use, I was treated badly and called a pervert! Even the schools and the super does not want Amateur Radio taught or acknowledge it's existence!.

People in this area shuns any one who has tech knowledge for fear!

Soon, I may drop all my dreams and aspirations and just go bye-bye!


Seven Three
QRT
Ed - KB8QEU
---
My Presant Ham Shack
20130108
Taken at my home in Beckley, West Virginia
As of 201403, neither any of these rigs are no longer operational.

My Ham Shack at the appartment in Prestonsburg, Kentucky
Yep, just a corner in the bedroom.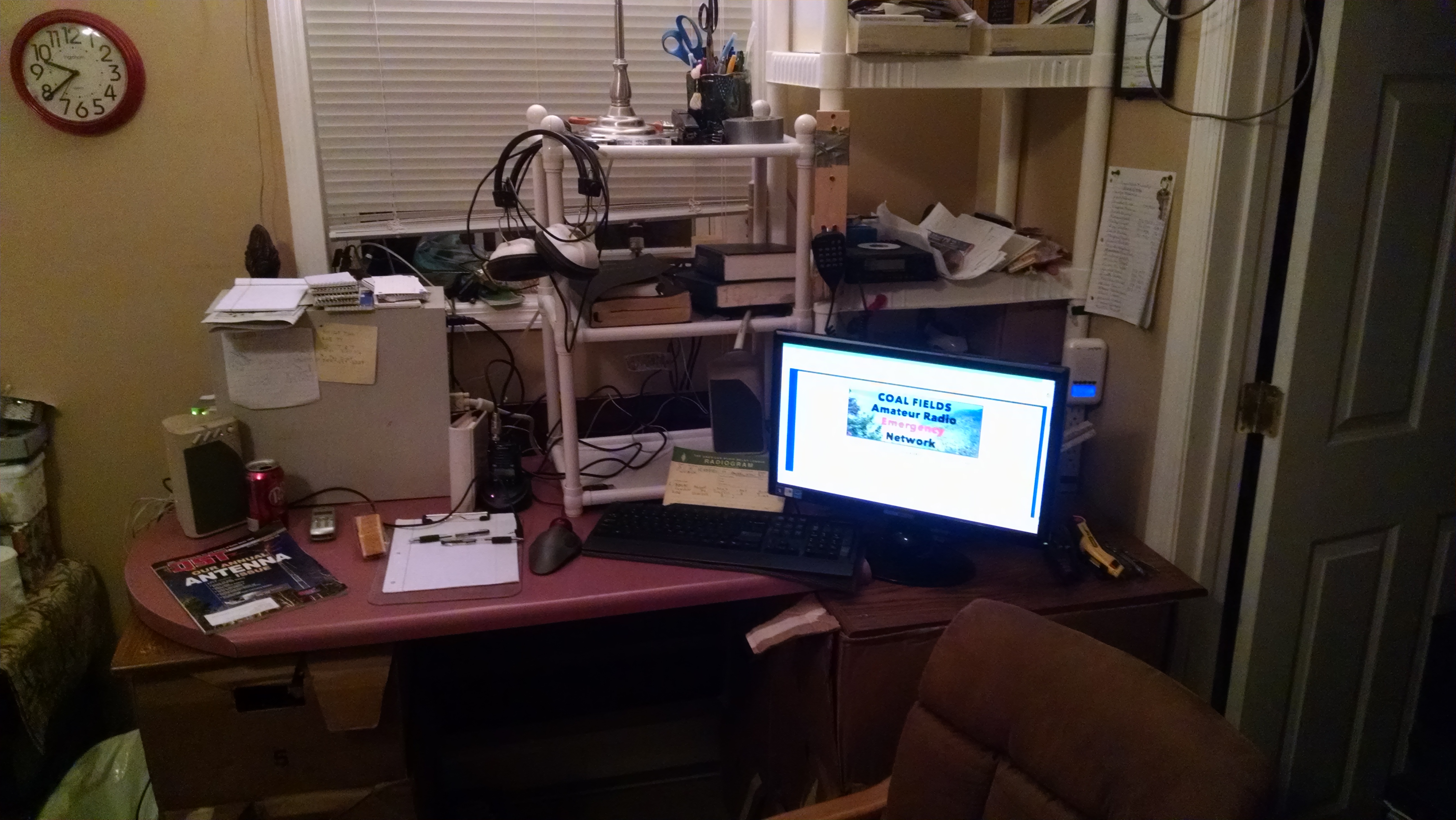 My Ham Shack after moving into a house in Lancer, Kentucky. 2015)
Still a corner, in the dining room.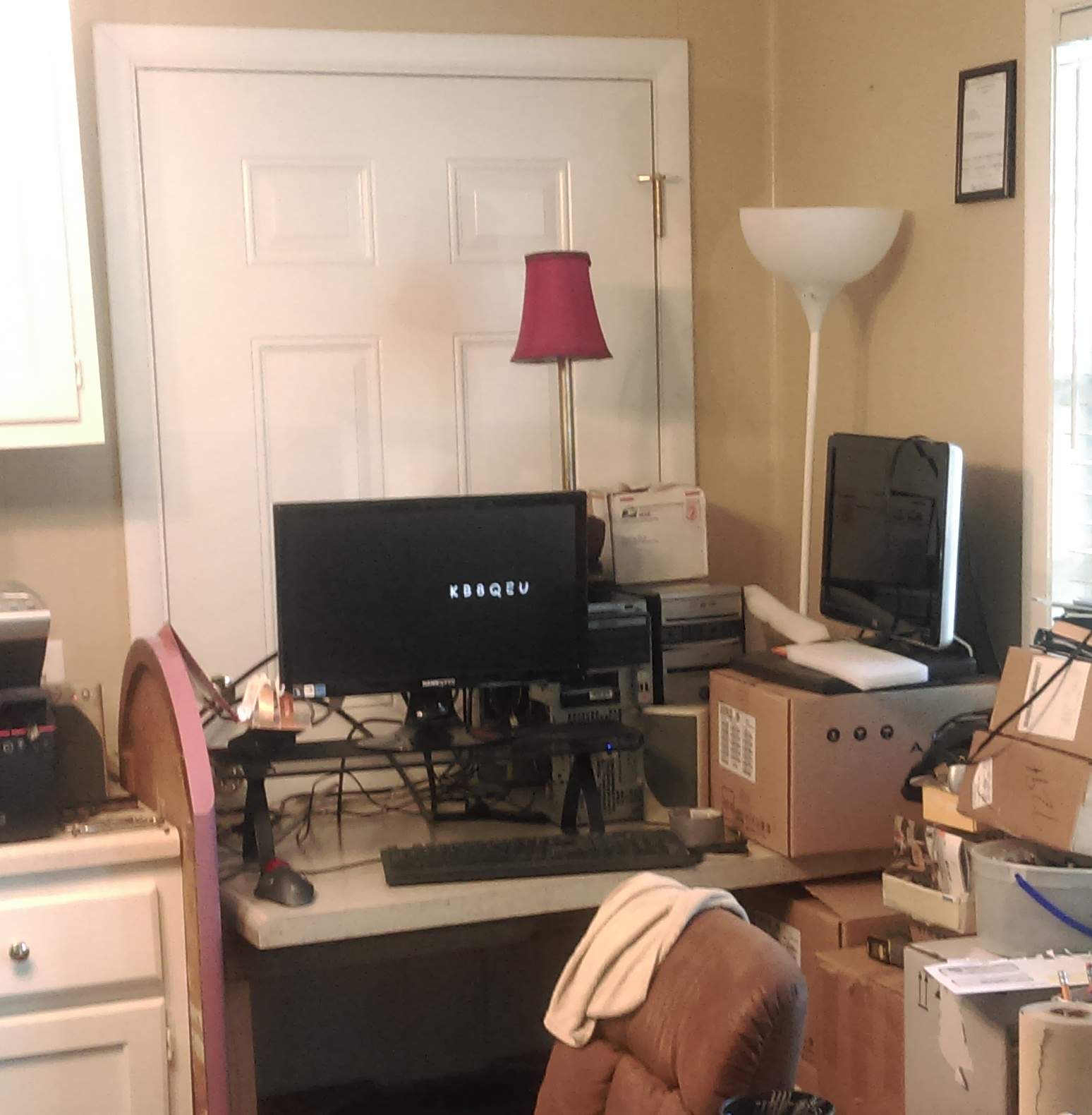 As of 201509, Moved to Lancer, Kentucky.

The land lord did not know that there was a 23' x 12' basement.

It had standing water in it about 8" with tadpoles!!!

Discovering where the water was coming from, I removed that path and allowed the "Man Kave" to dry out.

Once done, cleaned up the cave for my storage area.

I will have a separate web page with images.

Basement update.... I was in the basement till 20180429 when after coming back
from where my step son was in the hospital, seeing water in the kitchen flor, as well as,
wife seeing the expansion tank spewing out water!

After cleaning up the water in the house, which was not too much, I realized that maybe I
should check the basement! I did! Woah!!! About 2 inches was in it. The stuff on
or touching the floor got ruined. It included a Motorola MaraTrac VHF 110 watt radio.

So I moved the basic stuff out, and my GoBox 72 Amp PSU, with the FT-8100r
and Motorola MaxTrac UHF radio back to the Kitchen area, see previous picture,
positi9ned back to the corner.

The images below are the "Temporary Shack"!


My Ham Shack as of 20180712

You can se the larger images by clincking on them.
First picture is my daughter's six legged cat was asleep at my desk. He likes me even though I'm a dog guy!
The next image is my GoBox with a 72 Amp PSU (Dell PE-6650 PSU modded for 13.8 VDC) that powers anything 12VDC. I forgot to turn the Volt/Amp meter on for it is wired with a selector switch to read each output terminals/connectors.

My stero and speakers, for I like my music.

Upper Left is the FT-8100r with a mobile hump speaker from CB days. Below and on the desk #1, is the Motorols MaxTrac UHF radio for monotoring my repeater.

To the right of the GoBox is a UPS. Batteries are dead but makes a good power strip and the batteries to be replaced once the rich uncle comes home from the poor house.

This next image is to the right of the one above but shows my HP CE-7900 PC, with a scanner on top. The 4" Box Fan came with my Henry Tempo One HF radio (is not working now) to keep me kool!

To the right is a broken Baofeng UV5R. It died without no warning. It's charger is not powered on. And, finally to the right of those you are obviously see the tracBall, Monoror and Keyboard.

I took these images while watching Ham Nation!

---
Below are images of my Hy-Gain VB-28FM two meter beam. (At this time of typing this, it needs tuned badly. Dips to near zero at 141 and 151 Megacycles and peaks at about 1:2.5 at 146.000 Megacycles.
---
---
Below shows some of the stuff I have or use to have.
---
---
My original 11 Meter (27 Mcs) Equipment.

Lafayette
DynaCom 23 5W CB HT
with charger.
(Owned 1966 - 1981)
Stolen.


Lafayett
Comstat 25A
Base CB
(Owned 1967 - 1980)
Sold.

---

Kraco 4010
40 Ch Mobile CB
(Owned Since 1978)
Still have but don't if operational.


------
Magnetic Mobil Antenna for
27 Mcs Band
Lost in move.

---

Dak Mark IX
40 Ch Base CB
With a Turner Power Mic.
(Owned 1977 - 2004)
Lost in move.


My 11 Meter "SuperScanner" Antenna
Old but still a goodie!
Lost in move.

---

My HAM Radios I have now or had and their status


Icom
2AT HT
2 meter.
(Owned since 1993)
Still have.


Radio Shack
HTX-252
Mobil 146 Mcs. 25 Watt
(Owned 1999 - 2005)
Sold.


Radio Shack
HTX 202
HT 146 Mcs. 1/5 Watt
(Owned Since 1997)
Status is unknown due to being unable to power the batteries.


Icom
T2H
2 meter.
(Owned since 2010)
Operational


Yaesu FT-2400H
Mobil 146 Mcs. 50 Watt
(Owned since 2009)
As of 201403 these two rigs quit working.

Ranger RCI2950DX
10 and 12 meter
30+watts
(Owned since 9-1-2012)
As of 201403 this rigs quit working.

---



Icom IC-2720H
146 Mcs and 440 Mcs
50W and 35 W
212 Memory Channels
per Band and
Crossband repeat.
Owned since 20120312
As of 201307 this rig quit working.


---



Wauxun UVD1P
146 Mcs / 444 Mcs 5/4 W
128 Memory Channels
Owned since 10120609
20170421 - Not Operational



---




Henry - Tempo One
80 - 10 Meter
SSB, AM, CW
100 Watts
Owned since 20121226
As of 201403 this rig quit working.





Baeofeng UV5R
[TX] 136 - 174MHz, 400 - 520MHz
[RX] 136 - 174MHz, 400 - 520MHz, 68-108MHz
Have but Not Operational





---



TR-9000
2 meter All Mode
10 Watts
Operational

Made over 1000 mile contacts
during an E-Skip event.

Have not used this since moved to Ky.

---






TR-9500
440-450Mcs All Mode
10 Watts
Not Operational as of 201410
Has dialing mechanical issues
Have not used this since moved to Ky.


---




Yaesu
FT-8100R
146 / 440 Mcs
50 / 35 Watts
Owned since 20121227
Not fully operational VHF switch does
not engage and no lights!

---
Here is the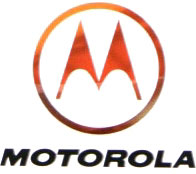 Equipment I have




The Maratrac
110 Watt Mobile with A7 Control Head
Have 5 since 201307
Some Operational
One the finals went out and
the others are in West Virginia.





Clamshell Head
Here is an older 2x8 "Mode"
(Channels or Memory)
Control head that the Maratracs can be programed to use.
I have one but need two more, since 201306





Maxtrac 300
from 6 to 32 Modes, depending on circuitry.
This one is a 5 Mode UHF
I have four of these since 201306
All working.

No usable UHF repeaters in my area.
No one knows how to use UHF, they say!





---



VB-28FM
2 meter 8 element
11.8 DBd gain
Operational

Mounted but VSWR is 1:2~3!
Need help!






440-450MHZ
YAGI
11 ELE
13.2 DBI
350 Watts
Operational
In West Virginia.


More later.

They are a fan di-pole and a Tram 1481!


---
Antique Radios I have


IC-230
Circa 1975
I have since 201206012
Not operational









---
Other Equipment I have or had.



NCG
NCG 3000
SWR / Watt Meter
Status, not calibrated.






---
My Other Radios I have now or had.

Bearcat
BC 101 Scanner
30-54 Mcs
140-175 Mcs
406-512 Mcs
(Owned 1975 - 2002)
(lost in a move)

Regency
Touch 16 Scanner
30-54 Mcs
140-175 Mcs
406-512 Mcs
(Owned 1977 - 2002)
(lost in a move)

Radio Shack
DX 300
Hf receiver
Covers 0 cps to 30 Mcs
AM / SSB / CW
(Owned Since 1979)
Preselector quit workin. Needs allignment.
---
Page Initiated on 19980414 kb8qeu
rev 20180222