NEW - Wednesday Round Table Net
We would like to invite hams to join us for the Wednesday Round Table Net that meets weekly on Wednesdays at 7:00 pm on the Lebanon repeater on 146.610 MHz minus offset with a tone of 167.9 Hz.
The purpose of this net is to provide hams with a relaxed and easy-going place to share with their friends what they have been doing in the previous week related to Ham radio, or anything else that is going on in their lives. All who can connect with the repeater are welcome to join us!
Local Ham in the news....
Ham radio operator keeps lifelines, people and events connected where cellphone technology cannot | Lebanon Local (lebanonlocalnews.com)
May 24, 2021 News Flash....
The Amateur Radio Digital Communications (ARDC) Scholarship for 2021, $10,000
• Declan M. O'Hara, KG7HTE, of Lebanon, Oregon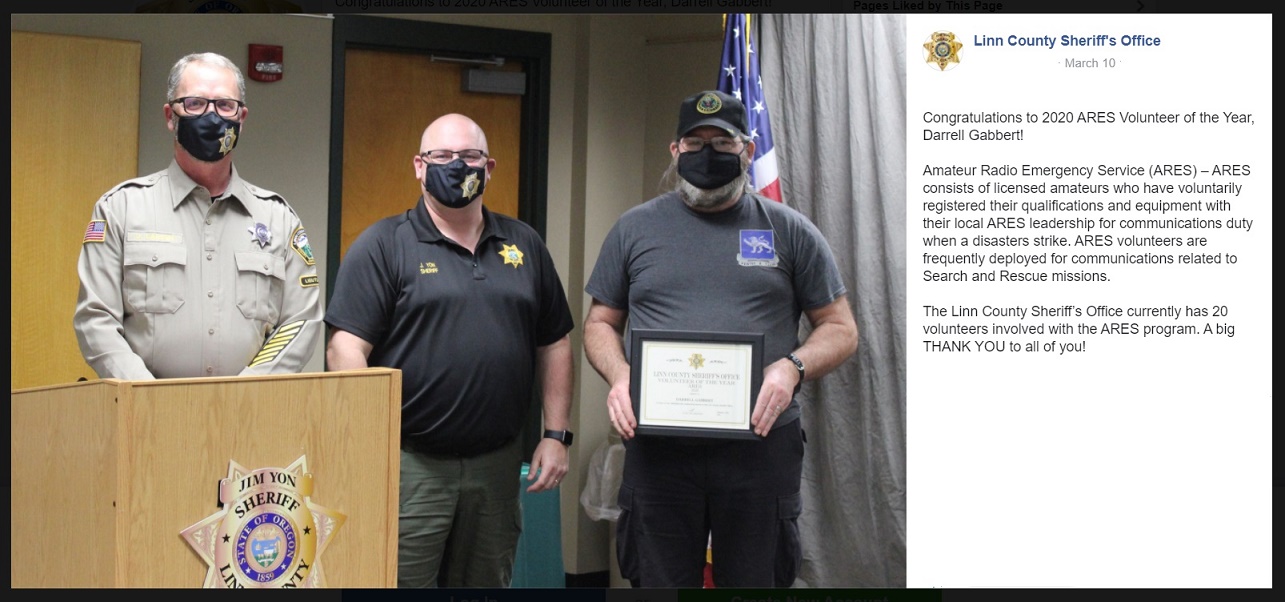 ARES is a national organization operating under the auspices of the American Radio Relay League. It's purpose is to provide communications in the event of emergency. In addition, to hone their skills, many Amateurs provide radio communications during public events, such as races, walks and fund raisers. LCARES Inc. also works in cooperation and in support of ARES organizations in Linn County .
To join LCARES or for more information, contact Vaughn, W0ULF,
ARRL Emergency Coordinator for Linn county at [email protected]
The Linn County Amateur Radio Emergency Services Group consists of:
LCARES Officers
ARRL EC

Vaughn Phillips W0ULF

/Official Emergency Station

Linn Benton Community College AEC

Duane Jensen KG7AHP

Lebanon Hospital AEC Merlin Egan WA7MAE
VEC Declan O'Hara KG7HTE

along with over 60 other amateur radio operators in Linn County

that have seen the need to organize and prepare to provide emergency communications

and donate their valuable time to that end.
Last updated: October 31, 2023 13:42:39 -0700

2gymg%