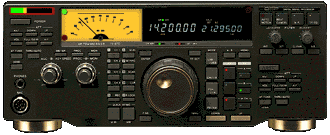 It is both a hobby and a service – better known as "

Ham radio

". Unlike most hobbies, however, Ham operators are licensed by their government. In the United States it's the Federal Communications Commission. The Federal Communications Commission allows amateur operators many privileges because the hobby is partially based on service to the general public, and Hams can be relied on to assist during emergencies. Groups of amateur operators meet annually to practice handling emergency communications in the field and to compete against other groups nationwide in performing certain emergency related tasks. Amateur operators may set up warning and relief networks during the hurricane and tornado seasons, and handle communication when telephone lines and cell towers are damaged by disasters.

In order to use an amateur radio, applicants must pass a test, which varies depending on the country. There are several test levels, each one granting more privileges to the operator, such as range of frequencies and antenna power, and special call sign choices. In the United States the basic license is the

Technician license

which is granted after an applicant passes a 35-question written exam on basic FCC regulations, operating practices, and electronics theory, with a focus on VHF and UHF applications. The next higher class of license is the

General license

, which is granted after the applicant passes another 35-question written exam on more advanced radio practices, radio theory, and antenna theory. The highest class of amatuer license is the

Amateur Extra license

, which is granted after the applicant passes a third written exam consisting of 50 questions on some of the more obscure FCC regulations, specialized operating practices, advanced electronics theory, and radio equipment design. Extra Class licensees are authorized by the FCC to operate on all frequencies allocated to the Amateur Radio Service and up to 1,500 watts of power.

The
Carteret County Amateur Radio Society
is authorized by the
American Radio Relay League
to administer FCC license testing.
If you are ready to be tested for a new license or an upgrade of your present license, we will be happy to administer the test. Exam sessions are held immediately after each monthly meeting at Cox's Family Restaurant in Morehead City.

Contact Carteret County Amateur Radio Society for more information, or to arrange a time for your Technician exam by one of our two ARRL Volunteer Examiner teams, or to upgrade your current license to General or Amateur Extra. There is a $15 fee to administer the FCC license exam in addition to a $35 fee payable to the FCC for new licenses.

All prospective candidates must have a Federal Communication Commission (FCC) Registration Number (FRN) prior to taking the FCC license exam. FRN numbers are available on the FCC website at www.fcc.gov

Frequently asked FCC Ham Radio License Questions:


How do I get an FRN number from the FCC for my Ham license exam with Carteret County Amateur Radio Society?
Go to the FCC website at www.fcc.gov and click on the "

FRN FCC Registration Number

" in the "

Access Now

" box in the middle of the page.
Then select "

REGISTER - Create and receive your FRN

" link on that page. Then follow the prompts to create your CORES account. You will receive your FRN via email from the FCC shortly thereafter. You will need this FRN number to take your exam.

How soon will I be able to use my radio once I sucessfully complete the Carteret County Amateur Radio Society online exam?
Successful candidates who pass the exam are required by FCC regulation to wait until their FCC-issued call sign posts to the FCC online database before they may use their newly earned privileges on the air. It has been our experience that new licensees receive their call sign from the FCC via email within 24 to 36 hours normally. You may check to see if your new license has posted to the FCC database by going to the FCC website here, and search using the FRN number the FCC issued you. Your information will appear in the FCC database when your call sign is issued and your license is valid.



What kind of Ham radio should I buy?


There are so many available options and personal preferences to this question that it is impossible to provide a generic answer. We invite you to join us at our Wednesday Morning Breakfast Social each Wednesday at 8:00 am at the Kountry Kitchen on 70 Hwy in Morehead City, or join us at one of our regular club meetings at Cox's Restaurant on 70 Hwy in Morehead City. The Carteret County Amateur Radio Society boasts over 100 years of combined Ham radio experience from our members, and all are very eager to help new Hams discuss their options and the features available on Ham radios today.



How can I study for my upcoming FCC license exam?


There are many free resources on the Internet for new candidates to study for their initial Technician license, or for Hams to study to upgrade their current license to General or Amateur Extra. www.HamStudy.org is one of these many free resources.



How long will my FCC online exam take and what experience should I expect?


The FCC license test is not a timed exam. We find most of our applicants take about 30 ~ 45 minutes to complete their exam.



Can I take more than one exam per exam session?


Absolutely! Applicants who choose to do so many take the Technician, General, or Amateur Extra exams all at the same session for the same $15 ARRL fee, thereby saving themselves up to $30! Please advise our Volunteer Examiner Team when you contact us to schedule your Ham license exam if you would like to take more than one exam at your testing session so we can coordinate the time slot with our Volunteer Examiners.



How many questions will be on my FCC license exam?


The Technician and General license exams consist of 35 questions drawn randomly from a pool of 50 questions. The Amateur Extra exam consists of 50 questions drawn randomly from a 100-question pool. The minimum passing score on all FCC Ham license exams is 75%.



How can I become a Carteret County Amateur Radio Society Volunteer Examiner?


Carteret County Amateur Radio Society welcomes all amateurs interested in becoming an ARRL Volunteer Examiner to join one of our Volunteer Examiner teams. To be eligible to be a Volunteer Examiner, one must hold a General or higher amateur radio license that is in good standing, and must take a brief ARRL orientation course and a short open-book review online. More information on becoming an ARRL Volunteer Examiner can be found here.



Can I select the call sign I want?


The Carteret County Amateur Radio Society Volunteer Examiner team does not issue call signs, we only proctor your FCC examination and forward your exam results to the ARRL for FCC processing. You will be issued a call sign by the FCC based on order of availability from the FCC sequential call sign system. Once you receive your amateur radio Ham license, you may request a vanity call sign of your preference from the FCC website at any time. More information on the FCC vanity call sign application process is avaiable here. As of the date of this writing, the FCC charges a $35 fee per vanity call sign application.



What do I need to have with me when I take my FCC license exam?


Candidates are allowed to have a pencil, blank scratch paper, and a calculator if desired. A government issued photo ID is required at the start of the exam to verify the candidates identity to the Volunteer Examiners proctoring the exam