<![if !supportEmptyParas]> <![endif]>
Packet Radio: For those unfamiliar with the term "Packet Radio", a brief description is "a digital radio technique that allows text messages to pass from one computer to another, using Amateur radio". The term "Packet" comes from the packet switching technology, also the basis for moving information on the Internet, which allows many different users to simultaneously share the same physical connection. In packet radio, it allows many users to share a radio frequency, holding several separate simultaneous conversations. One big difference between packet radio and the Internet is packet radio's narrower bandwidth. The data rate (baud) for packet is much slower.

In practice, packet operates somewhat similar to sending and receiving email over the Internet, or texting, however the connection is made using Amateur radio, rather than conventional wired or wireless Internet connections. While we are used to having routers steer our messages from one computer to another over the Internet, with packet radio, some of this overhead will be done manually.

Most Amateur radio packet activity is found on VHF, although there is significant activity on UHF and even HF. The range can therefore be anything from a few miles to several thousand miles, making it popular with "Hams" who enjoy "RV-ing" or cruising on boats, where a normal Internet connection may be scarce. Packet Radio uses virtual "connections", which may pass through a number of other stations, or "nodes", along the way.

Packet radio is much narrower in bandwidth than even a dial-up Internet connection. This means it is slower, and doesn't usually have the capacity to support attachment files. But the fact that it can pass a written message through a normal radio voice channel bandwidth makes it compatible with ordinary Ham radio equipment. It is also important to understand that generally, any station in a packet network can be used as a repeater (digipeater), allowing a connection to "hop" from one station to the next to cover a relatively long distance. This can be very important when trying to relay a message out of an area affected by a disaster.

Although the Packet Radio network can, and does, interface with the Internet at a few locations, the radio portion is itself independent of the Internet. Packet Radio can move messages without any outside infrastructure. It can also move messages from an area that is without Internet service to an area where Internet service is available. Packet Radio is an important technique for those involved in EmComm.

District Three: Western Washington ARES/RACES District/Region Three comprises Pacific, Grays Harbor, Lewis, Mason and Thurston Counties. For geographical reasons, the Emergency Communication (EmComm) "EOC" Packet Radio Network also includes Wahkiakum County and the Washington State Emergency Coordination Center at Camp Murray. The primary frequency for the network is 145.630 MHz. This is simplex, of course, and does not use any CTCSS (PL) tones.

The packet network is not part of
BeachNet,
however since many of the packet resources are co-located at our sites, and owned and/or maintained by Principles, Associates or Friends of this project, it seems appropriate to list a modicum of information on this website.

Maps: The following map shows the locations of the public resources that comprise the infrastructure available for "Packeteers" in our area. For more information, we suggest you monitor or join the Yahoo discussion group devoted to this Packet Network, click here. This page is a quick summary intended for those who are either newcomers needing a few tips to get started exploring packet radio in our region, or old-timers who only need to look up a callsign or two. There is much more detailed material on the Yahoo Group site.

Maps are important, and the "Packeteer" who is serious about being able to operate in an EmComm situation would be well advised to keep paper copies up to date in the shack. During a disaster or emergency, some of the normal resources may not be available. One of the strengths of packet radio is that nearly any station in the network may be used as a digipeater or node, allowing the skilled (and informed) operator to work around "holes" that may open up in the network.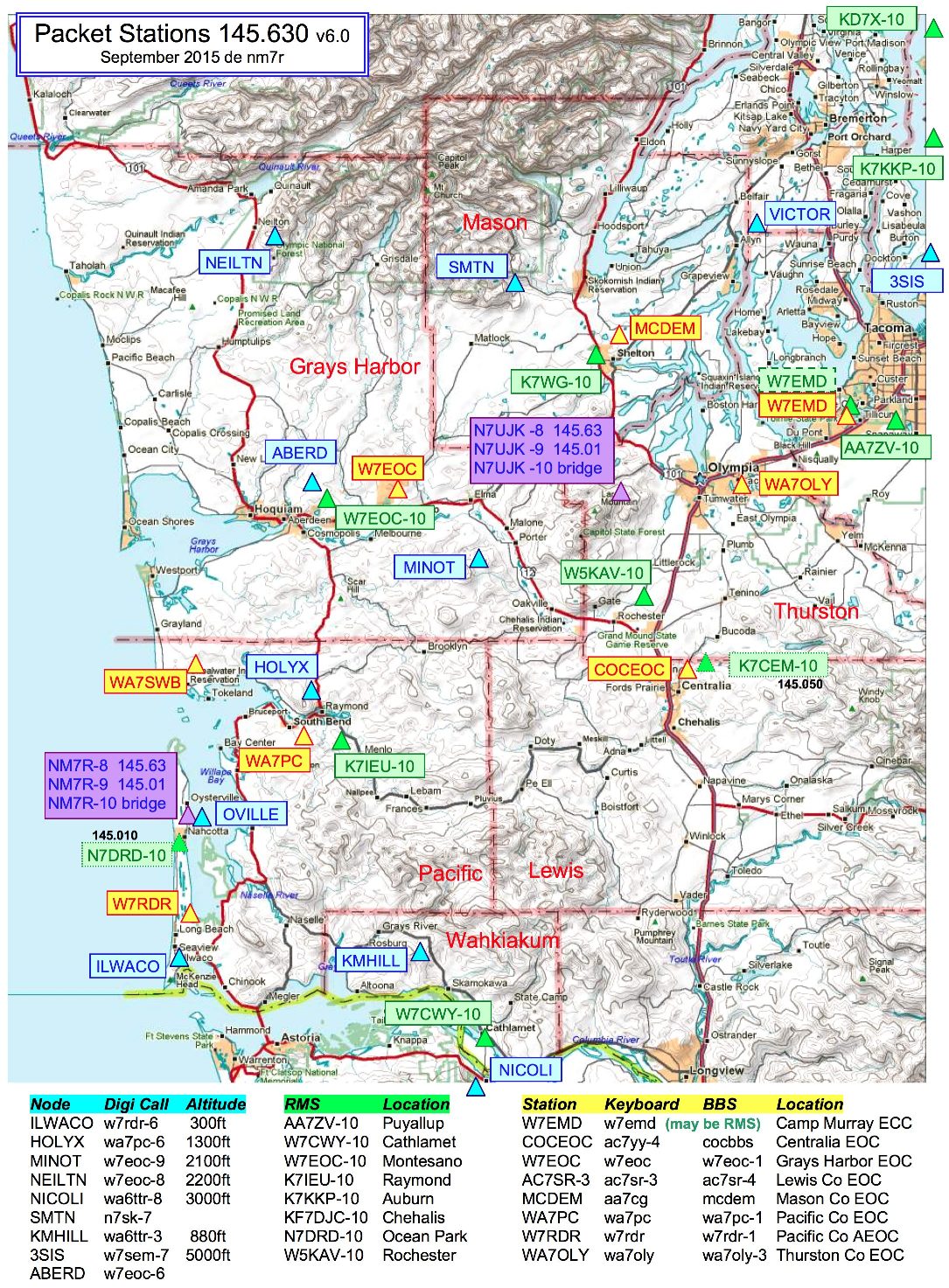 Station Type:
Station Alias or Call:
Other Callsign:
Notes:

RMS

KD7X-10

KD7X-10

Oak Harbor in northern Puget Sound (access via N7UJK-8)

RMS

K7KKP-10

K7KKP-10

Auburn in central Puget Sound (access via N7UJK-8)

RMS

K7WG-10

K7WG-10

Shelton, WA, Mason County

RMS

AA7ZV-10

AA7ZV-10

Puyallup, WA

RMS

W7EOC-10

W7EOC-10

Aberdeen, WA, Grays Harbor County

RMS

W5KAV-10

W5KAV-10

Rochester, WA, Thurston County

RMS

W7CWY-10

W7CWY-10

Cathlamet, WA, Wahkiakum County

RMS

K7IEU-10

K7IEU-10

Raymond, WA, Pacific County (access via HOLYX)

RMS

N7DRD-10

N7DRD-10

Ocean Park, WA, Pacific County (access via HOLYX)

RMS

W7EMD-10

W7EMD-10

Camp Murray, RMS only intermittently when necessary.

RMS

IQICMS

K7IQI

RMS station in Portland West Hills, usually accessible from NICOLI Node.

Node

3SIS

W7SEM-7

Covers Puget Sound from Three Sisters Mountain (5k-ft) over Pierce County.

Node

KMHILL

KMHILL

Covers Wahkiakum and Pacific Counties

Node

NEILTN

W7EOC-8

Overlooks NW Grays Harbor County from 2100-feet near Lake Quinault

Node

SMTN

N7SK-7

South Mountain, Olympic foothills near Shelton in Mason County

Node

HOLYX

WA7PC-6

Near South Bend at 1200-feet on Holy Cross Mtn. in Pacific County

Node

MINOT

W7EOC-9

SE Grays Harbor County from 1800-feet near Elma

Node

NICOLI

K7GA-8

On Nicolai Mtn in Clatsop County, OR, 3000-feet 9-miles south of Westport, OR

Node

VICTOR

N7YGE-3

Mason County, multi-port node

Node

BCFD

W7TAI-1

Bay Center Fire Dept., Pacific County, K-Node at 100-feet. W7TAI-1=BBS

Node

OVILLE

NM7R

2-mi S of Oysterville, 2-mi NE of Ocean Park (access via NM7R-8 or HOLYX)

Node

ILWACO

W7RDR-3

Co-located with the W7RDR 146.860 Repeater on FM Tower in Ilwaco.

Bridge

N7UJK-8
N7UJK-9

N7UJK-10

Bridge between 145.630 & 145.010; -8 digi on 145.63; -9 digi on 145.01; -10 digi bridge between the two frequencies, either direction. Capitol Peak, 3000-feet. (see below)

Bridge

NM7R-8
NM7R-9

NM7R-10

Bridge between 145.630 & 145.010; -8 digi on 145.63; -9 digi on 145.01; -10 digi bridge between the two frequencies, either direction. Nahcotta, WA, 100-feet. (see below)

EOC

W7EMD

W7EMD

Camp Murray, WA State ECC, station may be an Airmail Mailbox or Keyboard station

EOC

MCDEM

AA7CG

Mason County EOC, MCDEM=BBS, AA7CG=keyboard

EOC

WA7OLY

WA7OLY

Thurston County EOC

EOC

W7EOC

W7EOC-1

Grays Harbor County EOC, W7EOC-1=BBS, W7EOC=keyboard

EOC

COCEOC

COCBBS

City of Centralia EOC, COCBBS=BBS, AC7Y Y-4=keyboard

EOC

AC7SR-3

AC7SR-4

Lewis County EOC, AC7SR-4=BBS, AC7SR-3=keyboard

EOC

WA7PC

WA7PC-1

Pacific County EOC (South Bend), WA7PC-1=BBS, WA7PC=keyboard (main EOC)

EOC

W7RDR

W7RDR-1

Pacific County AEOC (Long Beach), W7RDR-1=BBS, W7RDR=keyboard (Auxiliary EOC)
The stations in green on the map are Winlink2000 (WL2K) Remote Message Server (RMS) stations, which allow Ham radio text messages to be delivered using Internet email at the other end. The reverse path is also available, from the Internet to packet radio. From an EmComm standpoint, this is a tremendous resource, especially out here at the "end of the extension cord", where we frequently loose power, telephone and Internet during winter storms, sometimes for days at a time. Being able to use packet radio to reach out and access an RMS station that still has Internet connectivity can allow message traffic to flow into and out of the affected area, quickly and efficiently.
The stations in blue on the map are Nodes. Most are simple K-Nodes. These allow access to the network from nearly anywhere in the region. There are usually several paths possible from one point to another, allowing recovery from the loss of one or more stations. This network is simple, but effective. Using the Nodes as necessary, any packet station in the Region should be able to connect with an RMS station to work traffic.
The stations in violet on the map are "Bridges". These two stations operate as digipeaters (not Nodes). You don't connect TO them, but THROUGH them, using the "via" command. In each case, the "-8" callsign works as a digipeater on the 145.63 network frequency, and the "-9" callsign operates as a digipeater on 145.01. The "-10" callsign allows packets to flow between the two frequencies, still as a digipeater, in either direction.
The stations in gold on the map are Emergency Operating Center packet stations in the Region. Being able to contact these stations is of obvious value in EmComm situations.
The map below depicts the stations normally operating on 145.630 MHz in Pacific County.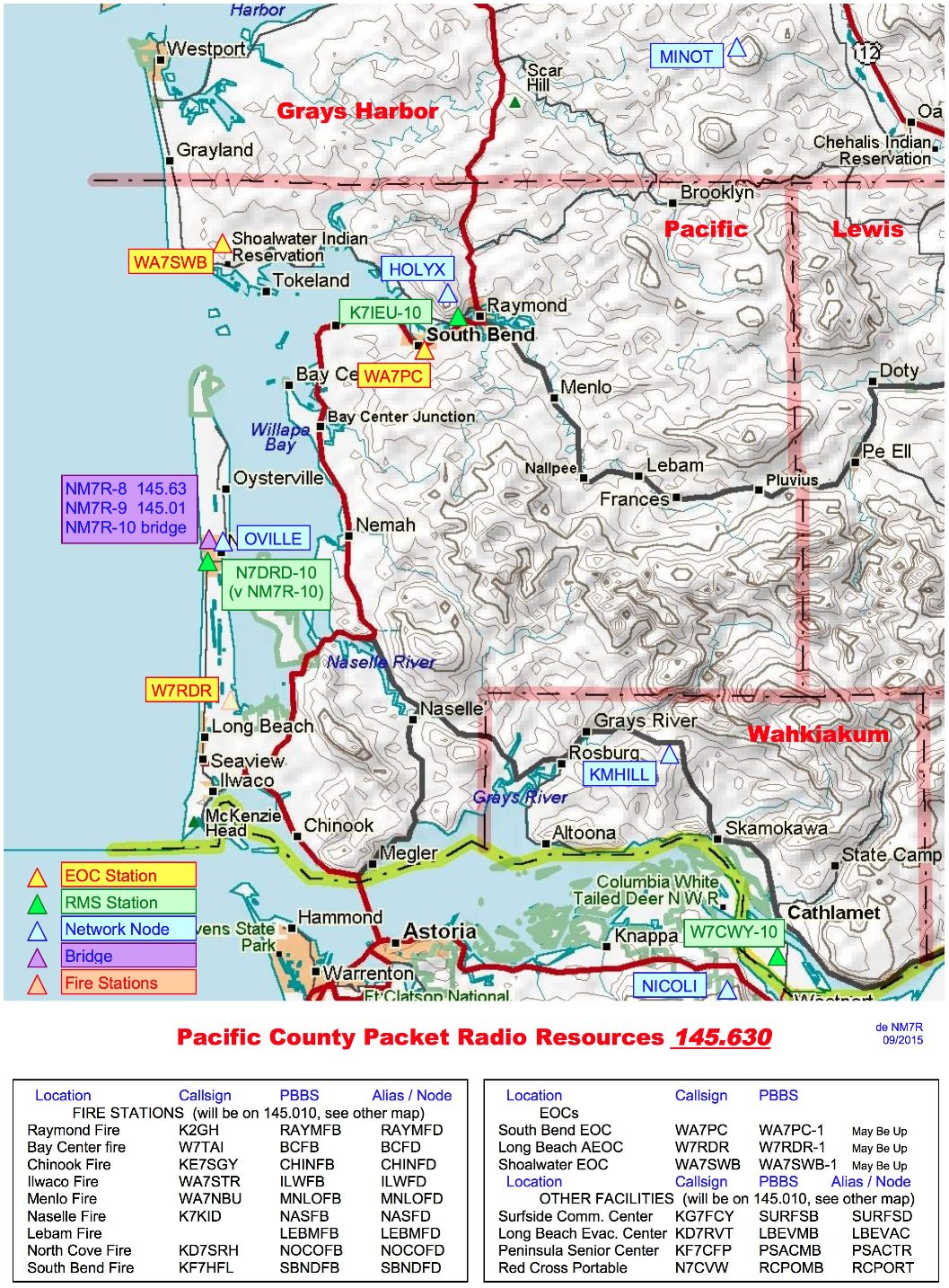 The map below depicts the stations normally operating on 145.010 MHz in Pacific County.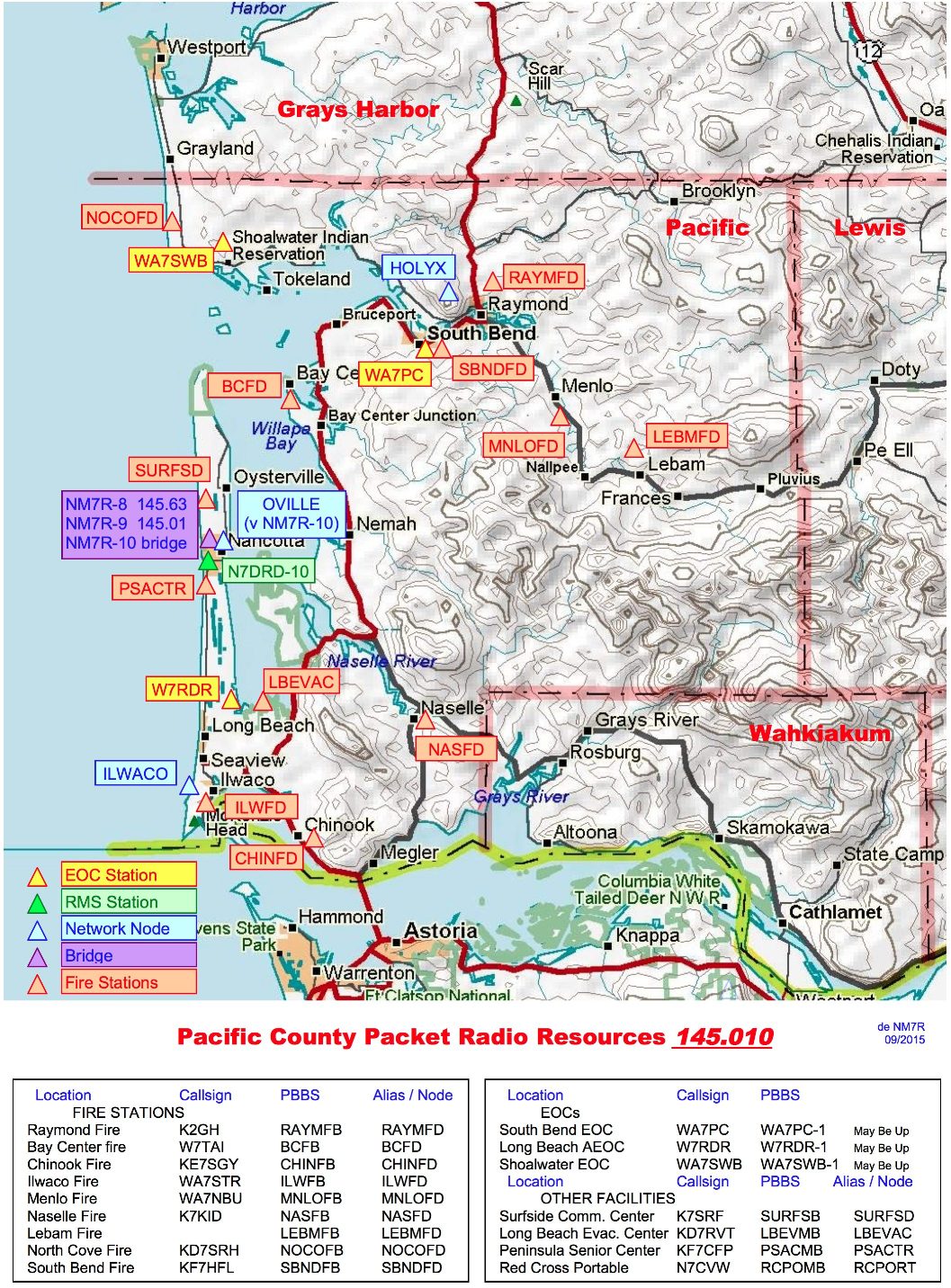 It is our hope that this material is of some use. If you are involved in, or would like to be involved in, packet radio within this Region, you are invited to check out the Yahoo Group. We hope to see you on the air!
Pictures below, left to right: (1) NEILTN packet station; (2) Bandpass filter at Neilton; (3) MINOT Node; (4) HOLYX Node.
<![if !supportEmptyParas]> <![endif]>
For problems or questions regarding this website contact Webmaster.
Copyright BeachNet Website 2002-2007. All rights reserved.
This Page Last Updated: 09/29/15.
<![if !supportEmptyParas]> <![endif]>