My Amateur Radio Stations
(Click on any of these photos to go to my station photo page)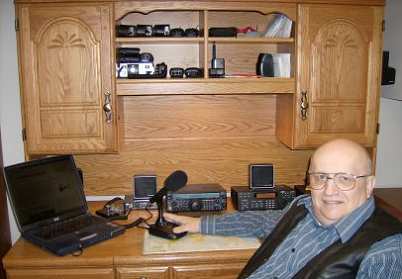 For many years, my main, "indoor shack" in Canada looked like this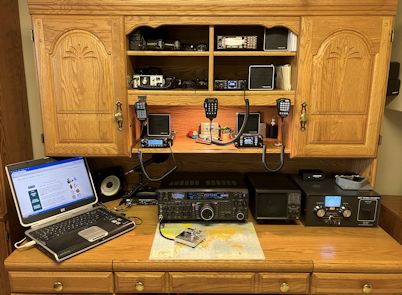 In 2016, I upgraded my equipment to add an FT-2000D and a KW Tuner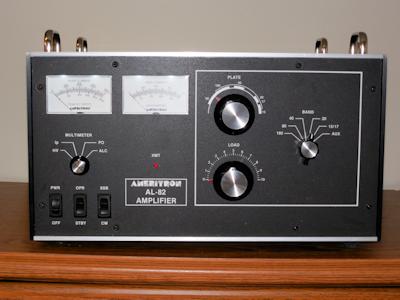 I also added an Ameritron AL-82 Amplifier to the "indoor shack"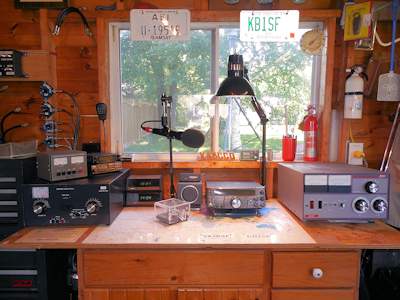 My Canadian "shed shack" used primarily during the summer months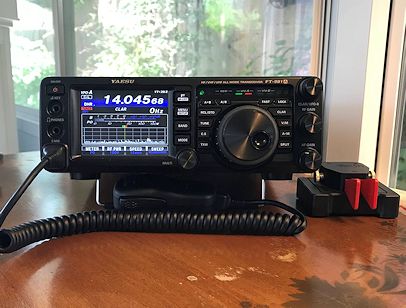 I use this "Sunroom Shack" during the Spring, Summer and Fall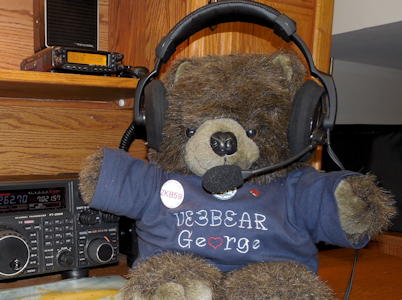 My alter-ego (VE3BEAR a.k.a "George") helps me during contests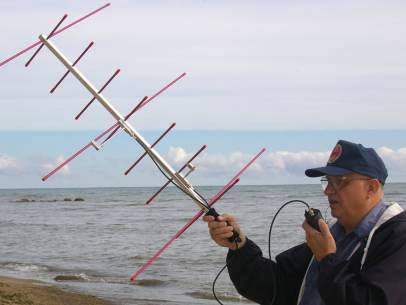 Working through an AMSAT satellite with my "hand shack"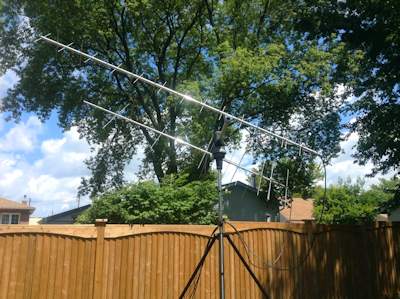 My "semi permanent" satellite antenna array
I usually operate from my primary home QTH in Corunna, Ontario, Canada (less than 2 miles from the US/Canadian border) as VA3KSF or VA3OB. My station there consists of a Yaesu Model FT-2000D HF/50 MHz transceiver with various amplifiers and tuners.
On the HF bands, I prefer operating mostly CW (Morse Code) along with the various digital modes (such as FT-8, PSK-31, JT-65 and/or RTTY) usually with less than 100 Watts of transmit power. However, I sometimes also use a Ameritron AL-82 or AL-80B linear amplifier in this "shack" if I'm chasing rare DX or dabbling in on-air contests.
On cool days in the Spring, Summer and Fall, I can also operate from a small (security alarmed) storage shed in the back yard of my Canadian home using a variety of Icom, Kenwood and/or Yaesu transceivers. Again, I sometimes (although not very often!) will use an Amp Supply LK-550 linear amplifier in this "shack" as well.
Alternatively, on cool days in the spring, summer and fall, I may also be operating from a compact, portable station set up in our home's 3-season sunroom. This station consists of a Yaesu FT-991A running just 100 Watts or less.
As I live on a medium-sized city lot, my current "antenna farm" consists of a G5RV 80-10 Metre dipole (ZS6BKW modified version) at 40 feet in an "inverted V" configuration and a ground-mounted Hy-Gain Model 18-AVT vertical (with 24 buried radials) for the 80-10 Metre HF bands. An inverted "L" for 160 Metres puts me on "Top Band".
I also use a ground-mounted Cushcraft Model AP-8A (with 28 buried radials) for the WARC Bands...particularly 30 Metres. All of these antennas can be manually switched between the home, sunroom and/or shed stations via a patch panel located in the shed.
My operating awards include Worked All Continents (on both CW and SSB Phone) Worked All States and 2 Mixed DX Century Club (DXCC) awards...one with over 275 entities (countries) confirmed with my two Canadian call signs and another with just over 300 entities confirmed with my various US call sign(s). When my operations from both the USA and Canada are combined, I've made and confirmed contacts from well over 310 entities. I also hold additional DXCC endorsements for Phone and CW in both countries.
I've qualified for a large number of other operating awards over the years including the ARRL's VUCC (for both 6m and Satellite) plus 5-Band DXCC (on six of our nine HF Bands) as well as their prestigious Challenge Award.
I've also qualified for CQ Magazine's WPX for Mixed, CW and Phone. And, while I'm still well short of the required number for a DXCC award, I've also confirmed contacts with amateurs in over 60 countries via our fleet of amateur radio satellites.
However, these days, I limit my actual "wallpaper" and "plaque chasing" activity to simply adding to my various HF Mixed, Phone and CW award totals for DXCC.
In addition to my fixed-station operations, I often operate on both sides of the US/Canadian border from our family's mini-van using a Yaesu Model FT-857D and Yaesu ATAS-120 antenna. And when the weather permits, I also enjoy operating on the HF bands using portable stations set up in outdoor parks or other temporary venues in both the USA and Canada.
For these activities, I'll often operate with power generated from so-called "gel cell" or car batteries, emergency generators and/or solar panels. The antenna arrays for these outings include a wide variety of portably mounted dipoles and verticals fashioned from BuddiPole , BuddiStick, Hustler mobile whips or Eagle One vertical antenna systems.
I've also used my Yaesu FT-847, Yaesu FT-857D, FT-991A, Kenwood TS-2000S and/or Kenwood TS-570D (sometimes with a Heathkit SB-200 or a Tokyo Hy-Power HL-1.2 FX amplifier attached) to operate "fixed portable" from vacation rental properties in Texas, Maine, and South Carolina.
On the VHF and UHF bands, I keep in touch with my local Amateur Radio friends in the USA and Canada on 2m and 70 Cm FM via the local repeaters with a Yaesu FTM-300DR. I operate occasionally on 6 Metre sideband using an AEA Halo 6 antenna at 25 feet with 50-100 watts of power. I'm also very active on D-Star as well as System Fusion with WIRES-X and DMR.
As noted above, I'm also active on the amateur radio satellites. I operate on the FM and analog (linear) satellites from my home QTH using either a set of M2 Eggbeater antennas or a medium-sized Yagi array. While traveling, I particularly enjoy using a hand-held or tri-pod mounted Arrow-style antenna and a HF/VHF/UHF all-mode radio (or a low power hand-held FM "walkie-talkie") to make contacts through our growing fleet of AMSAT "repeaters in the sky".
When I'm not on the air, I donate my time as an Amateur Radio instructor. I'm also accredited as a volunteer examiner for the Amateur Radio Service in both the USA and Canada. Over the years, I've helped scores of newcomers (in both countries) obtain their very first Amateur Radio licenses.
In addition, as I'm primarily a CW operator when I'm on the HF bands, I very much enjoy both collecting and using old (and new) Morse Code keys. My collection currently includes a number of straight keys, "bugs", iambic and semi-iambic paddles from a variety of manufacturers.
I also write extensively about the amateur radio and, in particular, the Amateur Radio satellites. My features, columns and ham radio-related photos (aimed primarily at beginners on the "birds") have appeared in Monitoring Times Magazine, The Spectrum Monitor Magazine, The Canadian Amateur Magazine (TCA) and the AMSAT Journal. I also served as an editor for the First Edition of the ARRL Satellite Handbook.