My Biography
I was born in Portsmouth, New Hampshire, USA, and I spent my early childhood years in Rochester, New Hampshire, USA.
After graduating from Spaulding High School, in Rochester, New Hampshire, I attended the University of New Hampshire (UNH) at Durham, New Hampshire. Upon graduation from UNH, I was commissioned a Second Lieutenant in the United States Air Force via the Reserve Officer's Training Corps (ROTC).
I then spent the next 20 years of my professional life as a US Air Force officer, primarily in the Comptroller field. During my career, I served in a number of financial management and leadership assignments at a number of USAF bases including Wright-Patterson, AFB Ohio; Sheppard AFB, Texas; Offutt AFB, Nebraska and Aviano, AB, Italy.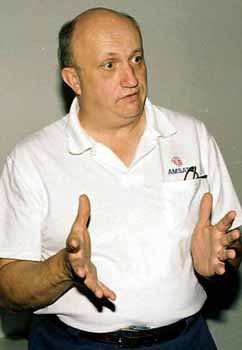 In the early 1980s, I supervised a staff of seven instructors who designed, developed and taught all basic and advanced officer and enlisted Cost and Management Analysis training for the Air Force. During this assignment, I had overall responsibility for new course development and maintenance, as well as personally teaching complex financial and business concepts to literally thousands of both US and allied military officers. I also served on the Comptroller Staff at Strategic Air Command Headquarters at Offutt AFB, Nebraska, and later performed a tour of duty as the Base Comptroller for Aviano Air Base in northern Italy.
However, over half of my Air Force career was spent at the Aeronautical Systems Division, Wright-Patterson AFB, Ohio, where I served in several key Comptroller positions. In these assignments, I successfully implemented emerging automated program network and project management concepts into a wide variety of ongoing aircraft development and modification efforts worth several billion dollars. This included a number of modification projects on the B-1 bomber and F-117 Stealth Fighter as well as KC-10 and KC-135 aerial refueling aircraft.
Soon after my retirement from the Air Force (after a full career) I founded KCB Associates, a highly diversified personal counseling, business consulting and corporate training company. For nearly 25 years, I and my staff of professionally trained consultants provided "helpful help" in the form of targeted training courses as well as "hands-on" consulting to numerous small to medium-sized companies throughout the United States, Canada and Mexico.
However, except for my ongoing (volunteer) work with a local balloon decor artist (www.justbaskits.com), I'm now all but fully retired and am very much enjoying retired life.
I graduated Cum Laude with a Bachelor of Arts degree in Earth Sciences (Geology) from the University of New Hampshire and I hold both a Master of Human Relations (Psychology) degree from the University of Oklahoma, and a Master of Science Degree in Administration from Central Michigan University.
I'm also a graduate of the Air Force's Cost and Management Analysis School, Comptroller Staff Officer School, Technical Instructor School, Professional Military Comptroller School, Squadron Officer School, and Air Command and Staff College. I'm the recipient of the Air Force Commendation Medal and was decorated with the Meritorious Service Medal three times for outstanding achievement.
I'm married to the former Kathryn (Kate) Galbraith of Sarnia, Ontario, Canada. Kate shares my interest in Amateur Radio and holds both the Canadian Basic (with Honours) call signs VA3OGF and VA3OE along with the US General Class call sign KB1OGF. I have one daughter, Emily. While retaining our US citizenship, Emily and I became permanent residents of Canada in July, 2005 and we now share a home with Kate in the small town of Corunna, Ontario, Canada.
In 2015. Emily completed a four year honors degree program at the University of Western Ontario (London, Ontario) with a specialization in Anthropology. She went on to complete a Master's of Library and Information Science program at that same university in 2019. She is now employed as an Information Management Analyst at London Life Insurance Company (a subsidiary of Canada Life) in London, Ontario.