Learn About Amateur Radio

Amateur Radio is an incredible hobby that provides amazing opportunities for people of any age to learn about all kinds of RADIO, and also serve their communities through the use of their skills and radio equipment. From grade-school students through senior citizens, there are amateur radio operators licensed by the Federal Communnications Commission after passing an examination, who are having fun building circuits, radios, antennas, and communicating with friends and acquaintances by voice, Morse Code, or any of a dizzying array of advanced data communications systems -- with or without computers, and often without any infrastructure at all.

We communicate in so many different ways it is difficult to list them. Many start out with a simple and inexpensive hand-held "walkie-talkie" device, whose reach is amplified many times by repeater stations using antennas on high towers. Others may use a shortwave transceiver and a larger antenna, even from an apartment, to communicate world wide by literally creating an electrical force field that, while tiny, can be received in just about any continent depending on choice of time of day and frequency.

Still others are busy experimenting with microcomputers such as the Raspberry Pi, or the Arduino, while others are bouncing their signals off of the surface of the Moon, or using one of our many amateur radio Satellites to make communications with others thousands of miles away.

Almost everything in our world today involves RADIO in some form or another -- all cell phones and all televisions are at their heart, a RADIO. And this wonderful hobby allows our participants an amazing freedom to explore and enjoy all of this technology.


| | |
| --- | --- |
| Youngest known Florida student licensed | 9 years of age |
| Opportunities for middle school students | Learn about electrical SAFETY and radio wave SAFETY; the science of WAVES; voltage, current and resistance; alternating versus direct current. Experiment with simple hand held radios. Work toward the TECHNICIAN FCC License. Observe the mysteries of the secret MORSE code! |
| Opportunities for high school students | Everything listed for middle school students plus: Understand series, parallel circuits; Ohm's Law; understand microprocessors and microcontrollers; build useful circuits that control charging of batteries, provide interfaces to sound cards and computers to pass digital signals; experiment with Raspberry Pi systems and begin to understand computer operating systems. Work toward the TECHNICIAN and GENERAL Class FCC licenses. Many can achieve the EXTRA class license. Gain valuable knowledge and experience that will benefit them as they move toward a career. |
| Opportunities for college students: | Turn book-learning into real experience by building and operating a myriad of circuits, computers, and microprocessors. Develop and understanding of the USA Emergency reponse system in local government. Work toward all available FCC Licenses, even the professional licenses. Applicable to almost any technical career. |
| Opportuities for Families | A great hobby to increase the family understanding of all the complex systems of modern houses and automobiles, while adding backup commuications sysems and just having FUN! Help youngsters develop useful and wholesome hobbies that will bring them into contact with city leaders and help prepare them for careers. |
| Opportunities for Seniors | Find interesting and challenging ways to keep learning and serving, finding significance and fulfillment helping others through your new-found skills! |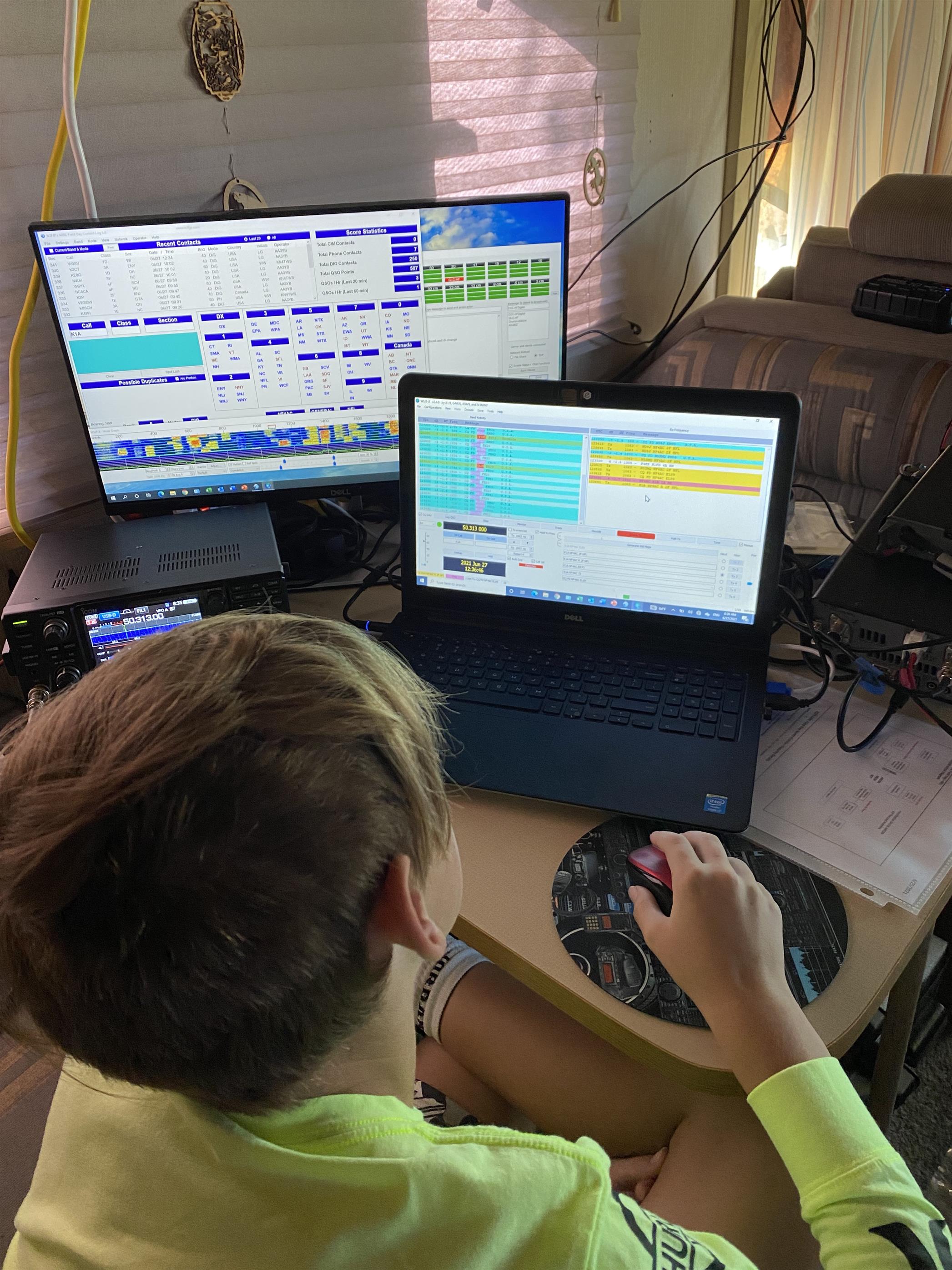 Our youngest participant in our 2021 Field Day was 11 years old and a huge success!



Our Club works hard to provide opportunities for any person to jump into this hobby, studying and gaining the knowledge base to participate inexpensively, courteously and safely. If you would like help in starting YOUR adventure into amateur radio, give us a ring!

Periodically we hold weekend License Courses -- but you don't have to wait!! There are plenty of materials available for you to begin learning and moving toward passing that multiple-choice license exam given quite often by volunteers in the Alachua County area!

The Gainesville Amateur Radio Club provides a list of testing dates proctored by local Volunteer Examiners: https://www.gars.club/Testing.html

There are many texts available to get you started as well as online courses of education including our own North Florida Amateur Radio Club:

ARRL License Manual: https://www.amazon.com/ARRL-Radio-License-Manual-Spiral/dp/1625950829
The "Easy Way" Book: https://www.amazon.com/Technician-Class-2018-2022-Amateur-EasyWayHamBooks/dp/1985125641
Gordon West's popular entry text: https://www.amazon.com/2018-2022-Technician-Class-Gordon-West/dp/0945053908

Online FREE Ham study practice exams: https://hamstudy.org/

American Radio Relay League List of Classes: http://www.arrl.org/find-an-amateur-radio-license-class



Our North Florida Amateur Radio Club holds monthly meetings, in persor and/or on zoom, on the 2nd Wednesday evening of each month. For more information, email docvacuumtubes @ gmail.com Information conversation begins at 6:30 PM. The meeting, which almost always includes education, begins at 7 PM. The zoom link is: