North Florida Amateur Radio Club

created to support Alachua County ARES(R)

ARES(R)/NFARC meeting ZOOM
https://us02web.zoom.us/j/89530741792


GREAT Open House with Ham Radio Mentors Contributing lots of ways -- photos to follow!


GREAT Signal Report from INTERLACHEN for our
NF4RC-7 Digipeater (VARA)
31 miles East, PAST HAWTHORNE and in Putnam County




David Huckstep and Eric Pleace did VERY SIGNIFICANT antenna improvements this week at the EOC. Report and Photos to follow.




---
January Training Assignment
13, Correction 14
CORRECTION: 15!!
Correction: 16!!!!

SUCCESSES SO FAR!!
WOW!!
A lot of learning is going on. I'm coaching people who are struggling but eventually succeeding. They're still getting this down. A little repetition at a later day MAY be useful to help them cement their understanding of this....but they are SUCCEEDING!! Need to discuss at next meeting, our training goals and desires.

Download this sample signed file (better to use this than your own):
Send it by VHF FM RADIO (either AX.25 (slow) or VARA-FM (fast) to [email protected]
(In order to use digipeaters / fast VARA FM you'll need to register your copy.)
DO NOT SEND IT IN BY TELNET. That defeats the purpose of the training.

BADGED VOL

SUCCESS?


Jeff Capehart

no-go

Gordon Gibby

SUCCESS! Jan 17

Leland Gallup

SUCCESS! Jan 29

David Huckstep

SUCCESS -- but
something odd is happening (on my end) ....
So he did it AGAIN! (Jan 29) -- SUCCESS!! and AGAIN, and AGAIN and AGAIN (for more practice!) Wow!!

Wendell Wright

SUCCESS!! Jan 28

Earl McDow

SUCCESS! Jan 25
(to KX4Z)
Success Again on a later trial

Susan Halbert

SUCCESS! Jan 16

Larry Rovak

no-go
Earl Sloan

no-go
Judith Jones

no-go
Randy Carter

no-go
Vann Chesney

SUCCESS! Jan 20

Andy Hunn

no-go
Ralph Boal

no-go
Alan West

no-go
John Troupe

no-go
Jim Bledsoe

SUCCESS! Jan 26

Robert Swain

no-go
Kevin Rulapaugh

no-go
Brett Wallace

SUCCESS!! Jan 23
(to KX4Z)
SUCCESS!! Jan 25 (to NF4RC)

Dean Covey

no-go
Amy Woods

SUCCESS!! Jan 29

Lorilyn Roberts

Problems with Signalink Cable are stopping her, so far
IT WAS A DEAD NEW SIGNALINK-- She swapped out EVERYTHING into a different Signalink AND GOT IT WORKING and sent the file! Wow! SUCCESS! Jan 29.

Reid Tillery

SUCCESS!!! Despite the KX4Z-12 "read only" issue!! Jan 31

Brad N5CBP

SUCCESS! (without signature)
Jan 24

Steve Panaghi
KC2ASY

SUCCESS!! (came as "RO"???)
Jan 28 -- 2nd try -- File Format problem - unreadable

Tyler Ray
KN4JQB

SUCCESS!!! Jan 29

Eric Pleace
KO4ZSD

SUCCESS!!! Jan 30 -- Eric apparently sent to wrong address first go around but this time customized the form, acquired a rread receipt and a first class submission!

---
ICS201 for General Class Course
2023 General Class Course
Alachua County EOC

SIX HARDY SOULS MADE IT THROUGH
TO THE END!!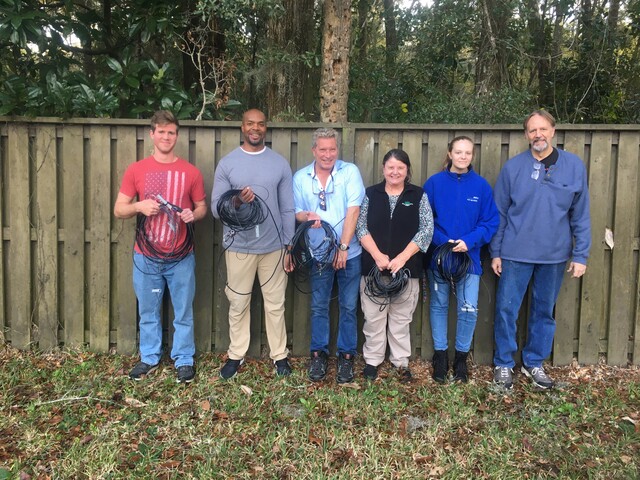 Course Finishers Holding their new 20-Meter Dipole Antennas!!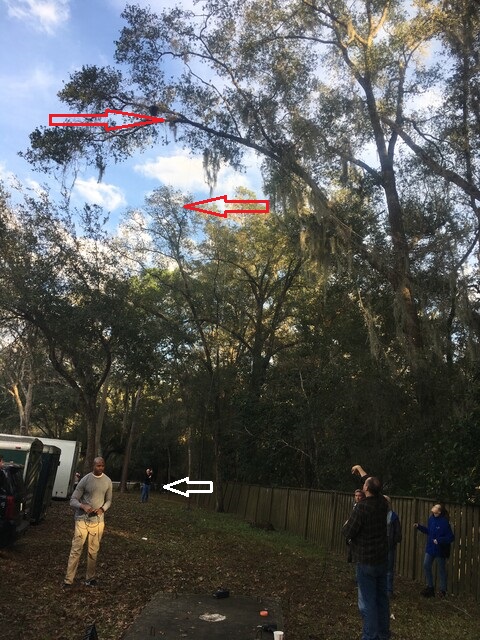 Out testing antenna rope....went over TWO TREES....requred 150 feet of paracord.
Pulled up each antenna as a sloping dipole.

Leland is handling the far rope as Jim works the antenna end

Sub-Element Volunteer Instructor
01. Rules Gallup
02. Op Practice Wright
03. Propagation Halbert 0
04. Radio Practices Emily Wallace
05. Electricity Pleace
06. Components Pleace
07. Circuits Gibby
08. Signals Gordon
09 Antennas Brett Wallace
00 Safety Bledsoe
Antenna Build: Gordon


---
Very Productive Antenna Work Day
Alachua County EOC
Many thanks to Leland AA3YB and Eric KO4ZSD -- job well done!!
See the photos of our glorious 270-foot OCFD antenna at our sister site
for the Alachua County EOC callsign:
---
TRAINING ICS-214 SIGNED FORM

Download this form and use for our training drills so you don't have to use your own signature.

---
---
NEW BLANK ICS-214 FORM FOR YOU TO DOWNLOAD AND ADD JPG SIGNATURE
---





Very Productive Meeting!


8 or more volunteers got their own ICS-214 forms with signature solution, ready to fill out and submit over radio. If you haven't gotten this done yet, download the form above, photograph your signature, inset into the document and save on your computer so you will have it both for our upcoming TRAINING EXERCISES as well as real deployments.

Tentative December Agenda

---
550-foot DIGIPEATER Article
---
New VARA Narrow High Speed Digipeater
144.990 Approx 550 foot antenna
Courtesy of TV-20 and Jim Carr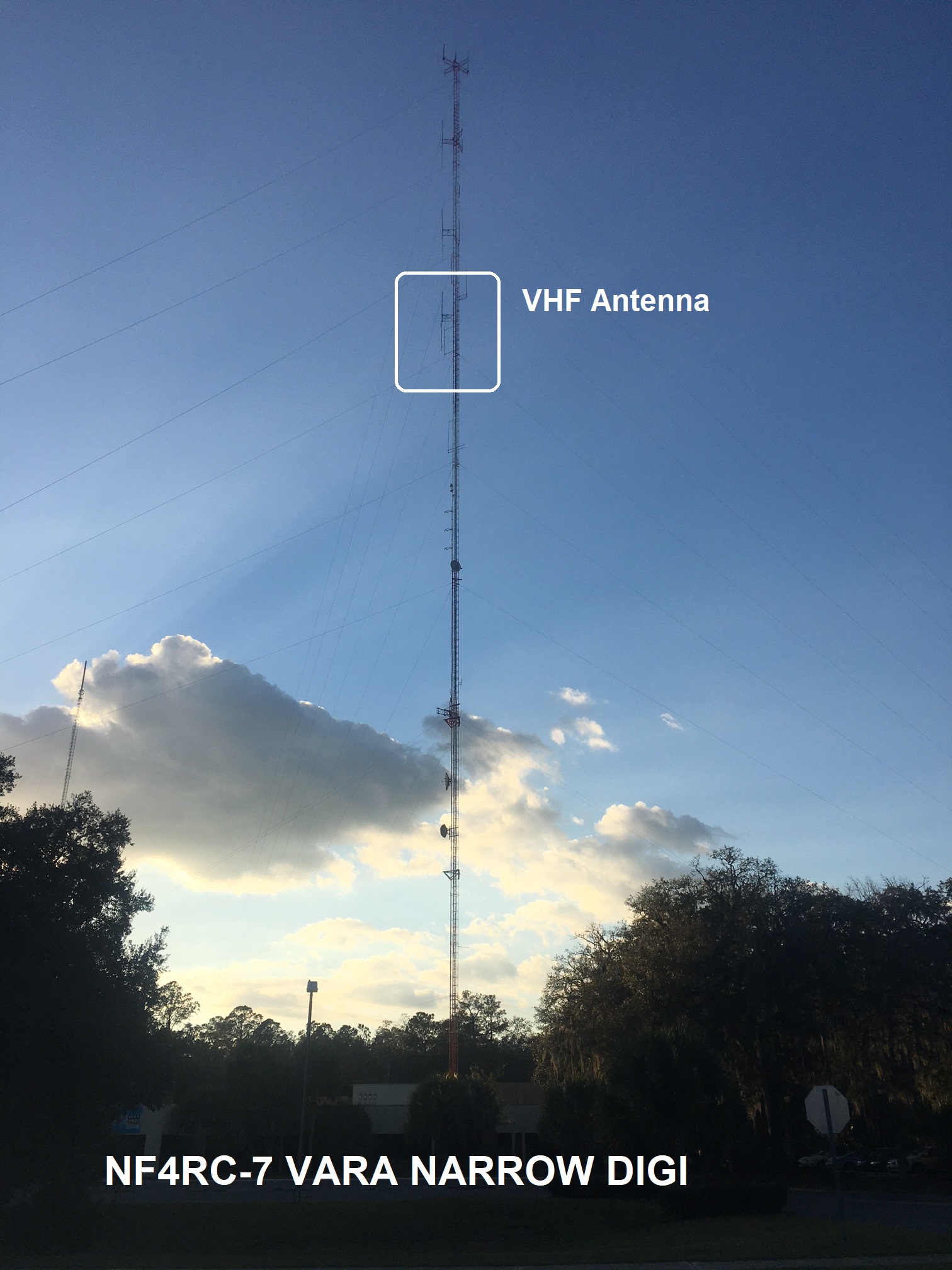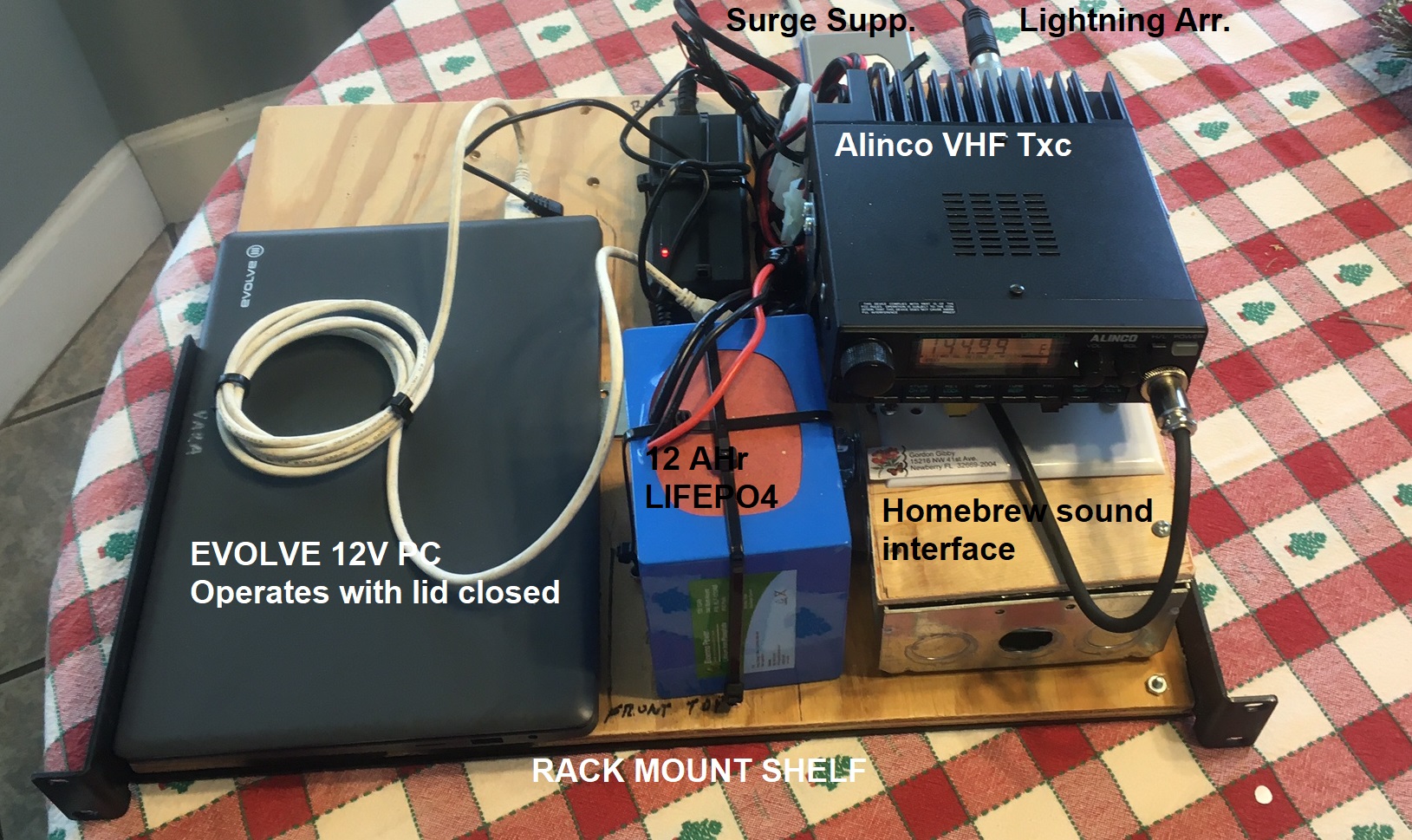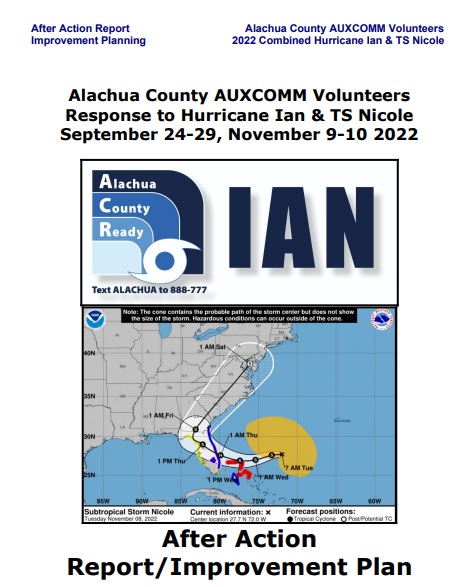 Draft 2022 Hurricanes AAR/IP (Alachua County Vols)



VAR-AC now offers fascinating broadcast modes on HF and VHF - and file and email transfer. Obviously competing effectively with AX.25 systems!




Great opportunities for communications volunteers.


Installing VAR-AC


Saturday LabNLunch -- big progress made by many in fixing problems, learning techniques, building new radio assets. No way I could get them all in photos -- too much happening simultaneously all over the 1st floor!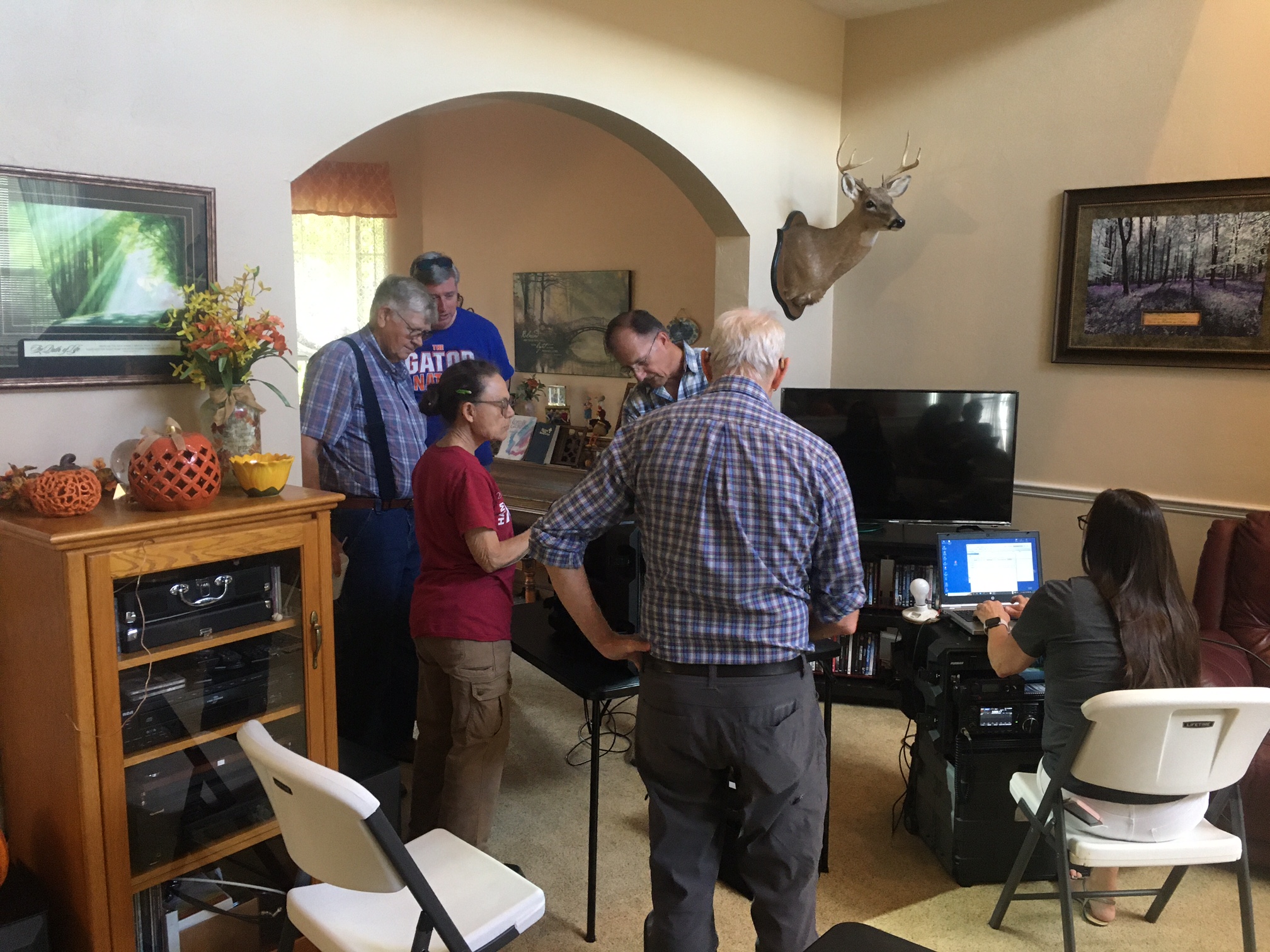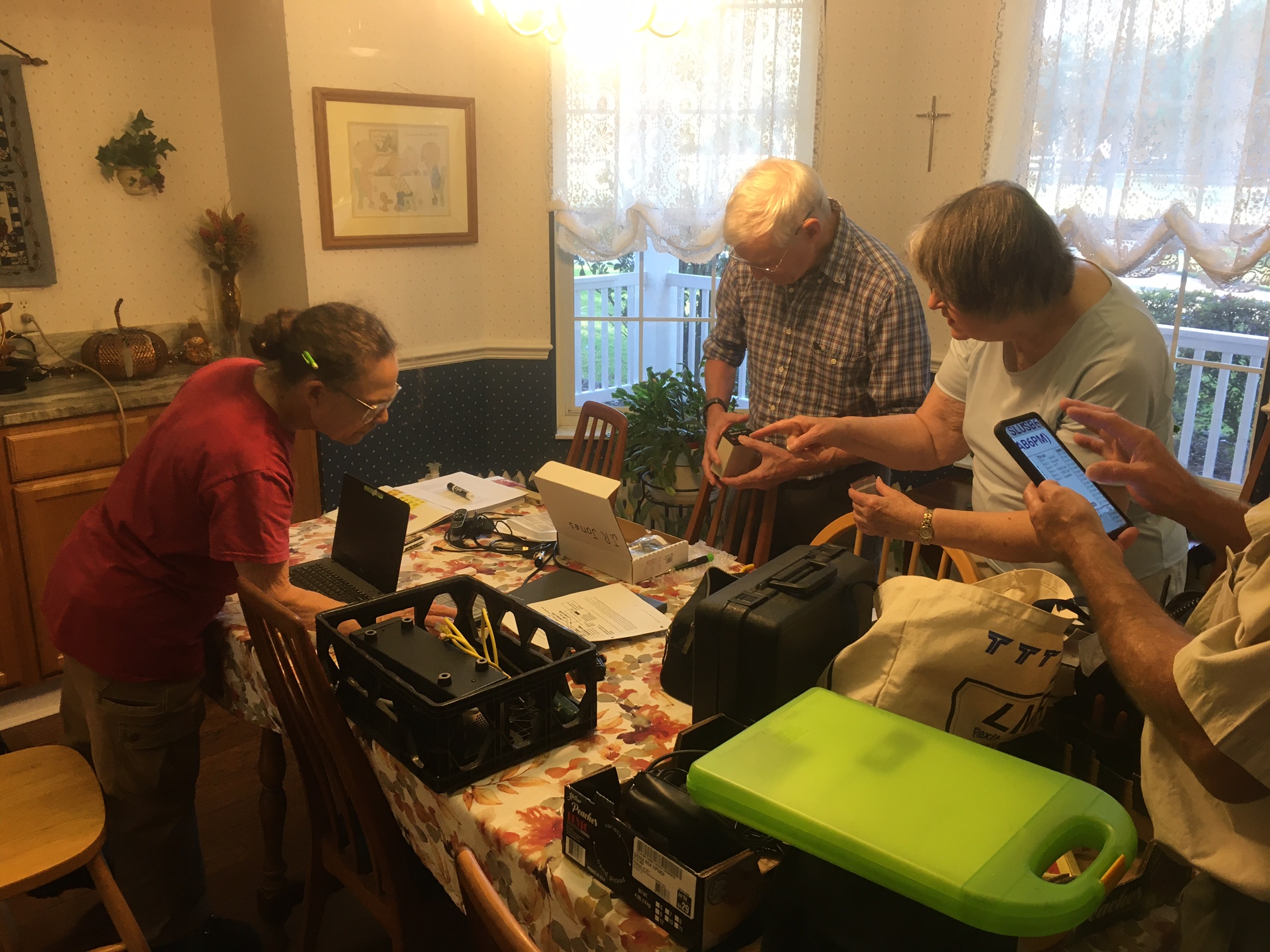 The group worked for aboutt four hours on a slew of different projects!

Minutes from our Hurricane Nicole Meeting!

Alachua County Approved Volunteer Communications Plan
Approved Nov 9 2022, as amended.

NFL Section Hurricane Nicole IAP



Bibliography Document 2022

(Note: Hold down LEFT SHIFT KEY while "reloading" document to force acquisition of most recent copy of the rapidly updating document.)
Requested document by the EOC to list what we trained, taught, built, served just so far this year! We've been BUSY!!


TECH NITE TALK on AX.25/VARA (Part One)


If you weren't able to join us for this talk, you might wish to review this.





BEATY TOWER GARC2 (W4DFU-8) UP AND RUNNING!!


Hooray Earl, Susan & Jon!!!
Digipeater Coverage for East Alachua County Returns!

--------


We are a DYNAMIC and VIBRANT amateur radio club involved in almost every aspect of this incredibly fun hobby, teaching and training as many people as we can, both to benefit them and to increase support for serving our Community through backup radio communications in times of need.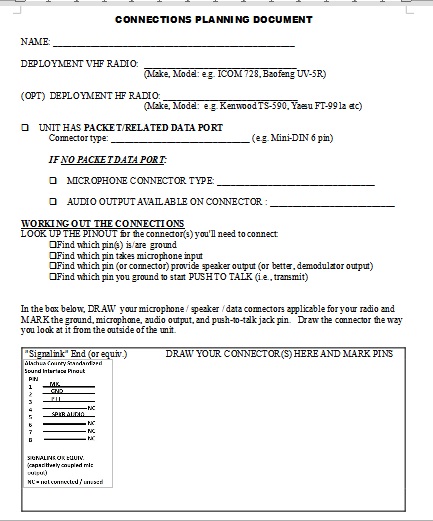 (updated 11/4/2022)
(Ongoing updates: refresh your browser to get latest version)

---
List of options to gain data techniques:
Sound Card Options - 2022




---
Page to go to to find the way to turn in the 214's:

You will have to go there and drop down to the link, "Submit your 214"
because my attempt at creating a direct link didn't work...
THANKS SO MUCH TO OUR WONDERFUL VOLUNTEERS!!!

ARES(R) Planning for Hurricane IAN

---
All-Florida ARES(R) Taskbook for All
Taskbook Specific for Alachua County Badged Volunteers
---
Lorilyn's MORSE CODE Practice for Middle School Students is going WELL! It is fascinating to see their interest in this unique skill.
---
---
CALENDAR
---
---
NEW FORM TO REPORT YOUR VOLUNTEERISM



VOLUNTEERISM REPORTING FORM

(This link is also now in the LEFT COLUMN


<----- over THERE


and you can find it there long after this little blurb here in the center column
DISAPPEARS

---
---
GROUPS.IO: https://groups.io/g/NF4RC
If you would like to join, please send me an email ([email protected]) and I'll send you out an "invitation."
Email to subscribe yourself:

[email protected]



---

If YOU would like to be qualified to serve our local County in communications in times of need, look at the requirements https://qsl.net/nf4rc/WelcomeToAlachuaCountyARES.pdf There are plenty of other ways to serve, but this gets you built into the County Response.

---
---
---
ARES(R)/NFARC meeting ZOOM
https://us02web.zoom.us/j/89530741792



---

Alachua County Shelter Radio Systems Testing: https://qsl.net/nf4rc/2021/MassCareShelterAntennaTesting.pdf
---
Leadership in our group is SERVANTHOOD